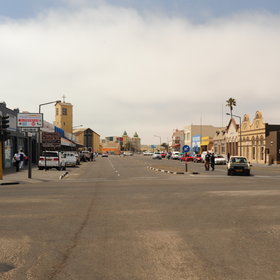 Some examples of the kind of road to expect in Namibia...
Self-drive - Namibian Road Types
In Namibia you drive on the left. The driving standards here are fairly high with a good deal of respect for the rules of the road. Whilst the roads vary considerably, but they are almost uniformly well-signposted in English, and the vast majority have only very light traffic. This generally makes self-driving in Namibia a pleasure, even if the distances are often long. It's not at all unusual to find yourself on an empty road, seeing another vehicle only every 10–20 minutes – but an interesting bird or animal more frequently than that!
The different types of road surface in Namibia are:
Tar roads
Due to the long distances, and the cost of construction and maintenance, only Namibia's main arteries are 'sealed' – which means they have a tarred surface. However, in our experience the tar roads that do exist are usually in good condition. These roads are comparable to British A roads, American secondary highways or French
routes nationales
. They are almost all single carriageway, but they will sometimes widen up steeper hills, to allow overtaking of slow-moving vehicles.
Outside of the towns, where the national speed limit of 120kph (75mph) usually applies, these roads often have long, straight sections. A confident driver can average 100kph (62mph) on these roads.
Namibia's tar roads connect its main cities, and link to its ports and neighbouring countries, so it's on these roads that you're most likely to encounter large trucks. Although truck drivers will sometimes use their indicators to let you know when overtaking is safe, we recommend that you only overtake when you can
actually see
that it is safe. So be prepared to sit behind these until you reach a suitable spot.
The other hazards to be aware of on tar roads are livestock and game. While most of these roads have a very wide verge, and sometimes the land beyond is fenced off, wild animals and livestock do occasionally wander out onto the road.
Gravel roads
The majority of roads in Namibia are gravel, which varies from coarse gravel to fine sand and dust. The condition of these roads is generally very good and there is a continuous effort by the roads authority to maintain them. Most visitors will see at least a few 'graders' at work during a self-drive trip around the country.
Having said this, in any trip you'll come across sections of gravel roads – generally those which are about to be graded – where the surface is potholed and/or corrugated. Sometimes these appear quickly, with little or no warning, the best advice we can give here is to slow down.
Namibia's gravel roads are generally fine for normal, lower-clearance 2WD vehicles but we'd always recommend that drivers stick to an absolute maximum speed of 80kph (50mph) – and that this is reduced in sections where the surface isn't as good.
Most gravel roads are easily wide enough for two vehicles to pass, but it's always wise to slow down when passing another vehicle, for two reasons. First, because you may encounter flying stones, which can damage your vehicle if they hit at speed. Second, immediately after passing the other vehicle you're likely to drive into a dust cloud, which can drastically reduce visibility.
Drivers should be aware of a few specific features of Namibia's gravel roads, including:
River crossings: Namibia's arid environment is veined with ephemeral rivers, many of which typically flow for only a few days a year. Roads that cross these do so mostly at fords, rather than bridges. These should always be approached with care. For rivers that flow more regularly, the riverbed is often concreted to prevent the road being washed away in flood, these concrete patches can be potholed and uneven. Where fords are simply dips in the gravel, the gradients can be unexpectedly steep, so crossing at speed can damage your car's undercarriage.

Mountain passes: Namibia has a number of spectacular mountain passes that are well worth a detour, even though you will usually need to slow down to drive safely through these. Often the road will narrow for sections of these, and sometimes short parts of the pass will be tarred or even paved. Such sections may start with little or no warning (or perhaps a cattle grid) and end just as abruptly. The join between tar and gravel is often the worst part of the road in these passes, so approach them with caution.

Road drainage: On private roads, including the driveways to some lodges – particularly those that slope – you may find a series of large bumps, similar to speed humps. These are designed to channel any flowing water off the road, helping to prevent the tracks being washed away in the rains.
Salt roads
Salt roads are found exclusively by the coast and should be treated in much the same way as gravel roads. Their surface is a mixture of salt water, gypsum, sand and/or gravel that is then baked in the sun. The result can often look like broken or old tar roads, and while it isn't loose, it can be bumpy. Furthermore if these roads are wet, such as after rain or in a heavy fog – which is a frequent occurrence near the coast – they can become slippery.
Navigation
The TASA map of Namibia is among the best and we will provide you with one of these before your trip. Note that recent years have seen a rolling programme of changes to Namibia's road numbers, with D-roads being upgraded to C-roads, and their numbers changing entirely. The current map indicates some changes, but local signposts can be slower to change.
We're sometimes asked, 'Do I need a GPS for driving in Namibia?' – and our answer is generally 'No', unless you're going significantly off-piste. In these cases we recommend getting a device with
Tracks4Africa
loaded on it, as conventional car GPS devices are not usually up to the task.
Generally, though, most visitors find navigation in Namibia surprisingly easy: using the map and local road signs is usually enough to prevent getting seriously lost. If you are ever unsure, you'll find that local people (when you can find any!) are normally friendly and helpful.
Before your journey, it's often a good idea to discuss your route with your camp manager, both for the latest local knowledge and so that you don't miss out on anything on the way.
For more information on the car hire and Namibian roads, see also:
►
Self-drive - types
.
►
Self-drive - driving tips
.
►
Self-drive - hire groups
.