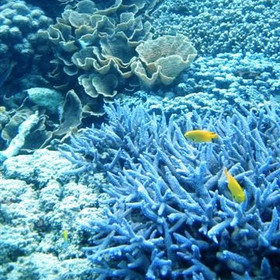 Ocean surrounding Africa have a huge variety and quality of marine life,
Diving & snorkelling in Africa
The Indian Ocean off Africa's tropical coast has an incredible variety and quality of marine life. There are manta rays and whale sharks, five species of turtle, over 400 species of fish, endless tropical coral reefs and even the occasional shy dugong. However, if you're a keen diver or snorkeller, then choose carefully where you go. Several of Expert Africa's team are keen divers, and we'll always be happy to advise from our personal experience. The main choices are:

Diving and snorkelling holidays in Zanzibar
There are sites for a few days' diving and/or snorkelling within reach of most of Zanzibar, although two areas stand out for the quality of the snorkelling and diving. The reef surrounding Mnemba Island is superb, if often very busy; quick access to the best spots is another reason to stay at
Mnemba Island Lodge
.
Meanwhile, the reefs of Zanzibar's little-visited south-west can be good and you'll usually have them to yourself. Guided snorkelling trips from
Chumbe Island Lodge
showcase a world-class variety of colourful coral, whilst
Fumba Beach Lodge
has particularly good access to the excellent reefs of the Menai Bay Conservation Area. (
See more of our best diving and snorkelling holiday retreats in Zanzibar…
)
Snorkelling and diving trips to Tanzania's other islands
The sheltered Chole Bay within Mafia Archipelago's marine park makes a superb place to snorkel and to learn to dive, whilst more experienced divers come back here for spectacular wall dives outside the bay, featuring larger pelagic fish including the occasional shark. Further north, Pemba Island also has some first-class reefs with excellent snorkelling and shallow dives, whilst its deeper sites attract experienced divers who are confident with strong currents. (Read more about the
Mafia Archipelago
and
Pemba Island
here…)
Snorkelling and diving in Mozambique
You'll find pristine reefs around Mozambique's Bazaruto and Quirimbas archipelagos. Here our guests have even discovered new dive sites for themselves! (Read more about Mozambique's
Bazaruto
and
Quirimbas archipelago
…)
Diving and snorkelling in the Seychelles
For sheer range of fish, the Seychelles can be excellent – although its coral isn't often pristine; much of it is has been bleached. Most of the islands offer options for diving and snorkelling – and these are usually very good-quality diving operations.
North Island
stands out for its first-class dive centre and excellent dive sites, whilst the much busier Beau Vallon Beach, on
Mahe Island
, can offer outstanding dives with whale sharks – assisted by a whale shark researcher who spots the fish from the air in a micro-light!
Diving and snorkelling trips to Malawi
For something completely different, the freshwater Lake Malawi has a rocky underwater environment which is home to over 500 species of brightly-coloured (often endemic) cichlids – this is as close to the brightly-coloured look of marine fish as can be found anywhere in the world in freshwater. If you're lucky, you may even find some otters, as we did recently, which like to play with divers' bubbles! (
Read more about the snorkelling and diving options in Malawi…
)
Diving & snorkelling in
Zanzibar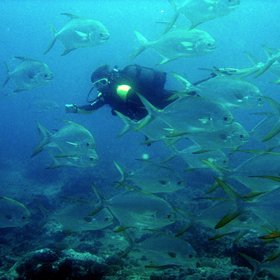 The Zanzibar archipelago is surrounded by coral reefs, hidden in the sparkling blue waters of the Indian Ocean. Many are very beautiful, and so great places for snorkelling and diving - but here we aim to highlight the best.
Ideas for diving & snorkelling in Zanzibar