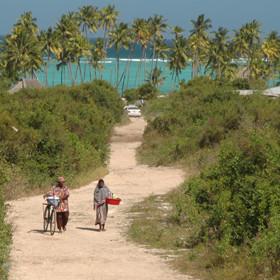 Like most of Zanzibar, the East Coast is a relaxed, laid-back and mostly rural place
Latest East Coast Zanzibar holiday reviews
Matemwe Lodge review
25-Oct to 12-Nov 18
Average

Pongwe Beach Hotel Review
24-Oct to 8-Nov 18
Excellent

perfect place to relax
13-Sep to 28-Sep 18
Excellent

Pongwe paradise
14-Sep to 27-Sep 18
Excellent

An idyllic setting with wonderful facilities
16-Sep to 26-Sep 18
Excellent

East Coast Zanzibar
The east coast of Zanzibar is lined with powder-white beaches which look out towards a long barrier reef, about a kilometre offshore. Inland there's a coastal strip of coconut palms within which there are small fishing villages and a variety of places to stay.
Lodges here generally have more space than those in the Nungwi area, but like the north, the beaches here slope very little. This means that when the tide is out, the water retreats a long way and swimming from the beach is difficult – although paddling to the top of the exposed reef with the right local guide is fascinating!
There's good diving and snorkelling here, and both Matemwe and Shooting Star have nearby dive centres for easy diving and snorkelling trips. (Such trips often visit the reefs around Mnemba Island.)
To the north of this long coast,
Matemwe Lodge
occupies an isolated spot above a long sandy beach. It's a reliable choice; with stylish upgraded rooms, plenty of space and it has a very well-established atmosphere. It's exclusive sister lodge
Matemwe Retreat
has only 3 villas, each with their own private plunge pool.
In a class of its own, Tanzania's top beach destination is
Mnemba Island
– a small island about 5km off Zanzibar's east coast with one, small exclusive lodge on it taking just 20 people. You really can go barefoot all day here. Mnemba's costs are very high, but then it is very good, and it's almost always full! But with a visitor list including Bill Gates, cost of the rooms isn't the issue to many of Mnemba's guests.
A firm favourite is the simple and very popular
Pongwe Beach Hotel
. (Don't be misled by the name: it is more of a lodge than a resort!) It stands in a shady cove of its own and is a simple, and very good value good-value spot.
Above the stunning Kiwengwa Beach,
Shooting Star
has been a firm favourite for years. It's run by a charismatic Zanzibari man, Elly, and it's perhaps due to him that it attracts a youthful crowd into its lively social mix. It's a sociable place in spite of the number of honeymoon couples!