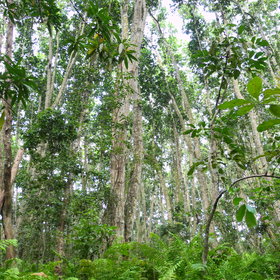 Jozani Forest is an important reserve in Zanzibar...
Jozani Forest Tour
Established as a conservation area in the 1960s, the Jozani Forest is now part of Zanzibar's Jozani-Chwaka National Park, and has become an important sanctuary for one of the rarest primates in Africa: Kirk's red colobus monkeys. Sightings of these creatures, which are endemic to Zanzibar, are now very frequent in the reserve, where they are thought to number almost 2,500.
The Details
Your tour around the Jozani Forest Reserve will be led by an experienced guide, with good knowledge of the reserve's flora and fauna.
As you follow the park's network of nature trails, keep an eye out for some of the forest's residents. As well as the colobus monkey, there are Sykes' monkeys, bush pigs, Zanzibar suni, tree hyraxes and Ader's duiker, as well as more than 40 species of bird – not least among them a species of Fischer's turaco with unusual coloured wings. The forest is also rumoured to be home to the elusive leopard, although it's been several decades since any official sightings.
At one spot in particular, you will usually find two groups of habituated red colobus monkeys, which are no longer disturbed by the presence of humans. As a result, they go about their day-to-day business taking little notice of the humans staring up from below – so it's often a fantastic place for photographs.
In the south of the forest you can follow a boardwalk deep into the mangrove swamps and find out how this fascinating ecosystem protects the Zanzibar coastline.
The Jozani Forest Tour combines really well with two other half-day tours – a Spice Tour and the Jambiani Village Tour – enabling you to get a diverse and varied feel of what's under the white sandy surface of this spice island.
Start location:
Your guide will collect you from your hotel.
Duration of excursion:
This is generally a half-day excursion.
End location:
You will return to your hotel after the tour.
Please note
:
Expert Africa
only books excursions as a part of a full,
Expert Africa
itinerary.