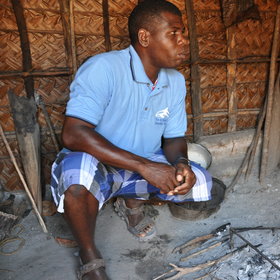 Your guide will be knowledgeable local resident...
Jambiani Village Tour
It can be hard to tear yourself away from the gently lapping waves and soft white sands of eastern Zanzibar, but this coastline is more than just somewhere to relax: for thousands of local residents it represents their entire livelihood. Jambiani, stretching for three-and-a-half miles along one of the island's most picturesque beaches, is one such village. A tour of this community will offer you a fascinating insight into the daily life and work of its 6,000 residents.
The NGO that runs this tour has been operating for many years in the village, and a large percentage of profits are ploughed back into community-development initiatives. The guides have an excellent reputation among the villagers, and this translates into meaningful interactions and genuine exchanges.
The Details
The exact schedule for the tour varies from day to day, but typically during term time you will start at the local kindergarten (one of the main places that will benefit from the proceeds of your visit). Don't be surprised to be serenaded by a group of very happy and enthusiastic pre-schoolers, desperate to perform their latest song!
Your guide will have intricate knowledge of the village, its history and its residents, so you may meet the
mganga
(traditional healer), or find out how the women make rope from soaked and dried coconut husks. A highlight for us was walking out over the white sand at low tide to the seaweed 'farms' set up in the shallows, and gaining an understanding of how the seaweed is 'processed' before it is harvested and sold was fascinating.
You'll also have the opportunity to visit a house, and to hear about the everyday life, traditions, and customs from the villagers themselves.
No visit to a Zanzibari village would be complete without sampling some of the traditional delicacies, so your trip will end at a local restaurant, serving some of the fragrant, spice-filled dishes for which Zanzibar is famed.
Start location:
We will arrange for you to be collected from your hotel in Zanzibar.
Duration of excursion:
This trip will generally last half a day, ending with lunch.
End location:
We will arrange for you to be dropped back at your hotel after the tour.
Meals included:
Lunch is included in your tour.
Please note
:
Expert Africa
only books excursions as a part of a full,
Expert Africa
itinerary.