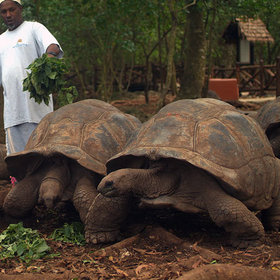 Prison Island is home to giant tortoises
Prison Island Tour
Despite its weighty history, Changuu Island is less than 1km in length and only around 230m wide. The island lies just 30 minutes' by boat from Stone Town, and has plenty to offer the day visitor – from history to wildlife to simple beach relaxation.
History
Changuu Island is more commonly known these days as
Prison Island
, a reflection of its use in the 19th century. In 1860 the island was given to two Arabs who used it as a base to hold 'difficult' slaves before they were sold in the slave market in Stone Town, or sent abroad. Thirty years later, when it came under British ownership, the plan was to use it as an official prison for the African mainland, but although a prison was built, it never fulfilled its purpose. The island later had a brief spell as a quarantine station for yellow fever, before being opened up to tourists.
The Details
The 30-minute boat ride from Stone Town soon leaves behind the narrow streets of the old city, bringing you to the shores of one of Africa's more notorious islands.
Once on Changuu Island, your guide will explain the colourful history of the area, including the prison building – which still stands. Today the island is home to some of Zanzibar's oldest residents – descendants of the Aldabra giant tortoises that were a gift to the people of Zanzibar from the Seychelles government; some of them are rumoured to have reached over a hundred years old. Look a little harder and you may also spot butterflies, bats and even the very shy duiker.
The island is fringed with coral reefs and your guide will make sure you have snorkelling equipment so you can potter around in the shallows, marvelling at the colourful marine life, or simply
soak up the sun on the soft sands surrounding the island.
Start location:
The boat departs from Stone Town.
Duration of excursion:
This is generally a half-day excursion.
End location:
The boat will return to Stone Town.
What's included:
Boat ride, entrance fee and snorkelling equipment are included.
Please note
:
Expert Africa
only books excursions as a part of a full,
Expert Africa
itinerary.