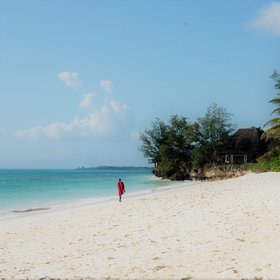 Blinding colour and stunning beaches are Zanzibar's hallmarks.
Tipping in Zanzibar
"Who, when, and how much to tip when traveling in Zanzibar?" is a common question raised by our travellers. To help you navigate the potentially awkward situations we've highlighted a few issues to consider, and provided general guidelines for tipping in Zanzibar, based on our own travel experiences.
Zanzibar's economy: potential issues with tipping
Most crucially, tipping in Zanzibar is voluntary and entirely at your own discretion. It should depend on the quality of service that you receive, however it is also good to bear in mind the extent of the work someone is doing for you, and how tipping impacts on the local community.
Tipping can form a significant part of the income for those in the service industry, such as waiters, drivers or room attendants. While the staff would undoubtedly appreciate a generous tip, tipping excessively can have a negative impact on the local community and upset the social balance.
As an example, a top Tanzanian park ranger needs to be knowledgeable and highly skilled in their field. This is a responsible position, requiring many years of training and often experience working in various national parks. Generally guides and park rangers will be on a reasonably good salary for Tanzanian standards, albeit it not a top-earning one.
In comparison, a room attendant or waiter working at a Zanzibar beach lodge does not require the same level of experience or education. While these jobs are still necessary, they do not carry the same level of responsibility or command the same salary. If a room attendant were to receive excessive tips – say up to US$500 per month – then there is a danger that this job would end up paying more than a park ranger.
In this situation the scales can easily become unbalanced. A ranger may feel that there is little incentive to continue in a responsible role when there is a higher salary to be earnt in the as a waiter in the service industry. Long term this could have a detrimental effect on the park and its visitors.
For these reasons we would ask you to keep tips proportional, and bear in mind the extend of work someone is doing for you.
Who to tip
When thinking about tipping in Zanzibar it is worth remembering the many different people who work to make your holiday a success, here are a few to consider:
Tipping the hotel staff and back-of house team
Every beach lodge or hotel is made up by a large team of people, including waiters, housekeeping staff, chef's and gardeners, just to name a few. To include all of these "back-of-house" staff, most lodges and hotels have a general staff tip box – the proceeds of which are then divided equally between all staff.
Tipping butlers and private chefs
Some of the villas at the most luxurious and exclusive properties on Zanzibar come with a private butler, and occasionally a private chef. Your butler will not usually get a share of the communal tips, and if you would like to tip them then it is best to tip them directly.
Tipping specialist guides
Often excursions, such as diving and snorkelling trips, island excursions or Stone Town tours, will be carried out by experienced guides who operate independently of your hotel. An exciting and successful excursion will largely depend on the quality of your guide, and we would recommend tipping them individually at the end of your activity.
Tipping drivers
On Zanzibar you will be assigned a driver, who will carry out your transfers on the island. Typically this will be the same driver throughout your stay, however in exceptional circumstances it may be that your driver changes. We'd recommend tipping your driver individually, at the end of each trip.
Tipping the managers
It is not common practice to tip hotel managers, and typically we would not recommend doing so. However, if you feel that the manager went above and beyond, offering exceptional service, then you may like to consider making an exception to this rule.
When to tip
This is an important question, with three different options:
After each activity
At the end of each day
At the end of your stay
For hotel staff it is always best to just tip once, at the end of your stay. For your driver, or any specialist guides, we would advise to tip at the end of each activity as there is no guarantee that you will encounter them later in your trip.
How to tip
Most of the time when you leave tips in Zanzibar you will use the communal tip box at the hotel, which is typically found in the reception. Some lodges will provide literature in the rooms about tipping, and sometimes you will find an envelope left in your room where, if you choose to, you can leave a personalised message and your tip at the end of your stay. If you are unsure about how to tip then you can ask the manager about the tipping policy, and who is excluded from the shared tip box.
It is always your decision on who to tip, and how much to tip. At no point should you feel pressurised in to tipping more than you feel comfortable with.
It is always best to tip in cash, typically in US dollars or Tanzanian shillings. Often tipping in Tanzanian shillings is a good way to use up any left-over currency, as it can be tricky to exchange Tanzanian shillings back in your home country.
If you want to plan ahead then it may be worth taking a few envelopes with you so that you can hand these out, or place them in the tip box at the end of your stay.
How much to tip
The amounts we suggest here are just guidelines, based on our own experience of traveling in Zanzibar. Tipping is not compulsory, and depends completely on your own personal experiences, opinions and satisfaction.
With that in mind, we've given a rough guideline below:
US$8–10 per guest per day for a specialist guide
US$8–10 per guest per day for a personal butler
US$5–10 per guest per day for a private chef
US$3–5 per guest per day for the general staff
US$3–5 per road transfer
In reference to the impact on the economy, note that the daily average wage in Zanzibar is about US$4. In contrast, the equivalent GNI in the UK is about US$115.74 per day; in the United States about US$150.58; in New Zealand about $109.80; and in Germany about US$125.45.
In conclusion, tipping is a normal part of the service industry in Zanzibar, and while it is a sensitive issue, there is no need to feel embarrassed about it. But please always keep in mind that comparatively affluent visitors can have a big impact on the local economy and social balance, so do offer your tips wisely.