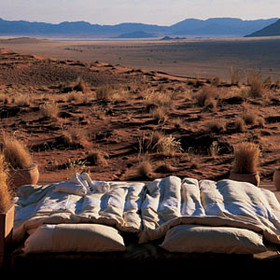 Wake up to sunrise over the dunes - at the luxurious Wolwedans Dune Lodge in Namibia.
Honeymoons in Africa
A safari honeymoon to Africa can be a magical way to celebrate after that most special of occasions. Spending your honeymoon on safari can be a magical experience, which is as simple or as luxurious as you wish. The good news is that with Expert Africa a safari honeymoon will cost exactly the same as any equivalent African safari: we never charge any premium because it's your honeymoon.

Your biggest problem is where to go on your honeymoon and which trip to choose! Although many of our camps and safari lodges in Africa make very romantic destinations; singling out any one alone is difficult. Most will try very hard to make all of their guests feel special; and if it's a honeymoon safari, then they'll try even harder. Often you'll find surprises during your honeymoon – perhaps a private dinner, a bottle of bubbly on arrival or a bush bouquet for the bride. These aren't usually formulaic add-ons; generally they are simply thoughtful camp managers making exceptional one-off arrangements.

So please tell us if you are booking a honeymoon safari to Africa with us; it will only make a difference to your experience, not the price.

We've tried to single out the most romantic lodges and very best safari camps in each country for an amazing African honeymoon. So browse through those – but then call us for our suggestions of how to put together a great honeymoon for you.
Honeymoons in
Zanzibar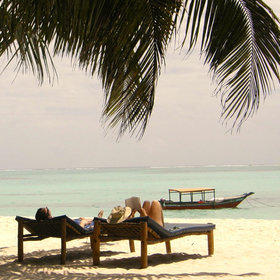 A honeymoon to Zanzibar is perfect for a romantic beach break and a relaxing getaway. Most lodges are perfect for celebrating such a special occasion, with luxurious seafront honeymoon suites, private stretches of white sandy beach, and thoughtful staff. To combine some luxury with adventure, why not add a few nights on Zanzibar on to the end of your Africa safari honeymoon.
Ideas for honeymoons in Zanzibar
Honeymoons in
Zimbabwe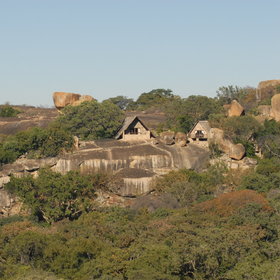 If you want to experience the ultimate in romantic honeymoons including candle-lit dinners and sleeping under the African sky, consider a lovely getaway to Zimbabwe. Our lodges offer a delightful balance between a true safari experience and an exclusive escape – perfect for a remote honeymoon with an authentic feeling.
Ideas for honeymoons in Zimbabwe