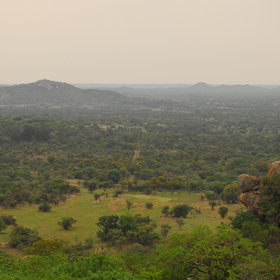 Dotted with rocky outcrops or 'kopjes' the scenery of The Matobos is quite unique...
Latest Matobo Hills National Park safari reviews
Amalinda
15-Sep to 27-Sep 16
Average

Great start to a safari
2-Jun to 14-Jun 16
Excellent

Amalinda review
3-Oct to 19-Oct 15
Excellent

Rock Art and Great Zimbabwe
25-Sep to 14-Oct 15
Excellent

Not long enough at Camp Amalinda
10-Sep to 25-Sep 15
Excellent

Matobo Hills National Park
Just half-an-hour's drive south of Bulawayo is Matobo Hills National Park – which was known for many years as the Rhodes Matopos National Park. This small, easily accessible national park contains some of the region's most arresting scenery. It is a beautiful area – very under-rated and easily reached either by car from Bulawayo or by air.
Huge piles of red-tinged granite boulders (kopjies) litter the landscape, interspersed with wooded valleys and vegetation; giant smooth whalebacks rise up from the plains; rocks and boulders balance at improbable angles.
The area has a rich human history. Bushmen lived in this area 2,000 years ago, and left a superb collection of rock art behind, much of which has been well preserved. Later, the hills were considered sacred by the Ndebele people, whose founder Mzilikazi named them after the 'bald' rocks ('matobo' derives from the Matabele word for 'bald-headed'). In colonial times, Matobo Hills was loved by Cecil Rhodes, who chose this as his final resting place. His grave, carved out from the rock, is marked by a brass plaque at the aptly named World's View, a vantage point high up on the rocks.
Game is found throughout the Matobo Hills, including white rhino, leopard and Africa's largest concentration of leopard and Verreaux's (aka black) eagles. There are, however, no lion or elephant – meaning that you can walk freely amongst the hills and explore them on your own, making for a much more personal experience.
Adjoining the main national park is a smaller, intensively protected game park, containing Zimbabwe's highest concentrations of rhino (black and white). Visiting in 2010 we noted that although game densities in the wider park were depleted in the last decade, this doesn't seem to have affected the density of general game, or rhino, found in the 'intensively protection' zone. This area was buzzing with a very high density of general game and, especially, rhino – which made it an excellent lace for rhino-tracking on foot.
Where to stay in Matobo Hills National Park
Two small, owner-run camps stand out, both are close to one another, and provide a very similar range of activities.
Big Cave
hadn't had much investment put into it until very recently (2011), but it still remained a very comfortable camp worth considering that is designed to blend into the natural landscape of the Matobo Hills. The main area in particular is very impressive, with a bar built into the surrounding rocks and boulders and a very large natural rock pool in front. Each of the 7 chalets is large and comfortable with great views across the granite hills and kopjies. (
Read more about Big Cave…
)
Amalinda
has 9 thatched chalets which are comfortable, clean and very original in design – although they don't seem as luxurious as they once did. The camp is also a great base for exploring the national park. As well as the usual wildlife focus of most camps, Amalinda offers the opportunity to explore the area with a knowledgeable archeologist, which adds an extra dimension of interest to a visit here.