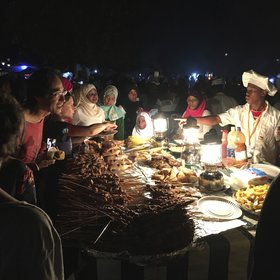 Night time at the food market is one of Zanzibar's iconic experiences.
Latest Stone Town trip reviews
Lovely place in a great Stone Town location
3-Sep to 19-Sep 17
Good

Atmospheric stay at Emerson Spice
6-Sep to 18-Sep 17
Excellent

Zanzibar Coffee House review
11-Aug to 22-Aug 17
Good

Perfect beginning to our honeymoon
5-Aug to 18-Aug 17
Excellent

Quirky/old fashioned stay at Zanzibar Palace
29-Jul to 13-Aug 17
Good

Stone Town
The heart of Zanzibar's capital,
Stone Town
, was constructed during the 19th century and remains largely unchanged. Labyrinths of narrow alleys lead to palaces, mosques and old Arab houses; tiny shops sell dotted tinga-tinga paintings, Zanzibari clocks and heavily adorned chests. The early-morning market on Creek Road is fabulous, as determined Zanzibaris haggle over fragrant spices, exotic fruit and enormous fish.
Stone Town is an easy place to explore on foot. You never need to travel by vehicle and indeed it's virtually impossible to get around the alleys in any other way than on foot – though determined locals wobble through on bicycles, and more recklessly on the occasional motorbike.
You should be aware that Stone Town can be noisy and there is nowhere to stay where we can guarantee silence. Five-times-daily calls to prayer from the mosques (including at dawn, and two hours before dawn), along with the hustle and bustle of town, are part of everyday life here. It's a lively, vibrant atmosphere, but don't expect tranquility.
Of the many options for staying in Stone Town, we've chosen a few of the best for you to consider in the menu on the left of this page. Some standouts include:
We think a two-night stay in Stone Town is perfect, and if this is your last stop in Africa, then ask us about flights from Zanzibar airport to Dar, Nairobi or hubs in Europe or the Middle East.