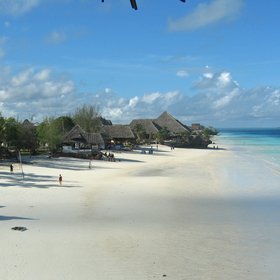 Northern Zanzibar offers beautiful white-sand beaches...
Latest Northern Zanzibar holiday reviews
Privacy and peace at Kilindi
19-Sep to 30-Sep 18
Excellent

Peaceful, beautiful, romantic hideaway
4-Jul to 16-Jul 17
Excellent

Kilindi review
14-Dec to 29-Jan 17
Excellent

Kilindi review
31-Dec to 14-Jan 17
Excellent

Kilindi review
12-Jan to 27-Jan 16
Excellent

Northern Zanzibar
Two or three hours drive from Stone Town, the village of
Nungwi
has traditionally been the centre of Zanzibar's dhow-building industry. However, over the last decade the coastline here has turned it into one of Zanzibar's busiest beach areas. What was a ramshackle fishing village has become an increasingly busy place as various guesthouses, bars, shops and restaurants appear. The setting is beautiful, but the number of people in Nungwi town, the noise and the constant stream of apparently uncontrolled development do take the exclusive air off its charm.
That said, a visit to the turtle sanctuary is very worthwhile here, and for our traveller who love night-life, we've included the immaculate
Flame Tree Cottages
. It's a particularly lovely small guest house a short walk from Nungwi's centre. It's near enough to take part, but far enough away for you to get a good night's sleep even when there are still revellers on the beach.
On the east side of the island's tip, the
Ras Nungwi Beach Hotel
has always been at the top end of Nungwi's lodges. It's a popular small hotel with high standards of service; really excellent food; compact, well-kept gardens, a swimming pool and a lovely small stretch of beach.
One of the latest additions to the north of the island is the new and unique
Kilindi
. The vast and breezy villas are simple yet intriguing in design, and we expect the service and food here to be some of the best on the island.