About Emerson Spice
Strikingly grand and theatrical, Emerson Spice delivers a colourful twist on traditional Swahili design in the very heart of Stone Town.
Created by the late Emerson Skeens, Stone Town luminary and boutique hotel pioneer, Emerson Spice is testament to his vision, flamboyance and love of the city's heritage. It's both exotic and historic, oozing individuality and charm.

The building has been restored with tremendous thought and care and is uniquely decorated. The eleven atmospheric bedrooms feature immense ceilings, vibrant murals, intricately carved doors and a sense of drama compounded by their dedication to notable leading ladies: Aida to Desdemona.

The rooms are grand and well-equipped, and the attention to detail continues throughout the building: a cool courtyard with a tinkling blue fountain, a palm-filled walled garden to laze in a hammock, and acclaim for culinary creativity. The fine Swahili degustation menu at the rooftop Spice Tea House and the enchanting Secret Garden - a crumbling ancient marketplace transformed into a courtyard restaurant – both excel at producing delicious, seasonal Spice Island cuisine.

The staff are unfailingly cheerful here, with broad smiles and plenty of sightseeing tips for exploring from this super, central spot.
Accommodation

11 bedrooms

Children

Best for aged 8+

Open

1st June - 30 April
Activities
Boat trip
Cultural excursion
Self-guided walking
Snorkelling
Watersports
Trips visiting Emerson Spice
Just ideas, we'll always tailor-make a trip for you
---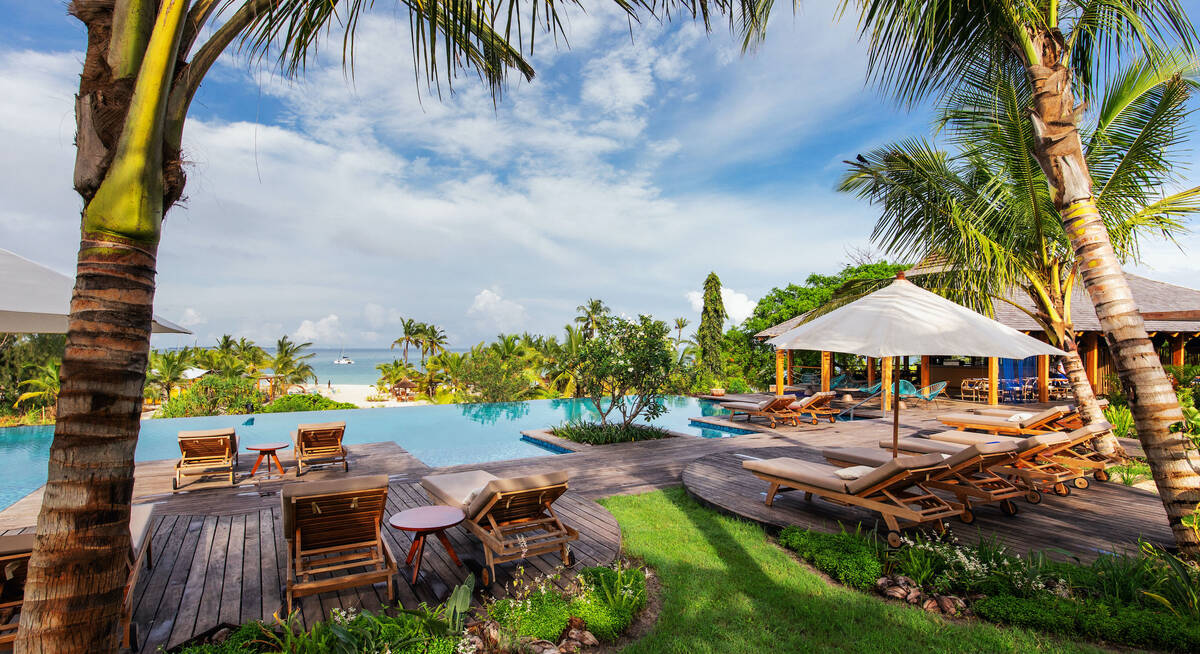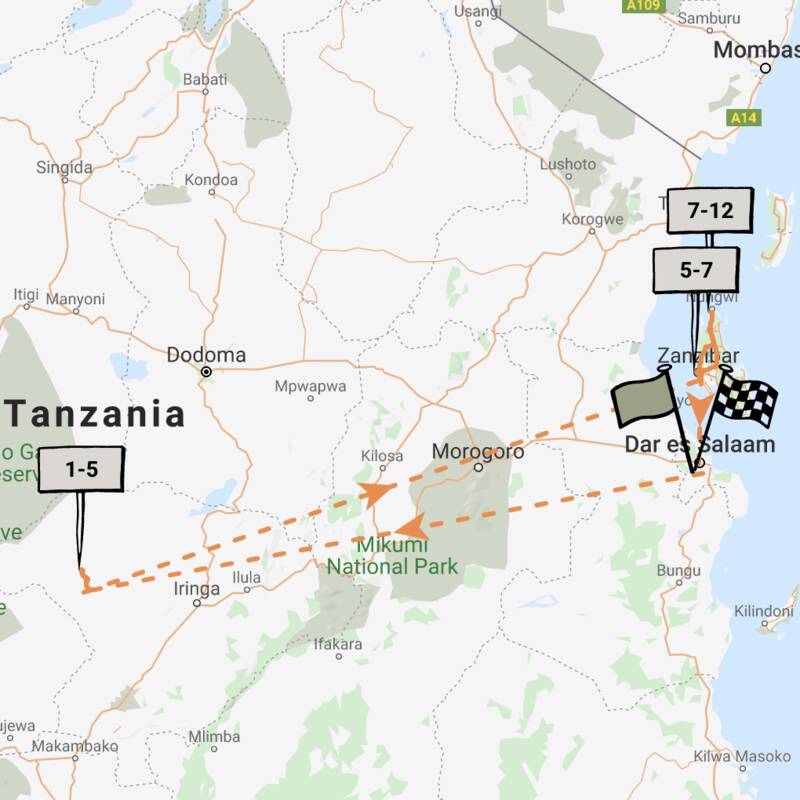 Red Colobus Monkey Safari
11 days • 3 locations • 2 country
DAR ES SALAAM AIRPORT TO DAR ES SALAAM AIRPORT
This luxury holiday suggestion combines a wildlife safari in Ruaha National Park with a week on Zanzibar, exploring Stone Town's narrow streets and relaxing on a palm-shaded beach.
Visiting Ruaha, Stone Town and 1 other area
US$6,020 - US$7,820 per person
Traveller reviews of Emerson Spice
26 real, un-edited reviews from Expert Africa's travellers.
---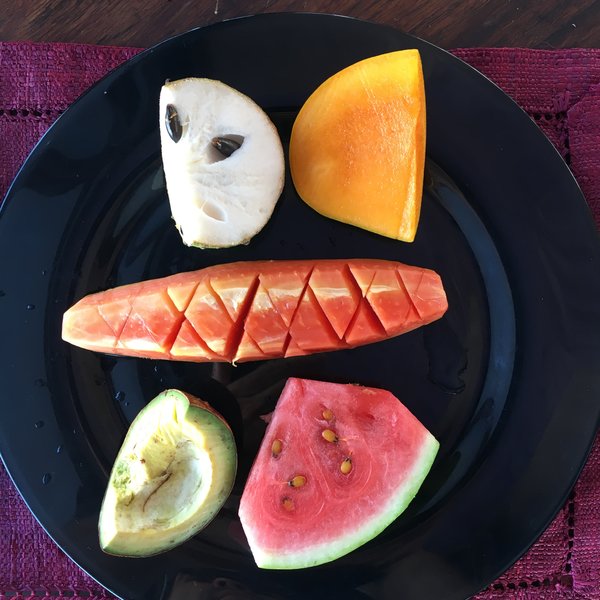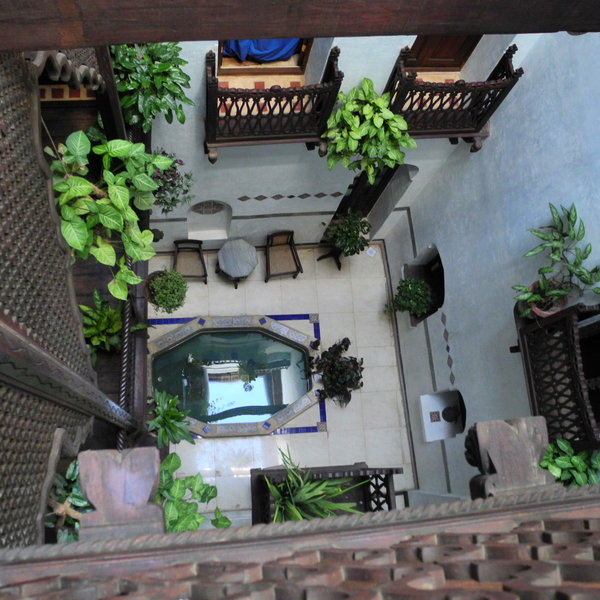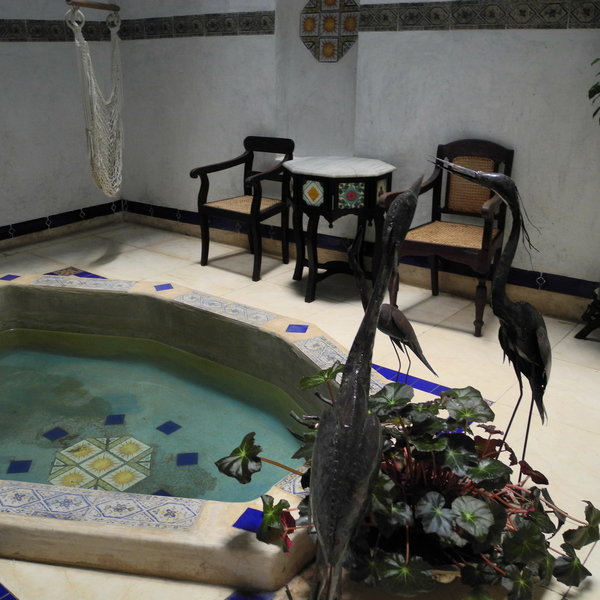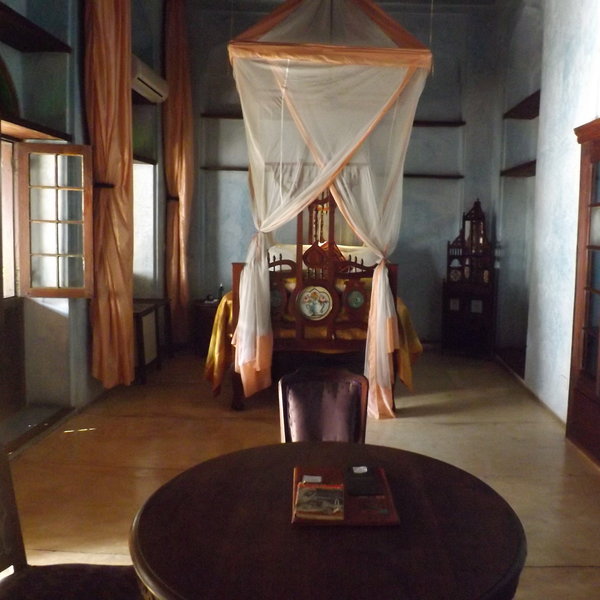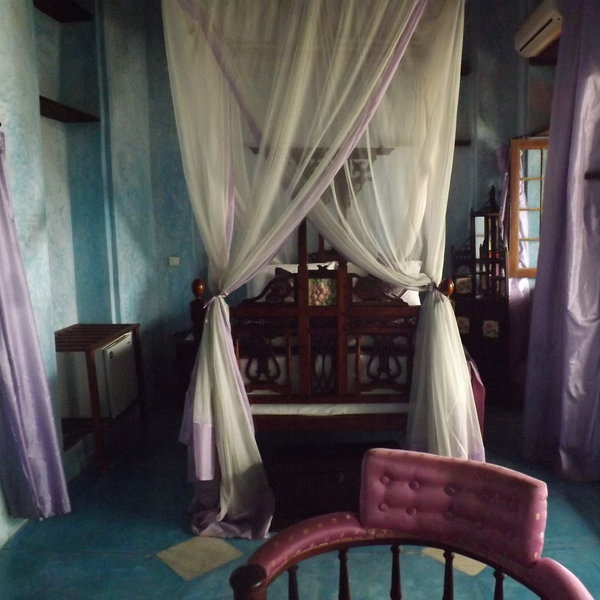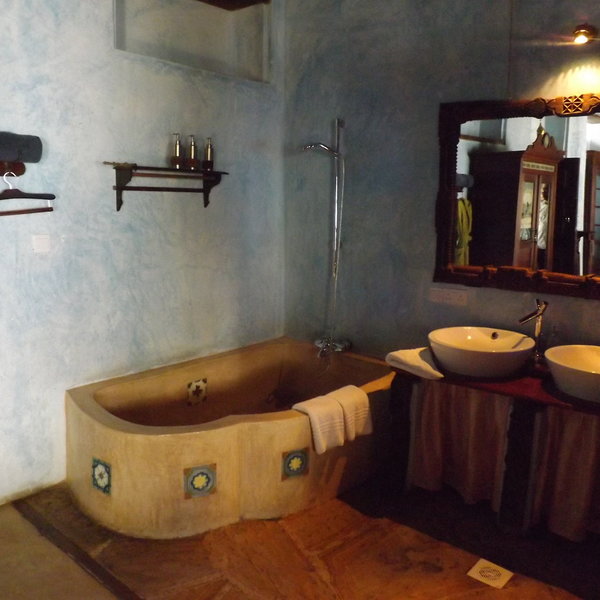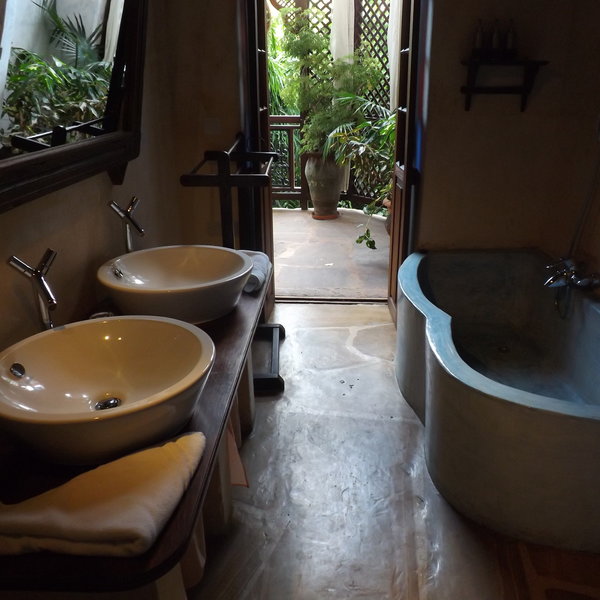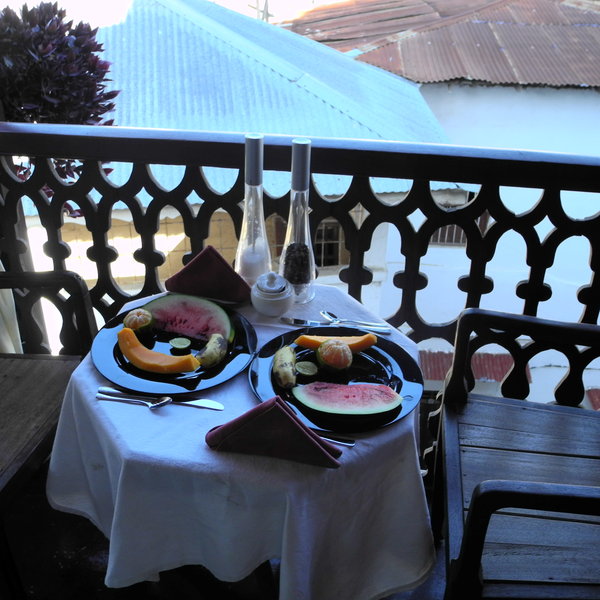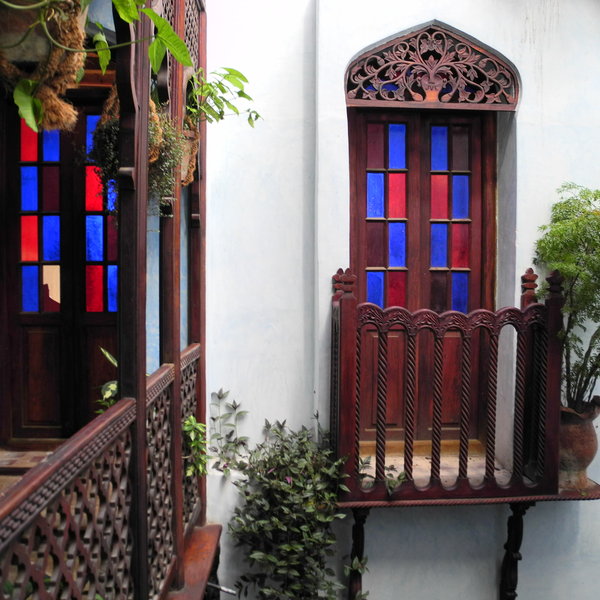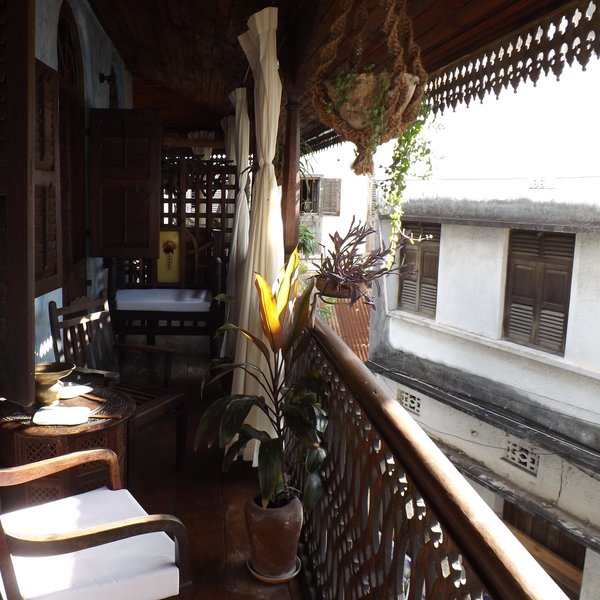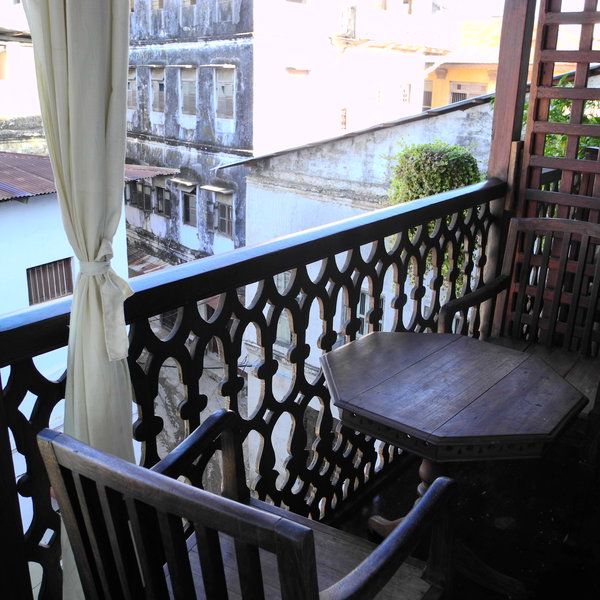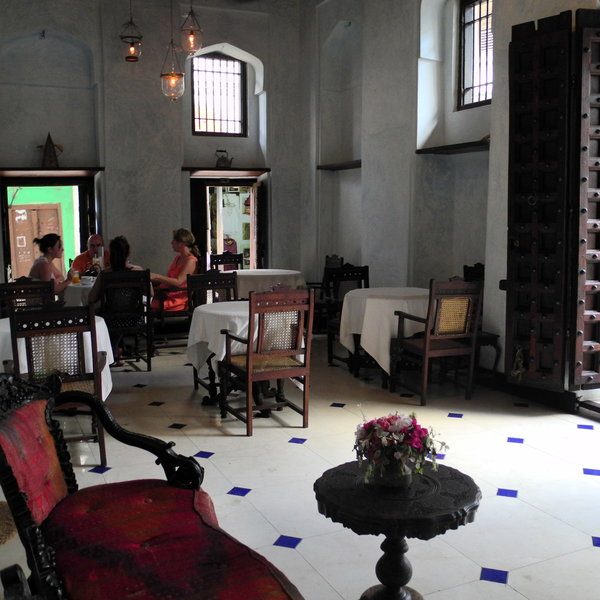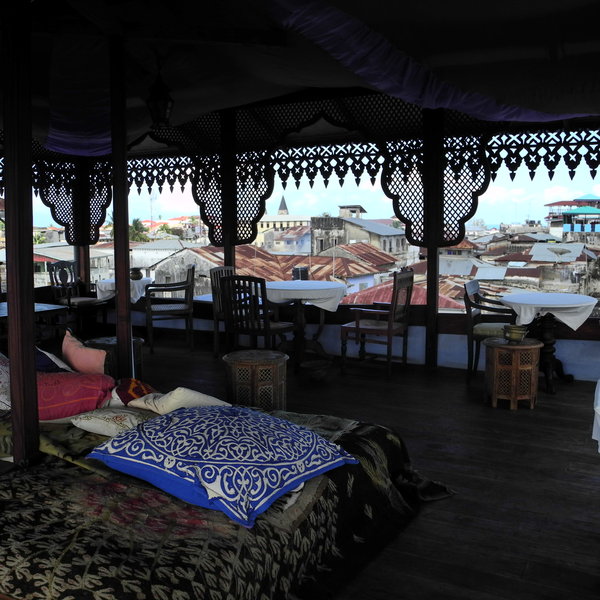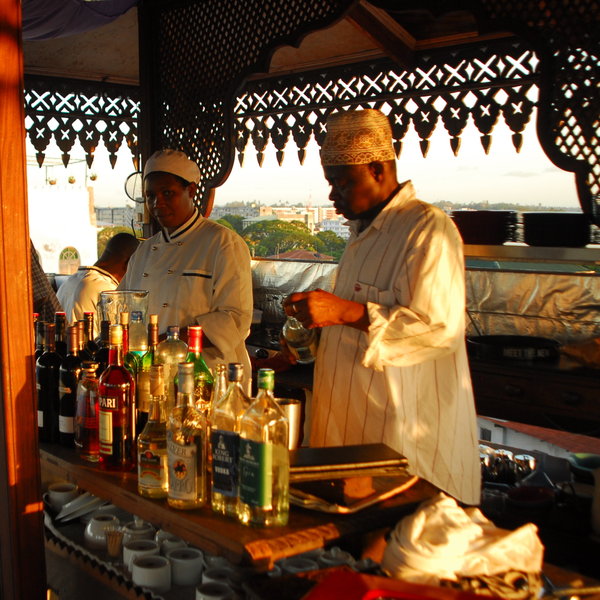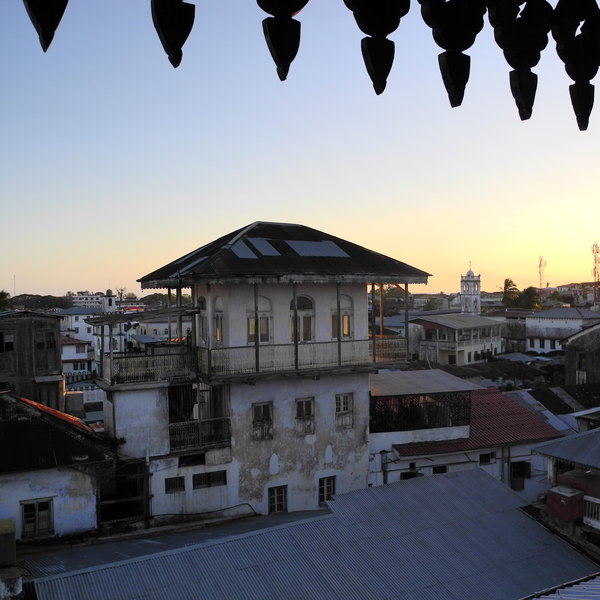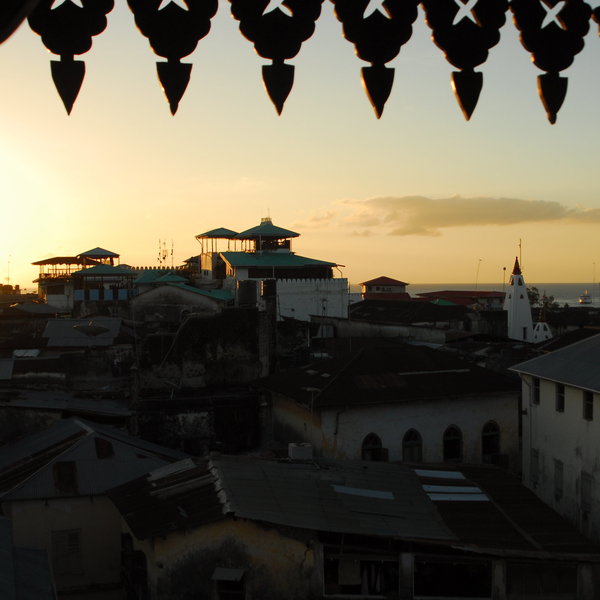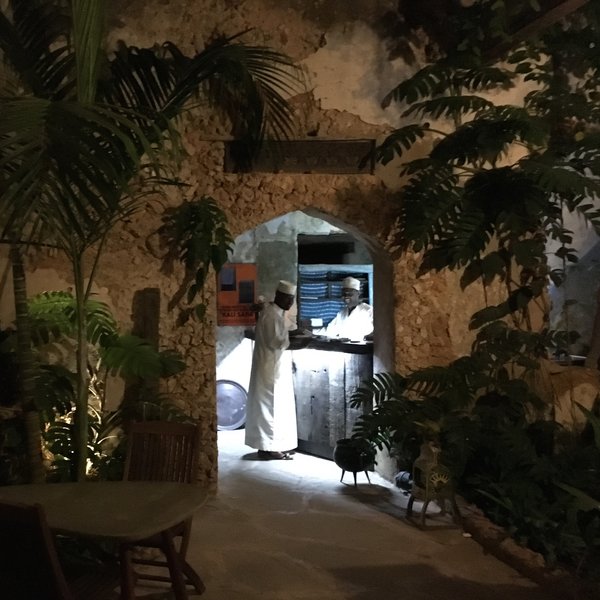 Expert Africa's gallery
When we travel we take lots of photos ourselves to give you a real and un-edited view of the trips. See our 17 pictures of Emerson Spice to get the candid view.
View gallery
Emerson Spice's location
Look closer at the environment and surroundings of Emerson Spice.
---
When to go to Stone Town
Our month by month guide: What it's like to visit Emerson Spice in Stone Town
---
Jan
Feb
Mar
Apr
May
Jun
Jul
Aug
Sep
Oct
Nov
Dec
As on the Tanzanian mainland, January typically marks the start of the short dry season in Zanzibar. Conditions are likely to be hot and mostly dry, with temperatures exceeding 30ºC, although it is not uncommon to get a tropical shower in the afternoons. January can feel very humid at times, and this is particularly noticeable in Stone Town, although this can be tempered by the cooling sea breeze.

New Year is one of the most popular times to visit Zanzibar, with many hotels being fully booked over the festive period. The island generally becomes much quieter after 10th January, and prices drop too.
Mostly hot with the occasional shower.
High humidity, which can be relieved by the refreshing breeze.
Very busy over New Year, with high prices and long minimum stays often
Quieter and better value later in the month.
Wind from the northeast, and so the southwest coast is more sheltered.
Our view
A good time to visit, with pros & cons
The weather in February is fairly similar to January, with days typically being hot and sunny although expect the occasional rainy spell. The humidity remains high, however the coastal areas often have a refreshing breeze. Zanzibar is fairly quiet in February, and with comparatively low prices it can be excellent value for money.

At this time the wind blows from the northeast, and so the southwest coast is often more sheltered and there can be good diving in the Menai Bay. The northeast winds can also lead to good conditions for kite surfing, with many kite surfers heading to the southeast coast and Michamvi Peninsula. For music lovers, Stone Town hosts an annual African music festival 'Sauti za Busara' each February. The festival's dates change each year; ask us for details.
Variable: mostly hot and humid with some cloud and rainy spells.
Fewer tourists and comparatively low prices.
Popular time for kite surfing, especially around the southeast coast.
North easterly wind, better diving in the south west of the island.
'Sauti za Busara' music festival in early February.
Our view
A good time to visit, with pros & cons
March sees the start of the 'long rains' in Zanzibar, although the exact start date varies every year. The weather can be unpredictable, with a combination of hot sunny days, rain showers, and the occasional tropical storm. The arrival of the rains lowers the humidity, and it can also lead to some beautiful sunsets – most obviously on the west coast where you can watch the sunset over the ocean. Prices remain low during March, and the island is likely to be relatively quiet.

Diving is generally not recommended during the rainy season, as variable conditions can lead to reduced visibility from rainfall runoff, and choppy water.
Hot and humid, leading to heavy rains later in the month.
Low prices, and the island is comparatively quiet.
Variable weather leads to poor conditions for diving.
The start of the rains can lead to beautiful sunsets.
Our view
This is not a great time to visit
April is typically the wettest month of the year in Zanzibar, and the long rains are in full force. The average rainfall is more than 250mm during this month, and tropical storms are common. Flooding regularly occurs, which can impact the quality of the roads, and consequently cause difficult, slow journeys across the island. Many of the hotels and beach lodges close at this time, so accommodation options can be limited. Having said this, prices are at their lowest, and if you don't mind the risk of bad weather you can get some real bargains.

Despite the poor conditions, Easter weekend is often popular, and advance booking is recommended. Due to the strong likelihood of rain and poor conditions diving is inadvisable at this time.
Heavy rain and tropical storms expected throughout the month.
Areas of flooding leading to poor travel conditions.
Many hotels close for refurbishment at this time.
Low prices and few other tourists.
Diving inadvisable due to heavy rain and reduced visibility.
Our view
A time to avoid if possible
The long rains continue into May, and as with April you can expect thunderstorms and heavy showers, although these typically ease up towards the end of the month. Parts of the island can experience flooding, causing damage to roads and impacting travel times. The temperature typically drops a little in May, with a daytime average of around 25ºC. The rains lead to a lower humidity too, and mornings and evenings can feel a bit cooler.

Many of the hotels and lodges are still closed, however a handful stay open and prices remain low. While diving is possible, the rain and storms mean that diving conditions are not at their best.
Continuation of the long rains, with thunderstorms and lightning.
Flooding common, but conditions becoming drier as the month progresses
Drop in temperatures, with cooler mornings and evenings.
Prices low, and many hotels remain closed.
Our view
A time to avoid if possible
June marks the start of the long dry season in Zanzibar. While the island still gets rainfall, especially early in the month, it's becomes less likely as the month progresses. Temperatures remain steady, with daytime highs averaging 25ºC, and it likely to be mostly dry. Any rain you do experience is likely to be in shorter bursts rather than heavy storms and hours of continuous rain, although conditions vary from year to year.

The wind direction switches to blow from the southeast, and the northeast coast is likely to be more sheltered at this time. Diving conditions can be variable, and while they are generally good there can be some rough days.
Variable weather: mostly hot and dry, with some rainy showers.
Wind from the southwest, and more sheltered in the north east.
Diving conditions variable, dependent on the wind and rain.
Lower prices and generally good weather can lead to great value.
Our view
A good time to visit, with pros & cons
July is a very popular time to go to Zanzibar, and this coincides with the long dry season. July and August are the school holidays throughout much of Europe, and Zanzibar can often be busy with families. Weather conditions are generally hot and dry and pretty ideal for a beach holiday, however there is still a chance of an occasional short shower. Conditions for diving are typically pretty good, however this will be dependent on recent weather conditions.

The Zanzibar International Film Festival takes place in July, with lots of people flocking to Stone Town to soak up the atmosphere. The dates for the festival change every year, so chat to Expert Africa for details.


Typically hot and dry with clear skies, although showers are possible.
Can become very busy, with many families traveling during holidays.
Zanzibar International Film Festival takes place in Stone Town.
Great beach weather result in high prices.
Our view
A very good time to visit
August is one of the most popular times of year to visit Zanzibar, and with good reason; this is one of the driest months and it is typically hot with clear skies – ideal for relaxing on the beach. Many families choose to visit during August, and the island can be busy, and this is particularly noticeable in Stone Town and around the more popular snorkelling sites.

High demand can mean that many of the more popular hotels and beach lodges can be booked up more than 6 months ahead, so advance booking is crucial. Due to the popularity and great beach weather prices are high.
Hot and sunny, generally ideal for relaxing on the beach.
Popular time for families and the island can be busy.
High demand leads to higher prices, and advance booking is essential.
With little rain falling and causing soil run-off, the sea is clear.
Our view
Fantastic: the very best time to visit
September is an excellent time of year to visit Zanzibar. Weather conditions are typically very good, with clear skies and temperatures ranging from 20¬–30ºC. September is also one of the driest months, averaging 50mm of rain during the month, however rain showers are still possible. Due to the great beach conditions prices remain high, however with fewer families travelling in September the island can be a little quieter at this time.

September to December are often some of the calmest months at sea, which can result in superb conditions for diving. The wind typically blows from the southeast, and the northeast coast can often be a little more sheltered. You can find some beautiful snorkelling and diving spots around Mnemba Island.
Warm temperatures and clear skies, with the off-chance of rain.
Fewer families travelling, and the island can be a little quieter.
Great beach weather means that prices remain high.
Relatively calm seas result in good conditions for diving.
Our view
Fantastic: the very best time to visit
October is the tail end of the dry season and you can generally expect hot, dry conditions. The short rains typically start in early November, and so this does mean that there is an increased likelihood of rainy spells as the month progresses. October remains a popular month to travel, particularly so during the European half-term school holidays, and advance booking is advised.

With high demand and great weather prices remain high, however there are some long-stay special offers to be found. South-easterly winds mean that the northeast coast can be more sheltered and conditions for diving can be good.
End of the dry season, generally good beach weather.
Increased chance of rain, particularly near the end of the month.
Popular with families during the half-term school holiday.
High demand means prices remain high.
Northeast coast generally more sheltered.
Our view
A very good time to visit
The short rains start during November, however their exact start varies year on year. You are likely to experience a mixture of hot, dry days with the occasional tropical shower, however we find that short showers can actually be quite refreshing. With the start of the rains the humidity can shoot up and while the coastal properties tend to receive a pleasant cooling breeze Stone Town and the island interior can feel quite hot and clammy.

Prices drop in November and there are some real bargains to be found. This time of year can be great value for money, especially near the start of the month when the weather conditions are very comparable to late October. The demand is generally lower, and the island starts to feel much quieter.
Variable weather: mostly hot and dry but with some clouds and rain.
Hot temperatures, with humidity on the rise.
Less busy than October, and with lower prices it can be great value.
Our view
A good time to visit, with pros & cons
December falls in to the short rainy season, and the weather can be variable. Days are likely to be hot and humid, with the occasional patch of rain, although showers can be a blessing in disguise as they help to lower the temperature. Early December is fairly quiet and prices are low, however this changes dramatically over Christmas and New Year.

The festive season, from around 20th December to 5th January, is arguably the most popular time to visit Zanzibar. Prices are at their highest, and long minimum stays are imposed. Due to the very high demand booking early is essential, especially if you're a group or a large family. Book six months to a year in advance, or even more, if possible.
Variable weather, with a mix of hot, sunny days and tropical showers.
High humidity, which may be mitigated by the cool ocean breeze.
Quiet with lower prices earlier in the month.
Busy and exceptionally popular over Christmas and New Year.
Advance booking over Christmas and New Year is essential.
Our view
A good time to visit, with pros & cons
Zanzibar fact file
Useful information and advice to help you prepare for a trip including Emerson Spice
---
Excursions from Emerson Spice
Optional extra day-trips and excursions possible whilst you're staying at Emerson Spice. Talk to us: these are usually best arranged before you go.
---
Other lodges in Stone Town
Alternative places to stay in this same area.
---