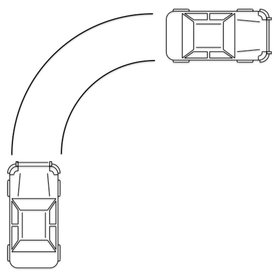 A car cornering.
Self-drive - Driving tips and techniques
Driving speed on gravel roads
Generally, if you drive well and at moderate speed on gravel roads, you will not get into trouble. If it is your first time off the tar, take it slow and build your confidence. It is easy to be over-confident and drive too fast, particularly on the longer gravel roads where your perception of speed across the vast landscape is easily warped.
Please note
that "headlights" are to be on at all times while travelling in Namibia.
You will find that there is an optimum speed for you to drive at on every gravel roads – a balance of speed, comfort and control. However, there is an important caveat here: the faster you go, the less time your tyres will spend touching the road surface, so the smoother it'll seem. However, less contact between your tyres and road surface also means less control.
So, never exceed the speed limit, and we'd recommend absolute maximum speed of 80kph (50mph) on any gravel road – and that this be reduced in sections where the surface is less than excellent. (Whatever you do, don't try to keep up with the locals. They have far greater experience of driving on these roads and will often speed along at 120kph with alacrity.)
Warning:
most vehicle accidents that befall visitors in Namibia don't involve any other car. Most commonly they involve a vehicle that's travelling too fast on a gravel road, and the driver loses control of it.
Aim to always drive slowly, break early, corner gently and avoid sudden changes in speed or direction.
Tyre pressures
There is no one answer to the question 'What pressure should my tyres be at when driving in Namibia?' It depends on the make of the car, the number of passengers, the amount of luggage carried, and the tyres fitted. In this section we will try to give some general advice.
When you pick up your car from the airport, the tyres will normally have been inflated to the correct pressure for driving on tar roads. The precise pressure will usually be indicated somewhere in the car's handbook, or on a small label fixed to the car.
However, few of our travellers remain on tarred roads for their whole trip, and many spend a lot of time on gravel. For a better ride and traction on gravel, many locals suggest reducing the tyre pressure by around 10–20%. Doing this allows the tyres to act as an additional shock absorber, taking the bite out of the corrugations. It also increases the amount of time that the tyre is in contact with the gravel surface, and thus increases their traction.
If you decide to slightly deflate your tyres for driving on gravel roads, which isn't essential, then remember that
it is absolutely essential
that you remember to reflate them when you return to the tar. Driving on tar on low-pressure tyres will cause heat to build up in the tyre, and increases your chances of a blowout. So always return the tyres to their recommended pressure as soon as possible after coming back to a tar road. Most fuel stations in Namibia will be able to do this for you.
You will often see lodge vehicles, especially those regularly contending with deep sand, with very soft tyres. This gives these tyres a large surface area, and helps to prevent the vehicle from sinking or getting stuck. However, these are special tyres designed to be used at lower pressures; don't do this with your tyres as you risk damaging them, and increasing the chances of an accident if they're later used at speed.
4WD: low range
Many 4WDs come with a low-range gearbox, indicated by a second gearstick. The majority of our travellers will never need the low-range option, but we explain here how it works.
Engaging low range is the same as changing the front gear on your bicycle. It changes the gear ratio, producing more torque (turning force). This is useful for driving up steep inclines or in deep sand where the resistance to motion is high. Be aware, though, that the increase in torque with low range engaged can make it easier to spin the wheels, and certain circumstances you may need to pull away in second gear to avoid wheel spin.
This second gearstick may also give you the choice of whether or not to engage 4WD, with options such as 2WD high, 4WD high and 4WD low. We suggest using the 2WD high range option for tar roads, as it is more fuel-efficient; then either the 2WD high or 4WD high on gravel roads – the latter if you feel the need for extra control.
4WD: diff lock
A differential (diff) is a mechanical device in a car that allows the wheels on different sides to turn at different speeds.
As you can see from the diagram above, when a car travels around a corner the outside wheel has to travel further. The differential allows the outside wheel to travel faster, which stops the inside wheel from spinning. In normal road driving this is great, preventing power wastage and tyre wear.
However, if a car becomes stuck it is possible for the differential to become confused. One wheel often has less grip than the other and so it spins, mimicking a corner. This means that all of the power and torque (turning force) is sent to the spinning wheel and you remain stuck.
4WDs often have a 'diff lock' option, which locks the wheels so that they are forced to turn at the same speed regardless of whether you are going around a corner or not. This function is useful for crossing loose surfaces, such as sand and gravel where the chances of getting stuck are high, or for getting yourself unstuck.
Diff lock isn't needed in normal driving and should never be engaged on tar roads, as this could do permanent and serious damage to the differentials, for which you would be liable. See the vehicle handbook for the exact conditions when it can/should be used.
For more information on the car hire and Namibian roads, see also:
►
Self-drive - types
.
►
Self-drive - road types
.
►
Self-drive - hire groups
.