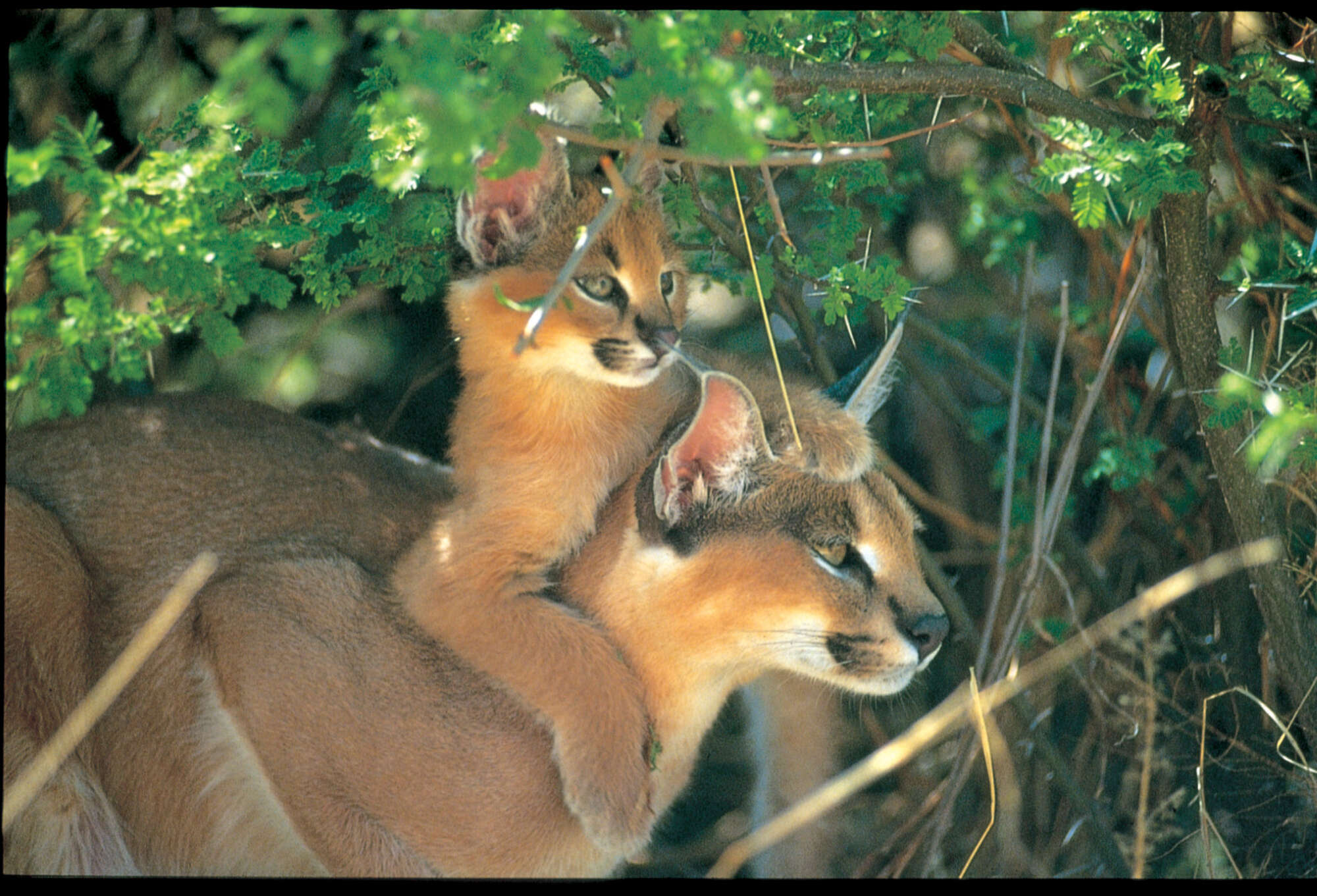 Caracal Self-drive Safari
This self-drive trip is the perfect introduction to Namibia. A two-week adventure taking in all the best bits and staying in a great mix of lodges, the Caracal Safari is our 'go to' for first timers here.

Begin in Windhoek, picking up your rental car for an easy drive into Namibia's tiny capital for the night before setting off into the wilderness. The first stop is BullsPort Lodge & Farm, a welcoming spot offering scenic hikes and horse rides in the rugged Naukluft Mountains. Then continue west to the edge of the Namib Sand Sea and a stay at Kulala Desert Lodge. With its private entrance to the Namib-Naukluft National Park, be among the first to arrive at the surreal Sossusvlei pan for the best of the morning light and a chance to climb one of the world's tallest sand dunes before things heat up.

Turning north, stop as and when you like en route to the quirky seaside town of Swakopmund, where you can try your hand at sandboarding or kayak among its seal colony. Cross Damaraland's rolling hills to Doro Nawas. Highlights here include tracking desert adapted elephants and a visit to the ancient rock engravings at Twyfelfontein.

Reach Etosha National Park for two nights at Okaukuejo Camp, whose somewhat basic nature is more than made up for by a waterhole which is the best spot in Africa for wild black rhino sightings, with another two nights at the excellent Mushara Bush Camp. Spend your time exploring Etosha completely at your own pace, spending as much on safari as you fancy. Finally, return south with one final night at Ai Aiba Lodge en route to Windhoek.
Includes:
Starts/ends:
Prices:
US$2,197 - US$2,932 per person sharing
Stays at:
1 night
Galton House
– Windhoek, Namibia
1 night
BullsPort Lodge & Farm
– Namib-Naukluft National Park, Namibia
1 night
BullsPort Lodge & Farm
– Namib-Naukluft National Park, Namibia
1 night
Kulala Desert Lodge
– Namib-Naukluft National Park, Namibia
1 night
Kulala Desert Lodge
– Namib-Naukluft National Park, Namibia
1 night
Cornerstone Guesthouse
– Swakopmund & Walvis Bay, Namibia
1 night
Cornerstone Guesthouse
– Swakopmund & Walvis Bay, Namibia
1 night
Doro Nawas
– Damaraland, Namibia
1 night
Doro Nawas
– Damaraland, Namibia
1 night
Okaukuejo Camp
– Etosha National Park, Namibia
1 night
Okaukuejo Camp
– Etosha National Park, Namibia
1 night
Mushara Bush Camp
– Etosha National Park, Namibia
1 night
Mushara Bush Camp
– Etosha National Park, Namibia
1 night
Ai Aiba Lodge
– Central Highlands, Namibia
Reviews
Recently reviewed trips visiting some of these places include: