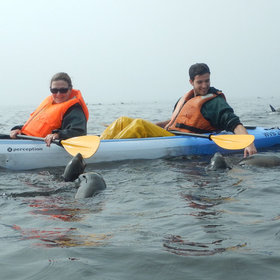 Kayaking amongst and playing with seals is a magical experience.
Kayaking with seals
Kayaking from Pelican Point on Walvis Bay Lagoon brings you into close contact with a colony of Cape fur seals, and offers the chance of spotting dolphins as well as numerous birds.
We currently use two companies for this trip; while the exact format of the day will vary slightly, both trips follow broadly the same outline.
You begin with an early start, meeting at a designated location in
Walvis Bay
(a 45-minute drive from Swakopmund) at around 7.30am. This is necessary to make the most of the normally calm morning weather conditions. As the day progresses and heats up, the swell usually builds, making conditions windier and more unstable.
From the meeting point, your guide will drive you 40km around the lagoon and along a narrow sandy spit to Pelican Point – taking around 45 minutes. During the drive, watch out for many species of birds, including flamingos and pelicans, and you may even see jackals. You will pass the Walvis Bay salt works, which whilst undeniably industrial are also home to a surprising proliferation of avifauna. The works are interesting in their own right, too, and your guide will explain how the salt is produced. Finally you'll pass a shipwreck and Pelican Point lighthouse (now converted into
Pelican Point Lodge
), before reaching the seal colony itself.
Once you're kitted out (see below), and before you climb into the single or double kayaks, your guide will explain the basics. You don't need any previous kayaking experience. You'll then spend two hours or so on the water interacting with the seals. The colony is home to up to 50,000
Cape fur seals
, also known as brown or African fur seals. The younger seals are particularly curious and often playful, resulting in a truly memorable experiance. Whilst on the water you may also be lucky enough to see dolphins (Heaviside's and bottlenose are the most commonly seen species).
Once you're finished on the water you head back to dry land, where your guide will provide you with tea, coffee, soft drinks and sandwiches so you can refuel before heading back to Walvis Bay.
What to take
Once at the seal colony, you'll be furnished with warm jackets, waterproof trousers, neoprene shoes, lifejackets, dry bags for cameras and bottled water. You don't need to bring along special clothes for the kayaking but layers are a good idea. By all means take a good camera for the drive, but while kayaking you'd be better off leaving it behind. Your guide will take photos and videos of you and will email them to you after the trip – for no additional cost.
Start location/time:
Both companies meet in Walvis Bay at around 7.30am, though the location and time may vary slightly.
Duration of excursion:
Allow about five hours, of which you'll be kayaking for around two hours.
End location:
The tour ends back in Walvis Bay at around 12.30pm.
Maximum group size:
There will be a maximum of 12 people in one group.
Guide:
One of the guides we know and use regularly is Jeanne Meintjes. A highly experienced guide, who used to run trips to Sandwich Harbour, Jeanne pioneered these kayaking tours and has been running them since 1997.
Please note
:
Expert Africa
only books excursions as a part of a full,
Expert Africa
itinerary.