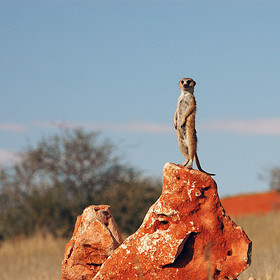 Namibias small mammals are no less impressive than the big game.
Wildlife in Namibia - Small mammals
Why do so many people travel to Namibia? One key reason is certainly the county's outstanding wildlife. Below you'll find a list with short descriptions of Namibia's small mammals – pointing out aspects specific to Namibia. Most of the comment are take from the
Bradt guide to Namibia
, written by one of our team's experts, Chris.
African civet -
Civettictis civetta
Shoulder height 40cm. Weight 10–15kg.
This bulky, long-haired, rather feline creature of the African night is primarily carnivorous, feeding on small animals and carrion, but will also eat fruit. It has a similarly coloured coat to a leopard, which is densely blotched with large black spots becoming stripes towards the head. Civets are widespread and common in many habitats, but very rarely seen. In Namibia, it is restricted to the far north.
Small-spotted genet -
Genetta genetta
and
Large-spotted genet -
Genetta tigrina
The small-spotted genet and large-spotted genet are the most widespread members of a group of similar small predators. All of these are slender and rather feline in appearance (though they are not cats), with a grey to gold-brown coat marked with black spots and a long ringed tail.
Most likely to be seen on nocturnal game drives or scavenging around game-reserve lodges, the large-spotted genet is gold-brown with very large spots and a black-tipped tail, whereas the small-spotted genet is greyer with rather small spots and a pale-tipped tail. Exact identification is a job for experts. The small-spotted genet is found all over Namibia, whilst the large-spotted genet is restricted to the
Caprivi Strip
and the area adjacent to the Okavango River.
Banded mongoose -
Mungos mungo
Shoulder height 20cm. Weight around 1kg.
The banded mongoose is probably the most commonly observed member of a group of small, slender, terrestrial carnivores. Uniform dark grey-brown except for a dozen black stripes across its back, it is a diurnal mongoose occurring in playful family groups, or troops, in most habitats north and east of Okahandja. They feed on insects, scorpions, amphibians, reptiles and even carrion and bird's eggs, and can move across the veld at quite a pace.
Other mongooses
Another eight or so mongoose species occur in Namibia; some are social and gather in troops, others solitary. Several are too scarce and nocturnal to be seen by casual visitors. Of the rest, the
water or marsh mongoose
Atilax paludinosus
is large, normally solitary and has a very scruffy brown coat; it's widespread along the
Caprivi Strip
, the Kunene and the Orange. The
white-tailed ichneumon
Ichneumia albicauda
is another mongoose that is widespread in the Caprivi. It is a solitary, large brown mongoose, easily identified by its bushy white tail.
The
slender mongoose
Galerella sanguinea
is as widespread and also solitary, but it is very much smaller (shoulder height 10cm) and has a uniform brown or reddish coat and blackish tail tip. It is replaced in the far south of Namibia by the small
grey mongoose
Galerella pulveruntela
, similar in size but grey with white flecks on its coat.
The
yellow mongoose
Cynitis penicillata
is a small, sociable mongoose with a tawny or yellow coat, and is commonly found across most of Namibia. It normally forages alone and is easily identified by the white tip on the end of its tail.
Finally, the
dwarf mongoose
Helogate parvula
is a diminutive (shoulder height 7cm), highly sociable light brown mongoose often seen in the vicinity of the termite mounds where it nests.
Meerkat or suricate -
Suricata suricatta
Shoulder height 25–35cm. Weight 650–950g.
Found throughout the
Kaokovelt
and
Southern Namibia
, meerkats are only absent from the driest western areas of the Namib and the wetter parts of northeast Namibia. There's a semi-tame troop at
Bagatelle
who are often in residence!
These small animals are sandy- to silvery-grey in colour, with dark bands running across their backs. They are exclusively diurnal and have a distinctive habit of sitting upright on their hind legs. They do this when they first emerge in the morning, to sun themselves and throughout the day.
Honey badger -
Mellivora capensis
Shoulder height 30cm. Weight 12kg.
Also known as the ratel, the honey badger is black with a puppyish face and grey-white back. It is an opportunistic feeder best known for its symbiotic relationship with a bird called the honeyguide which leads it to a beehive, waits for it to tear it open, then feeds on the scraps. The honey badger is among the most widespread of African carnivores, and also amongst the most powerful for its size; it occurs all over Namibia. However, it is thinly distributed and rarely seen, except when it has been tamed enough to turn up on cue to artificial feedings at safari camps (the nightly feeding session at
Okonjima
often gets occasional visits from honey badgers).
Polecats and otters
Several other mustelids occur in the region, including the
striped polecat
Ictonyx striatus
, a common but rarely seen nocturnal creature with black underparts and a bushy white back, and the similar but much scarcer
striped weasel
Poecilogale albincha
.
The
Cape clawless otter
Aonyx capensis
is a brown freshwater mustelid with a white collar, which is found in the Caprivi area, the Kunene and the Orange River. The smaller
spotted-necked otter
Lutra maculicollis
is darker with light white spots on its throat, and is restricted to the
Caprivi Strip
and Okavango River.
Aardvark -
Orycteropus afer
Shoulder height 60cm. Weight up to 70kg.
This singularly bizarre nocturnal insectivore is unmistakable with its long snout, huge ears and powerful legs, adapted to dig up the nests of termites, on which it feeds. Aardvarks occur throughout southern Africa, except the driest western areas of the Namib. Though their distinctive three-toed tracks are often seen, and they are not uncommon animals, sightings of them are rare.
Aardvarks prefer areas of grassland and sparse scrub, rather than dense woodlands, and Namibia's ranchland suits them well – although their excavations into roads and dam walls are not appreciated by farmers.
Pangolin -
Manis temmincki
Total length 70–100cm. Weight 8–15kg.
Sharing the aardvaak's diet of termites and ants, pangolins are another very unusual nocturnal insectivore – with distinctive armour-plating and a tendency to roll up in a ball when disturbed. Sometimes known as Temminck's pangolin, or scaly anteaters, these strange animals walk on their hindlegs, using their tail and front legs for balance.
They occur in eastern and northern Namibia, but not in the Namib Desert, and are both nocturnal and rare – so sightings are exceedingly unusual.
Porcupine -
Hystrix africaeaustralis
Total length 80–100cm. Weight 15–25kg.
This is the largest rodent found in the region, and occurs all over southern Africa, except for the western reaches of the Namib Desert. It easily identified by its black and white striped quills, generally black hair, and shambolling gait. If heard in the dark, then the rustle of its foraging is augmented by the slight rattle of its quills. These drop off fairly regularly, and are often found in the bush.
Southern African hedgehog -
Total length 20cm.
Also spiky, the southern African hedgehog is found in north-central areas, including the
Kaokoveld
and Owamboland. This species is much smaller than the porcupine but is also omnivorous. They are not common.
Rock hyrax -
Procavia capensis
Shoulder height 35–30cm. Weight 4kg.
Rodent-like in appearance, hyraxes (also known as dassies) are claimed to be the closest living relative of elephants. The rock hyrax and similar Kaokoveld rock hyrax
Heterohyrax welwitschii
are often seen sunning themselves in rocky habitats, and become tame when used to people. Expect to see lots of them at lodges built in rocky environments, like
Erongo Wilderness Lodge
and
Mowani
.
Scrub hare -
Lepus saxatilis
Shoulder height 45–60cm. Weight 1–4.5kg.
This is the largest and commonest African hare or rabbit, occurring everywhere in Namibia except the far west and south. In some areas a short walk at dusk or after nightfall might reveal three or four scrub hares. They tend to freeze when disturbed.
Ground squirrel -
Xerus inauris
Shoulder height 20–30cm. Weight 400–700g.
This terrestrial rodent is common of most arid parts of Namibia, except the far west of the desert. The ground squirrel is grey to grey-brown with a prominent white eye ring and silver-black tail. Within its range, it might be confused with the meerkat, which also spends much time on its hind legs. Unlike the meerkat, ground squirrels have a characteristic squirrel mannerism of holding food in its forepaws.