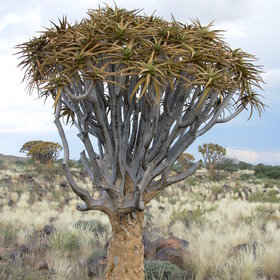 Southern Namibia is mostly Kalahari Desert...
Latest Southern Namibia trip reviews
Great stop over to end our adventure
9-Jan to 27-Jan 20
Excellent

Great friendly service from Emelia
4-Oct to 3-Nov 19
Excellent

Delightful place to start our Namibian Trip
4-Oct to 29-Oct 19
Excellent

Great Staff!! Thank you!
5-Oct to 23-Oct 19
Excellent

Bagatelle
28-Sep to 21-Oct 19
Terrible

Southern Namibia
You can learn a great deal about deserts in Namibia, and visiting both the Namib and Kalahari you'll realise how different they are. For example, the deep-red dunes of the Kalahari are covered in trees, bushes, grasses and, at the start of the year, carpets of flowers. This vegetation supports a wide range of larger mammals, from springbok, oryx and giraffe to aardwolf, bat-eared fox and delightful meerkats.
Many travellers flash through Southern Namibia on their way north or south, but there are a few attractions worth stopping for.
Hardap Dam Recreational Resort
About 250km from Windhoek, and less than 25km from Mariental, lies the Hardap Dam, creating Namibia's largest manmade lake. This dams the upper reaches of the Fish River to provide water for Mariental and various irrigation projects.
Surrounding the lake is a small reserve of about 251km2, home to a variety of game. The lake itself is about 30km long, and effectively splits this area into two. On the northeast shore is a narrow strip within which the restcamp perches, on cliffs overlooking the lake. A scenic drive links several picnic sites and lookout points along its length.
On the southwest side of the lake, the reserve stretches far from the lake's shore, and its game park, veined by game drives and a few short hiking trails. Note that Hardap becomes very hot during the summer, and very cold during the winter.
The dam wall
is 39.2m high and 865m long and was completed in 1963. It holds a maximum of about 300 million cubic metres of water, and covers around 25km2. Though it doesn't often fill, it will when the rains are exceptional. It filled to 97.7% of its capacity in early 1997, forcing the sluice gates to be opened for the first time in 20 years. If they had remained shut, it would have flooded Mariental with the next rains. (This same 1997 season also saw Sossusvlei flooded for the first time in a decade.)
Far more serious consequences arose in 2006, when the exceptional rains in February caused the dam waters to rise so high that the authorities feared that the wall would burst. The decision was taken to open the gates to ease the pressure, but too much water was released, flooding the surrounding plain and leaving Mariental under about 1.7m of water, with massive consequential damage.
Flora and Fauna around Hardap Dam
Hardap stands in the central highlands of Namibia, and its rolling hilly landscape is mostly covered in low-growing bushes and stunted trees. Its river courses tend to be thickly vegetated, often having dense, taller stands of camelthorn and buffalo-thorn trees.
The most interesting birds to be seen here are often Cape species, at the northern edge of their range, like the cinnamon-breasted warbler, the Karoo eremomela and the uncommon Sclater's lark. Others are Namibian species towards the southern edge of their ranges, like the delightful rosy-faced lovebirds. Among the waterbirds, flocks of pelicans are a highlight.
Hardap's larger game includes Hartmann's mountain zebra, oryx, kudu, springbok, eland and red hartebeest, most concentrated in the mountainous section of the park. Cheetah used to occur, but they thrived and escaped onto neighbouring farms, so now they have been excluded. This is classic leopard country, hilly and thickly bushed – so these are the dominant predators, though they are seldom seen. There are no lion, elephant or buffalo, but a handful of black rhino were relocated here from Damaraland in 1990, and have settled towards the north of the park.
What to see and do in Hardap
Hardap can get busy at the weekend, with city dwellers escaping for a weekend of fishing or relaxing, but it's generally quiet during the week. The game park is small but quite good, and the hiking is excellent.
Namibia's native fish
There are aquaria displaying some of Namibia's freshwater fish, including those in the lake. If you have a special interest in fish, then Namibia's Freshwater Fish Institute is just near the park entrance, on the left as you drive in. This is not a tourist sight, but a research and breeding centre, where the scientists sometimes welcome visitors who are fascinated by fish. Given that several Namibian species are endemic to small areas, even just to one lake or pan, this work of protecting and monitoring fish species is important.
The game park and hiking
If larger vertebrates are of more interest, then head for the game park. Branching off the far circular game drive in the Great Komatsas area (the Gemsbok Drive) is the marked Hardap Trail, a hiking trail of 15km. This isn't strenuous and takes about four to five hours – though there is a shorter variation, using a shortcut, of 9km which takes two to three hours. There is no dangerous game around apart from a few black rhino – so keep vigilant for the thud of heavy feet!
The Kalahari Desert
The Kalahari Desert often surprises people when they first see it. It is very different from the Namib. First of all, remember that the Kalahari is not a true desert: it receives more rain than a true desert should. The Kalahari is a fossil desert, so don't expect to find tall Sossusvlei-style dunes devoid of greenery here. The Kalahari's dunes are very different. They are often equally beautiful, but usually greener and less stark, and with this vegetation comes the ability to support more flora and fauna – including bat-eared foxes – than a true desert.
Thus a few days spent in a Kalahari environment adds another dimension to a trip to Namibia, and provides game-viewing away from the ever-popular Etosha, or the lush reserves of the Caprivi.
The Quivertree Forest
Situated just 14km from Keetmanshoop, known also as the 'Kokerboomwoud' is a dense stand of
Aloe dichotoma
tree aloes. The name Quivertree comes from the use of the tree by the Bushmen people; they use the branches for quivers for their arrows. These trees are found all over southern Namibia and the northern Cape, but in few places are so many seen together. Ideally drop in close to sunset or sunrise, when the light is at its best. These skeletal 'trees' make particularly striking photographs when the lighting of a fill-in flash is balanced against flaming sunset behind.
The quivertree or kokerboom occurs sporadically over a large area of southern Namibia and the northern Cape, usually on steep rocky slopes. Its name refers to its supposed use by the Bushmen for making the quivers for their arrows – the inside of a dead branch consists of only a light, fibrous heart which is easily gouged out to leave a hollow tube.
The quivertree is specially adapted to survive in extremely arid conditions: its fibrous branches and trunk are used for water storage, as are its thick, succulent leaves, whilst water lost through transpiration is reduced by waxy coatings on the tree's outside surfaces. Roots, though, are shallow, making the tree vulnerable to high winds, and in common with most desert-adapted flora, its growth rate is very slow.