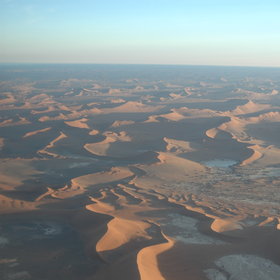 Namibia is an amazing country.
Lesbian, Gay, Bisexual and Transgender (LGBT) travel to Namibia
We are sometimes asked "Is Namibia gay-friendly" - or "What's Namibia like for LGBT travellers?" Here we'll explain what we know.
We've been sending travellers to Namibia since 1994 and booked trips for many LGBT travellers in that time. We have never heard of any problems experienced on their travels due to their sexuality, and many have come back to us for regular repeat trips.
This reflects our opinion that the vast majority of people in Namibia are friendly to visitors, irrespective of the gender and sexual orientation of the visitor. So in our experience, LBGT travel here is usually fine and uneventful.
That said, it's important to be aware of both the law and the current climate of opinion. So read on and do please check your government's latest travel advice before you go.
The legal framework for LGBT travellers in Namibia
The precise legal situation varies country-by country across Africa. At one end of the spectrum, South Africa is a beacon: it has enshrined equal treatment of the LGBT community in law, and it also recognises same-sex marriage.
In Namibia, the legal situation is more nuanced. Namibia prohibits some sexual relations between men, according to an old law inherited from the time of South African occupation. We understand that this law has never been enforced by prosecutions. There are no such laws against same-sex relations between women. Even so, we would always advise all of our travellers to tread with caution.
You may read of some strong homophobic statements by Namibia's first president, Sam Nujoma, when he was in power (from Independence, in 1990, to 2005). Towards the end of his presidency, these became particularly strong. In 2011 Expert Africa was so concerned about this that we made enquiries through unofficial channels. Eventually a private message came through to us from one of Namibia's highest-ranking civil servants: he said that whilst nobody could stop Sam expressing his views, Namibia's constitution was well-drafted and very liberal, and the civil servants running the country were not at all likely to actually implement any of Sam's threats. And none were.
In contrast, some African countries have a very poor record of tolerance. Examples include the Ugandan authorities, who have been vociferously anti-LGBT on occasions; and Zimbabwe's ex-president, Robert Mugabe, who is known for his homophobic rants.
This said, we know of very few occasions where such laws have actually affected travellers. The one that does spring to mind is a single incident when a married, gay couple (not travelling with Expert Africa) with the same surname on their passports were asked what their relationship was. When they answered truthfully, they were refused entry to Tanzania and swiftly deported.So, whilst incidents of LGBT travellers falling foul of the law in Africa do happen, they are exceptionally rare.
Namibian attitudes towards LGBT travellers
Most people in traditional, rural communities across the world have very conservative attitudes, and the people of Namibia are no exception. Many believe that people are born heterosexual, and that other sexual behaviour is somehow learned, or perhaps 'copied' - usually from the West. Often people take the view that 'Africans don't behave like this', despite historical evidence to the contrary.
In such conservative societies, public displays of affection or overtly sexual behaviour between any couples, whether heterosexual or LGBT, are strongly frowned upon. Any indication of an LGBT relationship would certainly be regarded as taboo in such an environment. And while same-sex friends in these areas will often wander around hand-in-hand without a second thought, be aware that such behaviour has no sexual or relationship connotations.
In Namibia's larger towns and cities, including Swakopmund and Windhoek, you'll still find strands of this conservative thinking. But there are also many people here with more liberal views; both cities have seen small Pride marches in recent years.
As a sign of an increasingly more liberal approach amongst the population, in 2011 the Mr Gay Namibia pageant was started. By September 2018, the latest of these events is scheduled to take place in October at the Franco-Namibian Cultural Centre. Namibia's mainstream paper, "
The Namibian
", ran a positive piece interviewing 11 of the 12 contestants, and discussing a little about them.
Certainly our team member based in Windhoek comments that in the last five or ten years, there are more openly gay Namibians living in Windhoek, and that the LGBT community is more visible, and more accepted, than it used to be.
In the tourism industry, and especially in Namibia's more remote camps, lodges and hotels, staff have been dealing with a wide range of guests, from different countries and backgrounds, for many years. It's notable that rooms are almost universally configured with double or single beds, as requested, without fuss.
It's exceedingly rare for us to hear of any staff member who isn't relaxed and tolerant in their outlook, even if some retain personal views that are relatively conservative.
We'd advise all our travellers, gay or straight, to avoid overt displays of affection or sexual behaviour, as these could offend people. Other than that, a 'don't ask, don't tell' approach is a good passport to a trouble-free Africa trip for our LGBT travellers.
Further sources of advice for LGBT Travellers
A few of the most obvious sources of advice for LGBT Travellers to Namibia are: