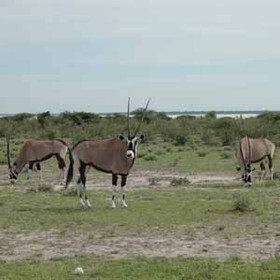 Spotting one of Namibias large antelope is an extraordinary experience.
Wildlife in Namibia - Large antelope
Namibia's wildlife is fascinating, and a key reason why many visitors travel here. Below you'll find information on some of the country's large antelope – highlighting aspects that are specific to Namibia. Many comments are taken from the
Bradt guide to Namibia
, which is written by Chris, a member of the
Expert Africa
team.
Sable antelope -
Hippotragus niger
Shoulder height 135cm. Weight 230kg.
The striking male sable is jet black with a distinct white face, underbelly and rump, and long decurved horns – a strong contender for the title of Africa's most beautiful antelope. The female is chestnut brown and has shorter horns, whilst the young are a lighter red-brown colour. Sable are found throughout the wetter areas of southern and East Africa.
In Namibia, a thriving herd frequents the floodplain beside the Okavango River in Mahango National Park (stay at
Ndhovu
,
Divava
or
Mahangu
), and there are other groups further east in the Caprivi Strip's other parks.
Roan antelope -
Hippotragus equines
Shoulder height 120–150cm. Weight 250–300kg.
This handsome horse-like antelope is uniform fawn-grey with a pale belly, short decurved horns and a light mane. It could be mistaken for the female sable antelope, but this has a well-defined white belly, and lacks the roan's distinctive black-and-white facial markings.
The roan is a relatively rare antelope; common almost nowhere in Africa (Malawi's Nyika Plateau being one obvious exception). In Namibia small groups of roan are most easily found in
Waterberg
, Khaudum and the
Caprivi Strip
.
Oryx or gemsbok -
Oryx gazelle
Shoulder height 120cm. Weight 230kg.
This is the quintessential desert antelope; unmistakable with its ash-grey coat, bold black facial marks and flank strip, and unique long, straight horns. Of the three races of oryx in Africa, the gemsbok is the largest and most striking. It occurs throughout the Kalahari and Namib and is widespread all over Namibia, from the coast to the interior highlands.
As you might expect, gemsbok are very adaptable. They range widely and are found in areas of dunes, alkaline pans, open savannah and even woodlands. Along with the much smaller springbok, they can sometimes even be seen tracking across flat desert plains with only dust-devils and mirages for company.
Waterbuck -
Kobus ellipsiprymnus
Shoulder height 130cm. Weight 250-270kg.
The waterbuck is easily recognised by its shaggy brown coat and the male's large lyre-shaped horns. The common race of southern Africa and areas east of the Rift Valley has a distinctive white ring around its rump, while the defassa race of the Rift Valley and areas further west has a full white rump.
In Namibia, waterbuck are very uncommon, only occasionally seen on the eastern fringes of the
Caprivi Strip
. They need to drink very regularly, so usually stay within a few kilometres of water, where they like to graze on short, nutritious grasses. At night they may take cover in adjacent woodlands. It is often asserted that waterbuck flesh is oily and smelly, which may discourage predators.
Blue wildebeest -
Connochaetes taurinus
Shoulder height 130–150cm. Weight 180–250kg.
This ungainly antelope, also called the brindled gnu, is easily identified by its dark coat and bovine appearance. The superficially similar buffalo is far more heavily built. When they have enough space, blue wildebeest can form immense herds – as perhaps a million do for their annual migration from Tanzania's Serengeti Plains into Kenya's Masai Mara.
In Namibia they naturally occur north of
Etosha
and east into the
Caprivi Strip
. They are also found in the Kalahari, Khaudum and the far eastern borders of Namibia. They are adaptable grazers, but prefer short grass plains and need access to drinking water. They have been introduced on to several game ranches.
Black wildebeest -
Connochaetes gnou
The black wildebeest, endemic to South Africa's central highveld, now numbers a mere 4,000. It is seen most easily in South Africa's Golden Gate National Park, though has also been introduced into several private game areas in Namibia. It differs from the blue wildebeest in having a white tail, a defined black-on-white mane, and horns that slope sharply down then rise to form a 'U' when seen from the side.
Hartebeest -
Alcelaphus buselaphus
Shoulder height 125cm. Weight 120–150kg.
Hartebeests are ungainly antelopes, readily identified by the combination of large shoulders, a sloping back, a glossy, red-brown coat and smallish horns in both sexes.
The only one native to Namibia is the red hartebeest, which is found throughout the arid eastern side of the country, and north into
Etosha
and Owamboland. They have been introduced on to the NamibRand Nature Reserve (they're sometimes seen from
Wolwedans
) but are absent from the Caprivi Strip, and common nowhere. Hartebeests are almost exclusively grazers; they like access to water though will eat melons, tubers and rhizomes when it is scarce. The waterholes in
Etosha
, especially those in areas of mopane sparse woodland, probably offer your best chance to see hartebeest in Namibia.
Tsessebe -
Damaliscus lunatus
The tsessebe is basically a darker version of the hartebeest with striking yellow lower legs. (Related subspecies are known as topi in East Africa.) Widespread but thinly and patchily distributed, the tsessebe occurs occasionally in the
Caprivi Strip
. Its favourite habitat is open grassland, where it is a selective grazer, eating the newer, more nutritious grasses. The tsessebe is one of the fastest antelope species, and jumps very well.
Bontebok -
Damaliscus dorcas dorcas
Shoulder height 850–95cm. Weight 60–70kg.
Though endemic to the fynbos areas of the Western Cape in South Africa, bontebok have been introduced into many private reserves in Namibia. They look like particularly striking small hartebeest, with a distinctive white face, chestnut back, black flanks and white belly and rump. Bontebok were hunted close to extinction in the early twentieth century, and now they are largely found in private protected areas – like the grounds of
Mokuti Lodge
, or the NamibRand Nature Reserve.
Blesbok -
Damaliscus dorcas phillipsi
The duller but more common blesbok is, in essence, the highveld race of bontebok native to eastern South Africa. That, too, has occasionally been introduced on to the odd private reserve in Namibia.
Kudu -
Tragelaphus strepsiceros
Shoulder height 140–155cm. Weight 180–250kg.
The kudu (or, more properly, the greater kudu) is the most frequently observed member of the genus tragelaphus. These medium-sized to large antelopes are characterised by the male's large spiralling horns and dark coat, which is generally marked with several vertical white stripes. They are normally associated with well-wooded habitats.
In Namibia they are absent only from the Namib Desert – though they are found in the river valleys and are very common on farmland, where their selective browsing does not compete with the indiscriminate grazing of the cattle.
Sitatunga -
Tragelaphus spekei
Shoulder height 85–90cm. Weight 105–115kg.
The semi-aquatic antelope is a widespread but infrequently observed inhabitant of West and Central African swamps from the Okavango in Botswana to the Sudd in Sudan. In Namibia it occurs in the Okavango River beside Mahango, and in protected areas of the Kwando–Linyanti–Chobe–Zambezi river system where there are extensive papyrus reedbeds. Because of its preferred habitat, the sitatunga is very elusive and seldom seen, even in areas where it is relatively common.
Eland -
Taurotragus oryx
Shoulder height 150–175cm. Weight 450–900kg.
Africa's largest antelope, the eland is light brown in colour, sometimes with a few faint white vertical stripes. Its somewhat bovine appearance is accentuated by relatively short horns and a large dewlap.
It was once widely distributed in East and southern Africa, but in Namibia it is now found only in isolated Kalahari areas,
Etosha National Park
and
Waterberg Plateau National Park
. Small herds of eland frequent grasslands and light woodlands, often fleeing at the slightest provocation. (They have long been hunted for their excellent meat, so perhaps this is not surprising.) There are particularly good herds of eland on
Mundulea Reserve
.