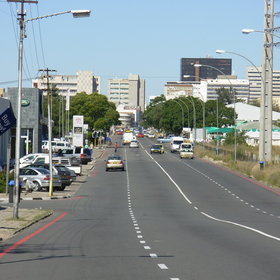 Windhoek is a modern, African capital city of a young country.
Latest Windhoek trip reviews
Fabulous accomodations and food!
25-Jan to 2-Feb 20
Excellent

Great Guesthouse
9-Jan to 27-Jan 20
Excellent

Am Weinberg Boutique Hotel review
17-Jan to 25-Jan 20
Good

River Crossing review
3-Jan to 13-Jan 20
Good

River Crossing review
3-Dec to 22-Dec 19
Excellent

Windhoek
Namibia's capital spreads out in a wide valley between bush-covered hills and appears, at first sight, to be quite small. As you stroll through this centre, the pavement cafés and picturesque old German architecture conspire to give an airy, European feel, whilst street vendors remind you that this is Africa. The office blocks are tall, but not skyscraping. Around you the pace is busy, but seldom as frantic as Western capitals seem to be.
Leading off Independence Avenue, the city's main street, is the open-air Post Street Mall, centre of a modern shopping complex. Wandering through here, between the pastel-coloured buildings, you'll find shops selling everything from fast food to fashion. In front of these, street-vendors crouch beside blankets spread with jewellery, crafts and curios for sale. Nearby, the city's more affluent residents step from their cars in shaded parking bays to shop in air-conditioned department stores. The atmosphere is relaxed, to the extent that visitors tend to forget that this is a capital city.
Like many capitals, Windhoek is full of contrasts, especially between the richer and poorer areas, but it lacks any major attractions. For casual visitors the city is pleasant; many stop for a day or two, as they arrive or leave, though few stay much longer. It is worth noting that the city all but closes down on Saturday afternoons (although some shops open on a Sunday morning), so be aware of this if you plan to be in town over a weekend.
Note, too, that during the holiday season, from Christmas to around 10 January, large numbers of locals head for the coast, leaving many shops, restaurants and tourist attractions closed. That said, this is the centre of Namibia's administration, and the hub of the country's roads, railways and communications. If you need an embassy, good communications, or an efficient bank, then Windhoek is the right place for you. And to prepare for a trip into the bush, Windhoek is by far the best place in Namibia to get organised and buy supplies.
What to see and do in Windhoek
Local tours around Windhoek
A few local tour operators offer tours in and around Windhoek, some walking, some by vehicle. They might include the city centre, the Katatura township, a nearby game farm or possibly into the surrounding mountains for a sundowner drink. If your tour takes you into Katatura make sure you include the Xwama Cultural Village which has been set up to showcase Namibia's cultures, cuisine, song and dance.
A walking tour of the city centre is another option which may be guided or unguided simply with the suggestions of a good guide book.
Windhoek's Entertainment and Nightlife
Windhoek is not famous for its nightlife. Most visitors choose to go to a restaurant for a leisurely dinner and perhaps a drink, and then retire for an early start the next day. But if you feel livelier, there are cinemas and a few nightclubs, as well as the occasional concert. Friday is usually the best night, better than Saturday. Similarly, weekends at the start/end of the month, when people have just been paid, are busier than those in the middle.
Shopping in Windhoek
Shopping in Windhoek was revolutionised when the Town Square shopping mall was opened right in the centre. It's a top-notch mall with plenty of choice and sets the standard for shops throughout the capital. Around this, most of the area is pedestrianised, incorporating Post Street Mall, Mutual Platz, Levinson Arcade and the Wernhil Centre. At weekends in particular it's a busy, bustling place.
Beyond the centre, a new wing was opened in 2006 at Maerua Mall in the southeast of the city, giving this popular place a new lease of life – and there's plenty of free parking. Then to the east of town, in Klein Windhoek, the relatively new Bougain Villas Shopping Centre houses various boutique shops focusing on arts and crafts alongside cafés, delis and salons.
Museums, Galleries and Libraries in Windhoek
Windhoek has a good selection of museums, galleries and libraries, some of which are well worth visiting.
Alte Feste and State Museum
is the capital's best museum, concentrating on Namibia's history over the last few centuries. A number of old wagons and even a steam engine adorn the terrace in front of the building. Inside the fort is an exhibition of historical photographs, and displays of household implements of the missionaries and the country's indigenous peoples. There's also a special exhibit on the independence process, and the transition to majority rule in 1990. In a separate wing is an excellent display covering Namibia's rock art, with a smaller exhibition on beadwork. Whether or not you have time to visit one of the sites mentioned, it's well worth spending a bit of time here. Of particular interest is the visual explanation of how some of the paintings developed over time through layering and overpainting.
National Art Gallery of Namibia
has a permanent exhibition of Namibian art – some historical, some contemporary – and also hosts a variety of visiting exhibitions.
Owela Museum
houses the natural history sections of the State Museum, with a good section on cheetah conservation, and a little on the country's traditional cultures.
Franco Namibian Cultural Centre
aims to 'intensify the cultural cooperation between Namibia and France promoting and supporting Namibian cultural identity'. There is a library with both French and English books, a gallery which hosts various photography and art exhibitions and a café.
National Botanical Garden of Namibia
This is somewhat of a hidden gem! It is a 12ha garden in the Klein Windhoek area in which 99% of the plants are indigenous species and is the only botanic garden in the country. It was developed in 1993 to serve as a floral conservation area and an outdoor environmental education facility. Although showcasing plants in their natural environment is the emphasis, different areas in the gardens have been landscaped so as to represent the various habitats in the country. To date 106 plant species have been recorded in the garden. It's a peaceful place for a picnic or just a self-guided walk with the plant and bird list available from reception.
Excursions outside Windhoek
Avis Dam
is a man-made lake which was made by damming the Klein Windhoek River. It is popular with local residents for bird-watching, dog-walking, mountain biking, canoeing and fishing in season.
Heroes Acre
is an official war memorial of the government of Namibia to symbolise 'the Namibian peoples' struggle for independence and self-emancipation'. It was completed in 2002 to be opened on Heroes Day, 26 August. It is built as a symmetric polygon with a marble obelisk and a bronze statue of the Unknown Soldier in the centre. There is also a 8m-high wall-panel depicting various scenes from Namibia's historical revolts, including the Nama people's uprising under Kaptein Hendrik Witbooi, resistance to the forced removal of people to Katutura, and the armed liberation struggle. Heroes Acre contains parade grounds and a grandstand for 5000 people.
Horse-riding
is offered by a few operators on the outskirts of Windhoek. It will give you an opportunity to experience the bush on horseback, yet is close to town. Options include rides by the hour, sundowner rides, champagne breakfast rides and day rides with a picnic.