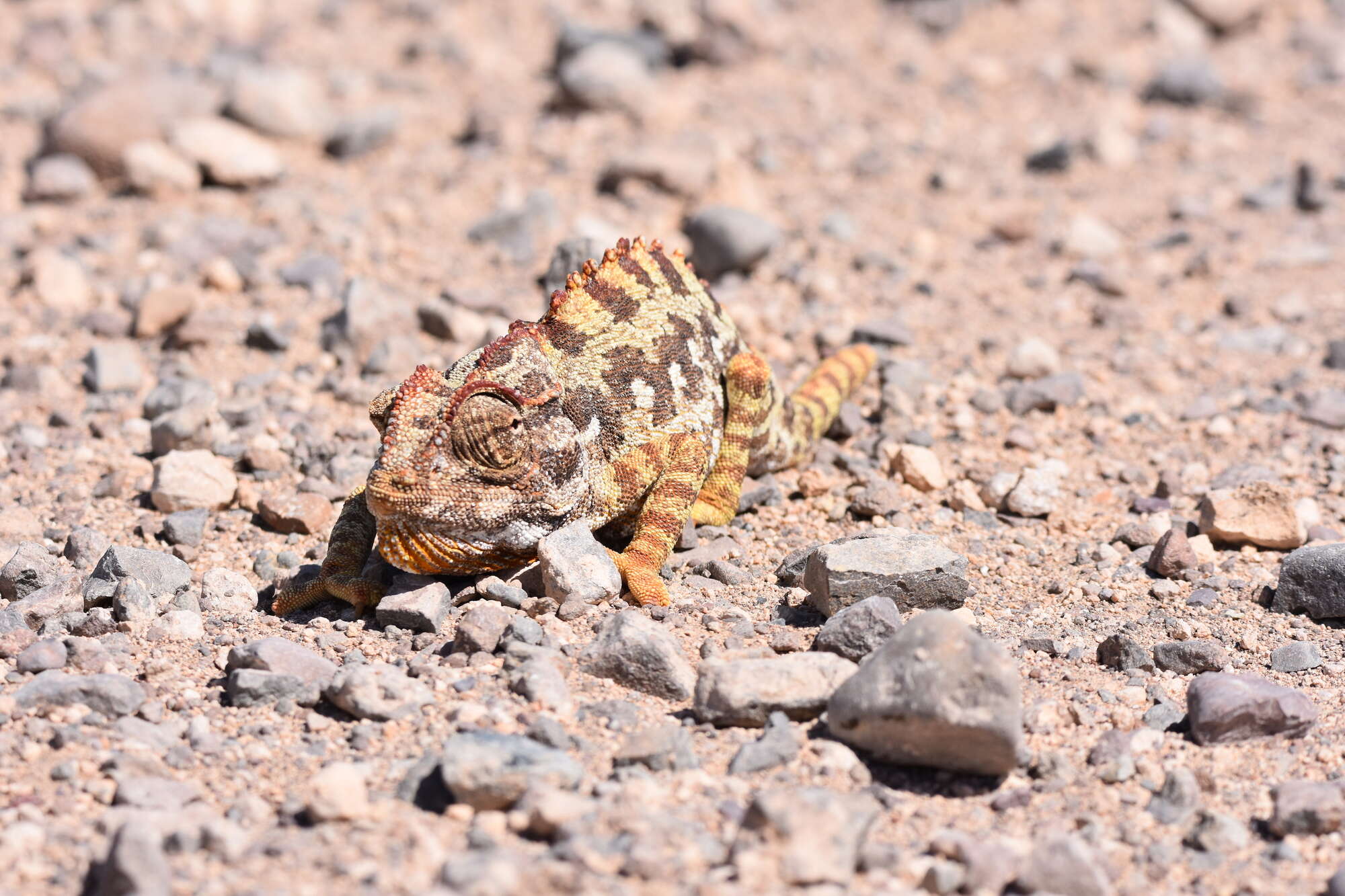 Namaqua Chameleon Self-drive
This self-drive safari is a great introduction to Namibia, a classic loop discovering the most spectacular landscapes and wildlife in the east and north that also neatly fits into a two-week holiday with flights. Staying at a great selection of camps and lodges, its excellent value without any compromise on comfort or character.

After your flight touches down, pick up your rental car and the short drive into Namibia's diminutive capital, Windhoek, for a relaxed first evening. In the morning, head southwest, getting your first taste of the country's arid landscapes and gravel roads, en route to the remote Desert Homestead Outpost. There are some great hikes and guided horse trails from t*while the region's highlight, Sossusvlei's famous dunes, are a short drive away.

Turn north and head for the coastal town of Swakopmund, a quirky colonial relic between the desert and Atlantic that is a great base for adventure activities like sand boarding, sea kayaking and sky diving. Then head back inland, crossing Damaraland's rugged hills to find Camp Kipwe hidden among orange boulders. A beautiful spot, see Twyfelfontein's prehistoric rock engravings and search for desert-adapted elephant herds.

More wildlife awaits at Safarihoek Lodge. Set in a huge and exclusive reserve, explore on day and night game drives, on foot and dine out in the bush among oryx, kudu, zebra and giraffe. It's also a particularly good spot for black rhino. Next drive into the neighbouring Etosha National Park for a stay at a rather simple camp that that more than makes up for it with its location right in the middle of the park next to a floodlit waterhole. Exploring the edge of the Ethosha's lunar pan at your own pace, you'll be greeted by huge congregations of species great and small as they gather around precious water sources.

Finally turning south, spend a night in the Okonjima Nature Reserve. Home to the AfriCat Foundation, learn about their conservation work as you track leopards, brown hyena, cheetah and more.
Includes:
Starts/ends:
Prices:
US$2,657 - US$2,978 per person sharing
Stays at:
1 night
Elegant Guesthouse
– Windhoek, Namibia
1 night
Desert Homestead Outpost
– Namib-Naukluft National Park, Namibia
1 night
Desert Homestead Outpost
– Namib-Naukluft National Park, Namibia
1 night
Namib Guesthouse
– Swakopmund & Walvis Bay, Namibia
1 night
Namib Guesthouse
– Swakopmund & Walvis Bay, Namibia
1 night
Camp Kipwe
– Damaraland, Namibia
1 night
Camp Kipwe
– Damaraland, Namibia
1 night
Safarihoek Lodge
– Etosha National Park, Namibia
1 night
Safarihoek Lodge
– Etosha National Park, Namibia
1 night
Halali Camp
– Etosha National Park, Namibia
1 night
Halali Camp
– Etosha National Park, Namibia
1 night
Okonjima Plains Camp
– Okonjima Nature Reserve , Namibia
Reviews
Recently reviewed trips visiting some of these places include: