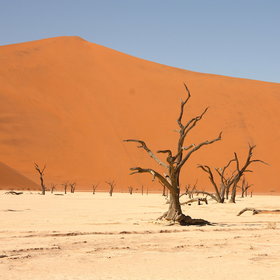 Explore the iconic apricot dunes of Sossusvlei...
Hoodia Sossusvlei excursion
Explore the world's oldest desert with an expert guide.
Hoodia Desert Lodge
runs the Sossusvlei excursion for its guests a little differently to other lodges in the area and we believe it is one of the best (sadly you cannot joint this activity unless you are staying at Hoodia). The emphasis is on good guides, who relay their knowledge of the Namib-Naukluft in an interesting and concise way, giving you a much richer experience than driving yourself.
The Hoodia trip is run at a slower pace than most, in contrast with the sometimes crowded, often rushed and occasionally chaotic feeling of some of the alternatives. While the slower pace does mean that travellers will miss out on the earliest photos of Deadvlei, we believe that this is a compromise worth making. As this trip fills up quickly, it requires pre-booking; speak to us for more detail.
The details
You'll be woken well before sunrise, giving you time to enjoy breakfast before leaving the lodge. Then jump into an enclosed safari vehicle for the 22km drive to
Sesriem
and the gates of the
Namib-Naukluft National Park
, arriving just before they open at sunrise.
From the park gates, the 65km drive to Sossusvlei and Deadvlei is full of interest and colour. As the sun climbs above the Naukluft Mountains your guide will find a scenic spot where you can stop and enjoy the spectacle. He/she will explain a little about the geological processes that formed the unique
Namib Sand Sea
and tell you about the desert-adapted animals that call this desiccated environment home. Keen birders should keep their eyes peeled for Namibia's only true endemic bird, the dune lark.
From here you will continue your leisurely drive to
Sossusvlei
and
Deadvlei
, keeping a lookout for springbok, oryx and other larger wildlife along the way.
Once at the 4WD car park you'll explore on foot, taking a route that your guide considers appropriate to the fitness of the group. Generally, you will take a relatively quiet route over some of the smaller dunes into Deadvlei, which usually allows some great photo opportunities of the iconic trees without crowds of people in the way. More adventurous and fitter groups will then have the chance to climb the dune known as 'Big Mamma' before returning to the vehicle for a tea break.
From here your guide will take you back towards the park entrance before diverting to
Elim Dune
, a picturesque area that is often missed by the casual visitor. This is the setting for your 'Out of Africa style' lunch, a scenic sit-down meal set up in the shade of a camelthorn tree, complete with tablecloths and spectacular views.
The last stop on your trip takes you to
Sesriem Canyon
, some 30m deep in places and carved out over time by the Tsauchab River. From here, you'll return to the lodge in time for afternoon tea.
Start time:
You'll generally be woken up an hour before leaving Hoodia to get to the park gates in time for sunrise. This gives you time for breakfast before you leave.
Duration of excursion:
This tour lasts all day and includes a picnic lunch. You'll generally arrive back at the lodge between 3.30 and 4.00pm, although this is flexible.
Maximum size of group:
Customised Land Cruisers are used for this excursion, which can carry up to six passengers.
Organising a trip:
This trip gets fully booked, so it is always worth booking ahead. Ask us for details.
Please note
:
Expert Africa
only books excursions as a part of a full,
Expert Africa
itinerary.