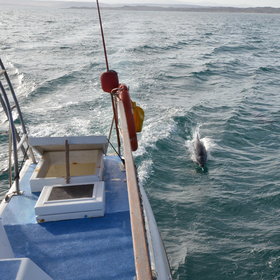 Heavyside dolphins will often accompany the boat...
Halifax Island boat trip
For those who make the journey as far south as Lüderitz, a trip on the
Zeepaard
to Halifax Island is a must. In stark contrast with the desert landscape that characterises much of southern Namibia, the cold waters and rocky islands here are teeming with wildlife.
You'll congregate at 8.00am at the Lüderitz waterfront jetty, where you'll meet your skipper, Heiko. With over 20 years at sea (including circumnavigating the globe!), he has plenty of experience, so you are in very safe hands. Find your seat and settle down, taking advantage of the blanket and hot drink provided for passengers; it can get very cold on board. Heiko, used to run the
Sedina
schooner tours before moving on to the catamaran
Zeepard
.
As the boat pulls away from the jetty you'll be heading for Shark Island and on to Diaz Point, before your final destination, Halifax Island. During the trip, it isn't uncommon to be escorted by Heaviside dolphins, which enjoy riding the waves of the boat. These small stocky dolphins have a very limited range, occurring only off the west coast of South Africa and Namibia, so sightings are a real treat.
Approaching Diaz Point, where the Portuguese explorer Bartholomeu Dias came ashore in 1487, you'd be hard pushed to miss the colony of Cape fur seals, which are often referred to as the dogs of the ocean due to their curious and playful nature.
Humpback whales are more likely to be seen in the winter months (July to September) but even then, sitings are rare.
Then it's on to your final destination, Halifax Island, a breeding ground for African penguins. Here the boat will pull up so that you can sit and watch the penguins waddling across the rocks and diving through the waves.
As the
Zeepaard
turns for home you'll have plenty of time to watch out for seabirds, including cormorants and flamingos, before returning to the jetty at around 10.00am. This also gives you plenty of time if you want to head over to the ghost town of Kolmanskop to catch the 11.00am guided tour.
NB
On occasions when the
Zeepaard
is full there is another company that we use for trip to Halifax Island.
What to take:
It can get pretty chilly on board, so do wrap up warm, and wear sensible shoes that won't slip if it's wet. The trip offers some excellent photographic opportunities, so we recommend that you bring your camera in a waterproof bag, as well as a pair of binoculars to get a really good view of the seabirds.
Please note
:
Expert Africa
only books excursions as a part of a full,
Expert Africa
itinerary.