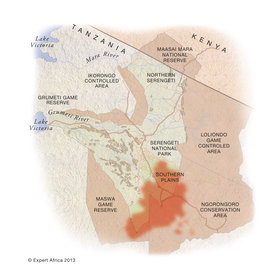 January: herds spread to graze across the southern Serengeti's lush short-grass plains
Serengeti wildebeest migration
The great Serengeti wildebeest migration is the movement of vast numbers of the Serengeti's wildebeest, accompanied by large numbers of zebra, and smaller numbers of Grant's gazelle, Thomson's gazelle, eland and impala. These move in an annual pattern which is fairly predictable. They migrate throughout the year, constantly seeking fresh grazing and, it's now thought, better quality water.
The precise timing of the Serengeti wildebeest migration is entirely dependent upon the rainfall patterns each year – here we explain how the broad pattern works.
This migration, month by month, is shown on the map below – the moving red represents the main herds.
For more information on the Serengeti migration area and the wildebeest migration, read on - see the month-by-month descriptions below, and the video below that.
Moving migration maps
Below are twelve detailed maps plotting, month-by month, the typical migration pattern of the Serengeti's great wildebeest migration.
This migration always varies from year to year, in response mainly to variations in the weather, the available grazing and available water. But these are the best general guide that we have to its location.