Where to see Eland in Tanzania
The eland is the largest antelope in Africa, and often found in sizable herds. While it is found throughout Tanzania, this shy antelope is easily spooked.
---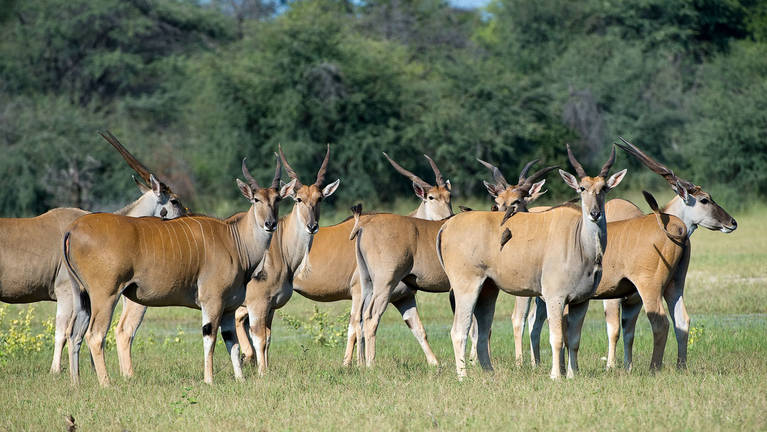 Quick facts about Eland
| | | | |
| --- | --- | --- | --- |
| Scientific name: | Taurotragus oryx | Habitat: | Open savanna & grasslands |
| IUCN status: | Least concern | Adult weight: | 340–940kg |
The eland is widespread throughout Tanzania – it is estimated there are around 36,000 individuals – although they are hunted for bushmeat in some regions. They are highly adaptable and can be found across a range of environments and altitudes, even visiting mineral licks on the upper slopes of Kilimanjaro. Their favoured habitat, however, is open grassy plains.

The main subspecies in Tanzania is the East African eland, Taurotragus oryx pattersonianus, characterised by white facial markings and a tan-coloured coat patterned by up to 12 white stripes. Some eland populations in southern Tanzania are the Livingstone's subspecies (T. o. livingstonii) which has bigger horns and lacks the facial chevrons.
Tanzania's top camps for seeing elands
Based on 302 reports since May 2018, the camps below have the best chance of seeing elands. Simply follow the key below.
---
Where to see elands in Tanzania
Elands are found throughout Tanzania's safari regions, both in the north and south of the country, however they can often be skittish and difficult to approach.
---
Top tips for viewing elands in Tanzania
Despite their relative abundance, the shyness of elands can make them tricky to approach for good photos, and they are often seen at some distance.

The Serengeti is home to one of the biggest eland populations in Africa and sightings here are frequent. The green season, just after the heaviest of the rains, can be a particularly good time to see them in the southern Serengeti, as they gather in large herds on the short grass plains.

Elands are also commonly seen in Tanzania's southern parks, either as individuals or in small herds. Use binoculars to spot them on Ruaha's open plains or look for their movements behind trees and bushes.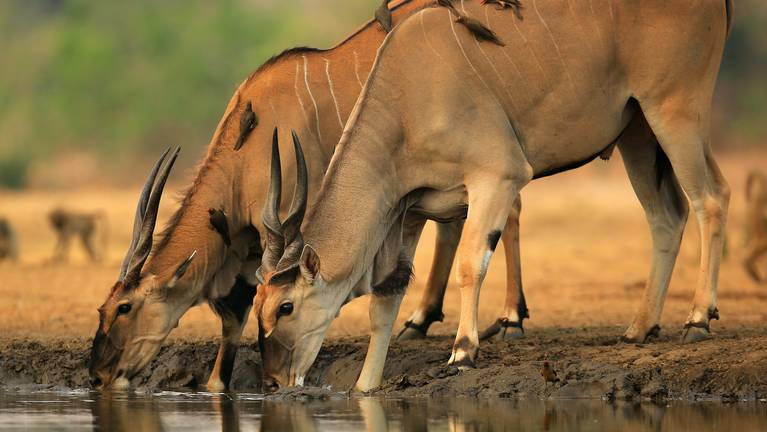 Holiday ideas to see elands in Tanzania
These trip ideas include places that will give you a chance of seeing elands in Tanzania
---
Our top destinations for elands
Read tips for spotting elands in these countries and the best camps and lodges for sightings
---