Where to see Eland in Namibia
The eland is Africa's biggest antelope and looms large in the continent's culture, from prehistoric rock art to modern game farms. Though widespread, it is shy, with sightings seldom a given.
---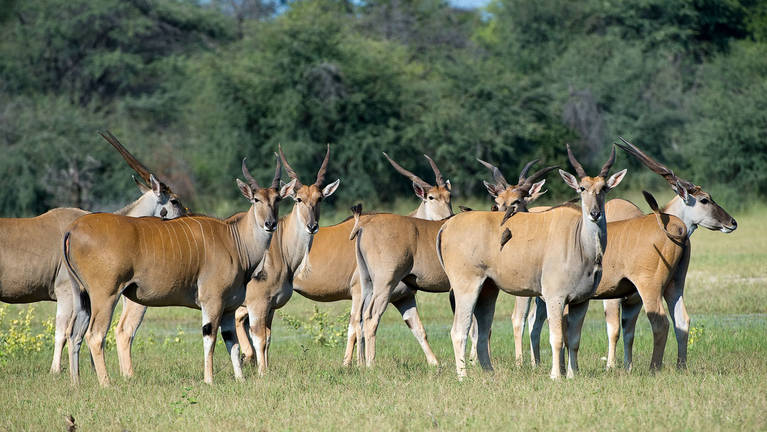 Quick facts about Eland
| | | | |
| --- | --- | --- | --- |
| Scientific name: | Taurotragus oryx | Habitat: | Open savanna & grasslands |
| IUCN status: | Least concern | Adult weight: | 340–940kg |
The massive, tan-coloured, common eland is related to kudus and other spiral-horned antelope species. Both sexes have a signature square profile – accentuated in the bull by a large dewlap – and straight horns that are longer and narrower in the female. The ox-like males are twice the weight of females, sometimes reaching buffalo size.

Herds, sometimes of several hundred, wander widely in search of food. Inhabiting open country, from arid bush to montane grassland, eland graze during the rainy season but may switch to browsing during the drier winter months. Though relatively slow-moving, they can leap impressive heights. Females produce a single calf after a nine-month gestation. Today eland are farmed in some areas for meat and milk.
---
1.83m
Max shoulder height of bull
15–20 years
Life expectancy
7 litres
Daily milk production
The top camps for seeing eland in Namibia
Based on 320 reports by our travellers since May 2018, visitors at these camps in Namibia have the best chances of sighting eland.
---
Where to see eland in Africa
Look out for elands in open terrain in any major conservation area across southern and eastern Africa, including mountainous ones. But be prepared to enjoy these shy animals from a distance.
---
Top tips for viewing eland
Ancient rock art across much of Africa attests to the eland's former significance as both spiritual totem and food source. Today the species remains widespread, occurring from South Sudan to South Africa's Cape, but numbers are much reduced, with a total population estimated at 136,000.

Eland are plentiful in the Serengeti-Mara ecosystem and central Botswana, but can nonetheless be elusive. Reliable spots for sightings include Mana Pools (Zimbabwe), Etosha (Namibia) and the Nyika Plateau (Malawi). The species has also been introduced to many private game ranches in South Africa, Namibia and Zimbabwe.

Wary of humans, whether on foot or on wheels, elands are most active at dawn and dusk. Listen out for the tell-tale click of their hooves when they approach a waterhole.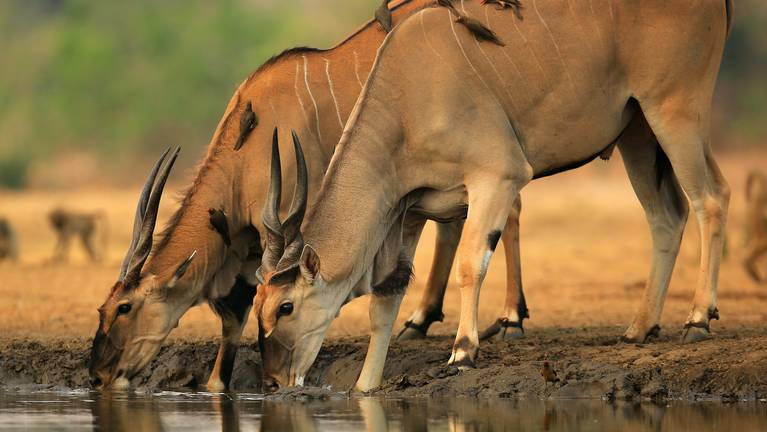 Our best Namibia holidays for eland sightings
Based on our travellers' reports, these ideas for Namibia safaris are likely to give the best eland sightings
---
More information about eland in our other destinations
Click here for detailed information about eland in other countries, including the places for sighting eland.
---