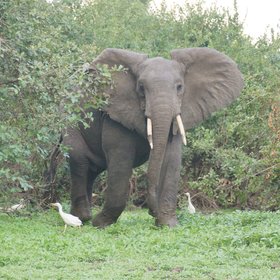 You can often get close to the wildlife in the Selous.
Latest Selous Game Reserve safari reviews
Siwandu review
18-Dec to 1-Jan 20
Excellent

Excellent food and service - and Wild Dogs!
6-Dec to 15-Dec 19
Excellent

Incredible Experience at Kiba POint
24-Nov to 1-Dec 19
Excellent

Our Third Stay Here - Excellent
13-Nov to 1-Dec 19
Excellent

Lake Manze camp - We don´t reccomend it
9-Nov to 22-Nov 19
Poor

Selous Game Reserve
Covering 45,000km² of wilderness, with grassy plains, open woodland, mountains and forests, the
Selous Game Reserve
(pronounced 'seloo', and named after the great explorer and hunter, Frederick Courtney Selous) is Africa's largest game reserve. It's about three times the size of South Africa's
Kruger National Park
, and twice the size of the
Serengeti National Park
. In a fitting tribute, it is also one of Tanzania's three World Heritage Sites.
Introduction to a Selous Safari
At the heart of the Selous Game Reserve, Tanzania's largest river, the Rufiji, forms a complex network of channels, lakes and swamps that create one of the most outstanding ecological systems in East Africa. This river also splits the reserve into two different sections:
The northern Selous covers only around 5% of the reserve's total area. No hunting is allowed here; this area is dedicated exclusively to photographic safaris. Virtually all of the small exclusive camps which we offer operate in this area.
The southern Selous, south of the Rufiji, is split up into a number of 'hunting blocks' – each of which typically cover about 1,000km². Expert Africa doesn't offer hunting safaris.
Access to the Selous Game Reserve
Getting to the Selous is easy, it is served by light aircraft flights from Dar and Ruaha daily – a flight takes about 45 minutes from Dar, and about 90 minutes from Ruaha.
Park entrance fees are (at time of writing) US$75 per person per day (US$50 for park fees plus US$25 conservation charge). Current park fees are usually included by us in the price of a trip here.
History of the Selous
Selous is named in honour of the Englishman
Frederick Courtney Selous
, who lived and hunted in the region from 1871 for around forty years. He gained the reputation as the most accomplished hunter of his age and was also known for his writing, most notably he was the author of
'A Hunter's Wanderings in Africa'
. Selous was the right-hand man to Cecil John Rhodes in his campaign to annex present-day Zimbabwe to the British Empire, he also achieved brief notoriety in 1899 for speaking out against England's war on the Boer Republics of South Africa.
When the First World War broke out Selous, at the age of 60, was made Captain of the 25th Royal Fusiliers, winning a DSO in 1916. With his detailed knowledge of the bush, Selous led the chase after the German guerrilla army that presided in southern Tanzania. On New Year's Day in 1917, Selous was shot dead by a sniper close to the banks of the Beho Beho River where he remains buried today, near
Beho Beho Safari Camp
.
Five years after Frederick Courtney Selous' death, the British colonists incorporated a number of existing game reserves south of the river to extend the plains of the aptly named Selous. The Game Reserve reached its present size and shape in the 1940s, when the colonial government moved the remaining tribes out of the area to combat a sleeping sickness epidemic. It was inscribed as a UNESCO World Heritage Site in 1982.
Hunting in the Selous
The vast majority, about 90%, of the Selous Reserve is used for trophy hunting. From what little we have seen of this area, there's a lot of dense bush – and it is a much less interesting part of the reserve than the northern section.
Expert Africa
doesn't endorse hunting, or arrange any hunting trips, and so the only time we have ever sent travellers here was when one reserve – Lukulu Selous – decided to become a purely photographic area. Although this has now closed, we hope that as numbers of photographic visitors increase, some sections of the southern Selous will change from hunting to photographic safaris more permanently.
Selous Safari Camps and Lodges
The Selous has a handful of low-key, eco-friendly; thatch-and-canvas lodges whose combined bed capacity amounts to little more than 300 visitors. The Selous is a game reserve and not subject to the regulations that govern Tanzania's national parks, visitors are therefore offered a more integrated bush experience. All of the safari camps that we feature are within the reserve, with the exception of
Sable Mountain Lodge
, which is just outside the northern border of the reserve.
It is not uncommon to spend a whole day on a game drive without seeing another vehicle as the camps are spread out, and less than 1% of Tanzania's visitors go to this region. This is particularly true if you are based at one of the western lodges such as
Beho Beho
. or
Sand Rivers
.
The best game viewing areas with the densest wildlife populations are found in the eastern parts of the reserve.
Lake Manze Camp
,
Selous Impala Camp
and
Siwandu Camp
, are known to be especially good for lion and wild dog sightings.
See our
where to stay
section for more information.
Note that the roads within the Selous become impassable after heavy rain. Hence camps here close towards the end of the wet season, in April, and re-open in June.
Activities in Selous
One of the main attractions of the Selous is the variety of game viewing activities available here. They all offer trips through the reserve by boat, vehicle and on foot.
Boat safaris
allow you to drift on the lakes and channels, approaching birds and animals closely, including crocodile and hippo. All of the lodges also offer guided
game walks
for those aged 12 and over (16 at Lake Manze and Impala), which come with a real likelihood of encountering big game such as; elephant, buffalo and even lion on foot. Game drives are reliably rewarding, especially towards the end of the dry season, when large mammals concentrate around the five lakes. Better still are the overnight
fly-camping
excursions offered by some of the camps, which entail sleeping out beneath a glorified mosquito net in the middle of the bush.
Fly-camping Safaris in the Selous Game Reserve
We're not sure where the name 'fly-camp' comes from. It might derive from the term 'fly by night', as these are small, temporary camps that can be easily put up and taken down. It might even come from the word 'fly-sheet' which describes the outer canvas of a small tent, or a homemade shelter. It's certainly nothing to do with any winged insects!
Wherever the name comes from, a fly-camp is a small, temporary camp that is set up in the bush. Comfort is limited as the tents are just normal camping tents. Dinner is cooked on the fire, and served nearby – after which it's natural to gather around the campfire, relax in canvas chairs, for a drink and a chat. There's something mesmerizing about dancing flames under an African sky, with the sounds of the wild in the background.
If you've not done it before, then sleeping out in the bush in Africa might seem a little scary, but there's always an armed game scout nearby to reassure you. We love fly-camping, and can't recommend it too highly for adventurous adults. However, these trips aren't for children. Talk to us about them, and perhaps go fly-camping for just a day or two in the middle of your trip.
The wildlife of Selous Game Reserve
Animals
The prodigiously large mammal populations found here, support the claim that the Selous is the greatest surviving African wilderness. Buffalo numbers are estimated at 120,000–150,000, and the reserve's 40,000 hippo and 4,000 lion are probably the largest such populations on the continent. The Selous also harbors an estimated 100,000 wildebeest, 35,000 zebra, 25,000 impala and significant herds of giraffe, greater kudu, waterbuck, bushbuck, Lichtenstein's hartebeest and eland. It is also one of the most important sanctuaries in Africa for the endangered African wild dog, sable and puku antelope. There are also huge populations of crocodile, hippo, spotted hyena and leopard to name just a few of the big game species found here. Historically Selous has been home to a large proportion of Tanzania's elephants population, but unfortunately there has been a marked increase in poaching over recent years and elephant numbers are now much lower than they once were.
Birdlife
More than 440 bird species have been recorded in the Selous. On the lakes you'll find pink-backed pelicans, African skimmers and giant kingfishers. The sandbanks are home to carmine and white-fronted bee-eater colonies whilst pairs of fish eagle, palmnut vulture, ibises and palm swifts nest in the borassus palms. Other waterbirds found in the Selous include: yellow-billed stork, white-crowned and spur-winged plovers, various small waders, pied and malachite kingfishers. Pairs of trumpeter hornbill and purple-crested turaco can also be seen between the riparian trees. Also worth looking out for among a catalogue of egrets and herons is the Malagasy squacco heron, a regular winter visitor, while the elusive Pel's fishing owl often emerges at dusk to hawk above the water.