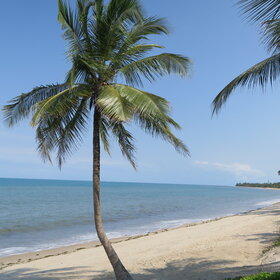 Latest Tanzania Coast holiday reviews
Beach break at Ras Kutani
1-Oct to 14-Oct 19
Excellent

Ras Kutani review
25-Feb to 12-Mar 19
Excellent

The perfect wind down after safari
25-Feb to 11-Mar 19
Excellent

A great place to relax and unwind
22-Jan to 6-Feb 19
Excellent

Really nice R&R before and after safari
4-Oct to 21-Oct 18
Excellent

Tanzania Coast
Most travellers use their beach stay simply to chill after several days on safari, but you can use the coast as a base for your whole holiday, taking safari trips inland. Once you've checked into your beach lodge, you'll basically be left to your own devices – though there are plenty of activities to fill your days if you have the energy. From diving, snorkelling and sailing, to village walks and historical excursions. There are a number of different coastal areas that you can consider:
Zanzibar
Lying off Tanzania's coast, the Zanzibar Archipelago consists of more than 50 islands, most of which have a long history and a rich cultural mix. The best known island here is Zanzibar (or 'Unguja Island', as it is more properly known). It is a semi-autonomous part of Tanzania, which entered into a political union with the mainland after independence. Due to the islands semi-autonomous nature and the range of options on offer we have opted to list
Zanzibar
as a separate destination. (
Read more about Zanzibar here...
)
Pemba Island
Although part of the archipelago, Pemba is a half-hour flight north-east of Zanzibar. It's a less developed island with a more traditional people, and one smart lodge. (
Read more about Pemba Island here...
)
Mafia Island
Although not part of the Zanzibar Archipelago, the neighbouring Mafia Archipelago deserves to be better-known – even if we are often glad that it isn't. Come for a handful of great-value tiny beach lodges, and great snorkelling and diving. They're not glitzy or glamorous – but they are good. (
Read more about Mafia Island here...
)
However, you don't need to leave the Tanzanian mainland for a relaxing beach experience.
Pangani and Ushongo
Pangani was formally an important trading centre on the Swahili Coast in the 19th century, and whilst the trading here has now ceased, little else has changed. The area retains lots of traditional Swahili character and is surrounded by the forest-fringed Panagni River mouth. Just south of Pangani is Ushongo, a small and sleepy, yet attractive coastal village with wonderfully deserted beaches.
Ras Kutani
This is a lovely spot on the Tanzanian coast, about an hours' drive from Dar es Salaam.
Tanzania's coastal vegetation is lush and dotted amongst it are many small farming villages, where clusters of thatched huts stand under palm and papaya trees. Being driven south of Dar, you'll leave the city surprisingly quickly and tar will give way to gravel, and pavements to swaying palm trees. The pace of life slows as you pass stalls piled high with fruit and vegetables.
Soon you'll reach a headland where there are two lovely places to stay. Both lodges have idyllic beachfront locations only five minutes' walk apart, yet there's not another lodge for miles. The two laidback lodges- Amani Beach and Ras Kutani. Neither offer sophisticated activities: there are no jet skis, speedboats or scuba diving here, so the beach remains quiet and relaxing.
Kilwa
Kilwa – meaning 'Place of Fish' – is the collective name given to three different areas on the Tanzanian coast: Kilwa Kisiwani, Kilwa Kivinje and Kilwa Masoko.
Kilwa isn't located on the usual tourist route, so the quality of accommodation isn't as high, and apart from visiting the ruins there isn't a great deal to do. However, travellers who want to learn a little more about the colourful history of this area will find it an adventurous addition to an off-beat itinerary.
Kilwa Kisiwani
Kilwa Kisiwani is an abandoned city filled with crumbling mosques, remnants of once glorious palaces, and ancient tombs. Said to be one of the most important-surviving relicts of the Islamic-influenced Swahili maritime trade, it's quite rightly the main attraction for visitors to the area. Today, a small number of local fishermen live on the island, but for the most part it is deserted. The island can be reached by a short boat ride, and explored with a private guide.
Kilwa Kivinje
Kilwa Kivinje – a small town on the mainland – was once the southern centre of the slave trade with up to 20,000 slaves passing through annually and, consequently, it was very wealthy. Afterwards, the Germans took over the town and used it as an administrative centre, but following the end of WWII the town gradually lost importance and today it is a small port. Travellers can visit the big fort with a cannon leftover from WWI, an old German market hall, as well as an attractive beach where you can watch the local fishermen. Very few people visit the area, so it provides an authentic insight into Tanzanian life.
Kilwa Masoko
The most modern of the three 'Kilwas', Kilwa Masoko is where most people base themselves to visit the ruins of Kilwa Kisiwani. There is little of historical interest here, but Jimbizi Beach – where Kimbilio Hotel is situated – is pleasant enough for a day or two.