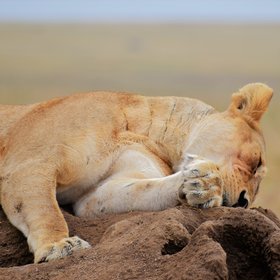 Not only does Tanzania offer first-class wildlife viewing...
Lesbian, Gay, Bisexual and Transgender (LGBT) travel to Tanzania
Tanzania is one of the most established safari destinations in Africa and has been welcoming travellers for many, many years. However, we're sometimes asked: "Is LGBT Travel in Tanzania safe?", or "What's Tanzania like for gay travellers?" Here we'll try to answer these questions and explain more about what we know.
From the start, we'll comment that our travellers, including those from the LGBT community, have been visiting Tanzania since 2002. We have never come across any issues with respect to their sexuality.
Towards the end of 2018 we saw credible press reports, including one on the BBC, that the governor of Dar es Salaam, Paul Makonda, had instigated an active, aggressive approach to "tracking down and arresting" same-sex couples. Reportedly, he also "warned people to delete any naked photos on their mobile phones and promised strong measures against pornography".
Though this homophobic rhetoric is being widely reported in the media, and is obviously very worrying, it remains to be seen what impact, if any, it will actually have on real people on the ground.
Legal & social background for LGBT travellers
Under the terms of the Sexual Offences Special Provisions Act in 1998, homosexuality is illegal in Tanzania. It carries a maximum penalty of 30 years or life imprisonment and it seems unlikely to be changed soon.
Although the arrival of a new president in 2015, John Magufuli, brought the promise of positive change in some areas, it seems unlikely that official LGBT regulations will change soon, as the vast majority of Tanzanian residents consider homosexuality to be "against the law of nature". According to a survey in 2007, 95% of Tanzanian residents believe that it is a way of life that society should not accept.
In numerous speeches, Magufuli and other government ministers have voiced condemnation of same-sex relationships, memorably stating in 2017 that "even cows disapprove" of homosexuality.
The government continues to prosecute members of the LGBT community, and although the law specifically refers only to homosexual men, a government minister has been quoted saying "lesbians will also be arrested wherever found". Magufuli has also initiated a crackdown on gay rights activists, and in October 2016, the government banned HIV/Aids outreach projects aimed at gay men, and closed US-funded programmes providing medical care to the gay community.
All of this is much more of an issue for LGBT residents of Tanzania than for LGBT travellers who visit the country.
LGBT travellers in Tanzania
As a visitor to the country, your sexual orientation and gender identity should be private. If they remain this way, they should be of no interest or concern to anyone else.
You need to be aware that many traditional, conservative communities across Africa, including Tanzania, take the view that LGBT practices are "un-African". Also, note that overtly sexual behaviour in public is almost always unacceptable for any couple, be they heterosexual or from the LGBT community – and many Tanzanians will "extend" this to take offence at public displays of affection.
We know of only rare occasions where the law has affected travellers in Tanzania. On one occasion, we understand that a married, gay couple (not
Expert Africa
travellers), travelling under the same surname, were questioned by immigration on the nature of their relationship. They answered truthfully and were refused entry to the country, then deported.
In the tourism industry itself, however, staff are generally used to dealing with a wide variety of guests with different backgrounds from all over the world. From city hotels to remote safari camps, our experience is of staff with relaxed and tolerant outlooks, who behave professionally, irrespective of guests' sexual orientation.
We routinely ask for rooms to be configured as doubles for LGBT couples and have never had an occasion when this has been refused, or when this has caused an issue.
We'd advise all of our travellers to be respectful of local culture, and to avoid public displays of affection to avoid offence. This approach should result in an incident-free trip to Tanzania for all travellers, LGBT or otherwise.
Further sources of advice
If you're hoping to travel to Tanzania with
Expert Africa
, and would like further information or advice, do feel free to call us. In addition, a few of the most obvious sources of advice for LGBT travellers to Tanzania are: