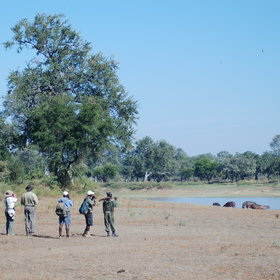 Stepping out in Zambia is always an adventure.
Flights to Zambia
We arrange the flights to Zambia for most of our travellers, and have excellent flights rates. However, if you would prefer to arrange your own flights, or book with air-miles or the like, then feel free to do so. If you organise the flights, we are happy to just make your ground arrangements.
Starting from London
In October 2013
British Airways
ceased their direct flights to Lusaka, and as a result there are no longer any direct flights to Zambia from the UK.
The most convenient and reliable airlines to get to Zambia are
South African Airways
and
Emirates
. It is also possible to use
British Airways
, often in combination with
South African Airways
.
Fly using South African Airways
For Lusaka, South African Airways leaves London Heathrow in the evening, lands in Johannesburg early in the morning and then their connection to Lusaka lands around lunchtime. This usually allows time to connect on to your safari that same day. South African Airways also fly to Livingstone, with similar timings as the Lusaka leg, connecting from the same London flight. Flying back to Heathrow, you would generally leave Lusaka or Livingstone around lunchtime, connecting onto an evening flight from Johannesburg and arrive back to London early in the morning.


Fly using Emirates
Emirates is also a good choice for this journey – though they only have flights to Lusaka. Although they do not have flights to Livingstone, it is still possible to connect to this destination via Proflight which is a domestic airline. Emirates generally leaves Heathrow a little later in the evening than the SAA option, landing in Dubai in the early morning. The connecting flight then arrives in Lusaka in the early afternoon. On the return journey you will depart from Lusaka late in the evening, landing in Dubai early the following morning and arrive back to Heathrow in the early afternoon.


Fly using British Airways
It is also possible to use British Airways for the flight from London to Johannesburg – this is an overnight flight departing in the evening and arriving the following morning. However, you must then connect onto an SAA flight to get to Lusaka for around midday. Combining airlines can sometimes be complicated and so please talk to us if you would like to do this. British Airways do have a connecting flight to Livingstone from Johannesburg – making it possible for those who wish to use them to fly all the way to Zambia. You can then use Zambia's domestic airline Proflight to connect within the country to its various safari destinations.
---
Starting from the USA
In broad terms, your two options for the flight arrangements are:
You arrange your return flights USA -> London and London -> USA for yourself.
Expert Africa arranges the London -> Zambia and Zambia -> London flights for you.

This makes a lot of sense as we have great rates on the Zambia flights. However, you need to make sure that you have enough turn-around time between planes in London. This allows us to utilise some great add-on rates internal flights within Africa, which we can buy for your trip linked to you international ticket.


You arrange your own flights USA -> Zambia and Zambia -> USA, either via London or on any other route, and advise us of the flight times and carriers.
Expert Africa arranges your arrangements in Zambia for you, including any smaller flights within Zambia.

This makes more sense if you are flying direct from the US – eg on the service linking Atlanta with Jo'burg. If you choose to organise your own intercontinental flights, then we prefer you to also book any connecting flights at the same time. Eg: links between from Jo'burg and Livingstone or Lusaka.
Flights to the rest of Africa
For more information on flights, please see our webpage on
International flights to Africa
.
Click on the links below to read specific information about flights to each of our other African destinations:
►
Flights to Botswana
►
Flights to Malawi
►
Flights to Mozambique
►
Flights to Namibia
►
Flights to Rwanda
►
Flights to Seychelles
►
Flights to South Africa
►
Flights to Tanzania
►
Flights to Zanzibar
►
Flights to Zimbabwe