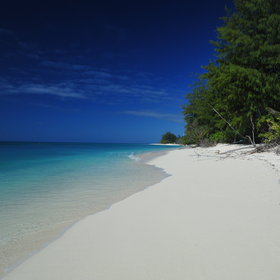 Justifiably, Seychelles is famous for its spectacular beaches.
Surfing in the Seychelles
Despite the numerous coastlines found around these beautiful islands, the Seychelles do not immediately come to mind when looking for surfing hotspots. However, the warm waters of the Indian Ocean and stunning coastal scenery make these relatively undiscovered waves a great place for keen longboard and shortboard surfers to test out their skills.
The monsoon climate means that the best places to surf around the Seychelles vary with the seasons.
Surfing during the north-west monsoon season
The Seychelles is usually under the influence of north-west monsoon winds during
October, November and December
. At this time the best places to find good waves are:
Praslin Island
Anse Lazio
The closest hotels to this surf spot are La Reserve, Paradise Sun and Hotel L'Archipel. There are offshore breaks at this beach.
Surfing during the south-east monsoon season
During
April, May, June and July
the prevailing monsoon winds are from the south-east, and this means the best surf areas in the Seychelles are:
Mahe Island
Grand Anse Beach
This is a good surf spot; however there are very strong currents so you must be a good swimmer. The left hand beach in front of the large 'Le Meridien Barbarons' hotel is a good spot – if you want to stay near here, then try Le Jardin des Palmes .
Intendance Beach
The closest hotel is Banyan Tree. The shore breaks along this stretch make it a better option for less experienced surfers.
Anse Gaulette
The closest hotel is
Banyan Tree
. There are offshore breaks along this beach.
Roche Copra & Plantation Club Beach
There are also offshore breaks along this beach.
Anse Forbans
The chalets of Chalets D'Anse Forbans are right beside this beach, which is long and generally very quiet.
Quarry close to the airport
The closest hotels are Banyan Tree in the south or The Wharf & Marina close to Victoria where you will need to swim or paddle from the beach.
Anse Poules Bleu
The closest hotel is Banyan Tree.
Soleil D'Or, Carana Beach, Bel Ombre
The closest hotel is Le Meridien Fisherman's Cove. There are offshore breaks along this coast.
La Digue Island
Grand Anse Beach, Petit Anse Beach, Anse Coco
The closest hotel is La Digue Island Lodge. There are offshore breaks on these beaches.
Anse Patate
This isn't a large beach, but it's a 5-minute cycle from Domaine de l'Orangeraie and surfers talk about the offshore breaks found at this beach.
Praslin Island
Anse Kerlan
The closest hotel is Lemuria Resort. There are offshore breaks on this beach.
Good surf spots throughout the year:
The following areas are good surf spots during both monsoon seasons – and worth trying between the monsoons, during
August
and
September
– and around
January, February
and
March
.
Silhouette Island
Anse Lascars
There is only one large hotel on this island: Labriz. Here you can find big clean waves up to 6ft which can be dangerous so is much better suited to experienced surfers. Also just in front of the chalets you can find a good area where there are offshore breakers at high tide.