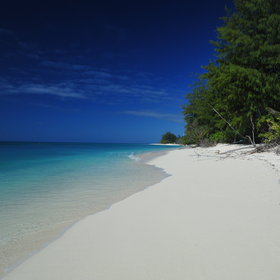 Justifiably, Seychelles is famous for its spectacular beaches.
Seychelles general information
Know before you go
As you plan your trip, and before you travel, we recommend that you check the latest Foreign Office advice on the places that you're going to - regardless of where you are travelling to, or how you are travelling. See FCO's
Seychelles advice here
, or its
info on other countries here
.
We urge you to do this, as we recommend that all our travellers keep themselves up to date with the current foreign office advice on their destination countries.
Setting the scene for a holiday in Seychelles
Travellers on holidays in the Seychelles don't always realise, but the islands fall into two distinct groups: the tall, granitic Inner Islands found on the relatively shallow Seychelles' plateau, and the low-lying, coralline cays, reef islets and atolls of the Outer Islands. The distance from Seychelles International Airport on Mahé to the Outer Islands' atolls ranges from 230 to 1,150 kilometres; the sheer distance making the vast majority of them inaccessible to all but Mother Nature.
Almost all Seychellois live on the principal islands of Mahé, Praslin and La Digue, making these Inner Islands the centre of everyday cultural and economic activity, as well as a great holiday destination. However, with a resident population of only 82,000, the smallest of any sovereign state in Africa, there are plenty of spectacularly beautiful, wholly untouched environments to explore, both on land and in water. Steep, forested mountains rise from golden sands and turquoise waters, whilst coral reefs teem with multi-coloured marine life and gargantuan corals; all are alluring prospects for a great Seychelles holiday.