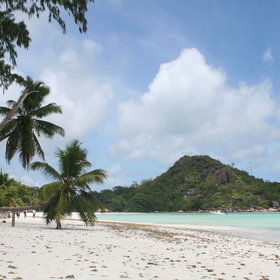 From lazing on Praslin's beautiful beaches...
Latest Praslin Island holiday reviews
The Coco de Mer Hotel : a holiday highlight
12-Oct to 31-Oct 19
Excellent

Coco de Mer Hotel
6-Oct to 21-Oct 18
Excellent

Beautiful Room & Pool
9-Sep to 25-Sep 15
Average

Beautiful view from our room
2-Jan to 16-Jan 15
Excellent

Wow what a place to stay
12-Aug to 25-Aug 12
Excellent

Praslin Island
Although it is Seychelles' second largest island, Praslin is still small. It occupies just 38 km² and has around 6,500 residents; it also has a more laid-back vibe than nearby Mahé. First claimed by French explorer Lazare Picault in 1774, Praslin was initially named 'Île de Palme', in honour of its magnificent palm forests. For many visitors, the towering indigenous trees of the Vallée de Mai National Park, especially the famed coco de mer, remain a reason to visit.
Forest aside, Praslin is also blessed with a naturally beautiful coastline. From tiny boulder-strewn coves to sweeping curves of powder sand, it is a beach-lover's paradise.
Snorkelling and diving opportunities abound with Curieuse Marine National Park bordering the island's north coast and a number of popular aquatic day trips available. Praslin's peace and beauty make it one of our favourite islands.
Accommodation options on Praslin
South and East Coast
Spread over 101 hectares, the family-friendly
Constance Lémuria Resort
is strikingly attractive. Its 105 ocean-facing suites and villas make it Praslin's largest hotel, yet since opening on the unspoilt west coast in 1999, it has retained an exclusive feel. Plenty of activities are available, from tennis to wind-surfing, kayaking, mountain biking and golf.
Adjacent to Lemuria's golf course to the south,
Cap Jean Marie Chalets
is at the other end of the spectrum. Owned and run by a delightfully gentle Seychellois couple, Iris and Terry Adeline, its three self-catering chalets are simple and its atmosphere thoroughly laid back. For a no-frills island escape, this is a great option.
Indian Ocean Lodge
is a small, family-friendly hotel offering affordable accommodation and competent service on the stunning sandy beach of Grande Anse. The sea is a few seconds' walk from the rooms, and there's also a good-sized swimming pool. The hotel runs a free daily shuttle to Côte d'Or, which is particularly useful if seaweed on the beach is an issue during your stay.
Stretching along an extensive 1.8km of coastline at Anse Bois de Rose, in the quiet southwest, you will find the family-friendly Hotel Coco de Mer and its affiliated sibling, Black Parrot Suites. At
Coco de Mer
, there's a raft of free activities, a popular swimming pool, two restaurants and a definite Creole vibe, largely courtesy of the extremely helpful staff. Just to the west of Coco de Mer, in a smaller, separate complex, the 12 adult-only rooms in the
Black Parrot Suites
are the resort's best. Outside, there is a private, cliff-top swimming pool for guest use, with stunning views down the beach, and – new for 2009 – a small subterranean spa.
Perched on the edge of the coastal hilltop at Pointe Cabriz, Praslin's easternmost point,
Le Chateau de Feuilles
is the island's premier boutique hotel. With only nine rooms, catering to a maximum of 20 guests, and a secluded location, the hotel guarantees privacy. There is a resident masseuse, a stunningly sited cliff-top Jacuzzi, a swimming pool and an open-sided restaurant.
Côte D'Or
The beach from which Côte D'Or takes its name is Anse Volbert: a 2.5km stretch of fine golden sand which sweeps along Praslin's north coast. This is home to a number of restaurants, small hotels and watersports centres, yet it retains a very casual, low-impact air. Swimming from the beach is good all year round, with the calmest waters between October and May.
Hotel L'Archipel
is an old school, colonial retreat with a more formal atmosphere than most. Room options are based on style, size and location, but all are spacious, cool and well spread out. Aquatic activities can be arranged from the watersports centre: windsurfing, fishing, diving, snorkelling and island boat trips.
Beside the quiet, eastern end of Anse Volbert,
Les Villas D'Or
is a lovely self-catering option within easy access of the village's restaurants and shops. There are 12 spacious, well-equipped villas, two of which are two bedroom family villas, set around planted gardens. These popular villas offer very good value for money, so we recommend booking well in advance.
On a blissfully quiet section of Anse Volbert,
Acajou Hotel
is a friendly, original and well run hotel, ideally located for a seaside holiday. Acajou has a nice central pool, a tropical garden filled with hibiscus, frangipani, takamaka and casuarina trees, a small gym, a massage room, a boutique, two restaurants and a beach bar.
In the heart of the Côte d'Or,
Côte D'Or Chalets
is a good self-catering option for families on a budget. The seven stone, semi-detached chalets chalets do not overlook the sea, but are less than a minute's walk down the path to the beautiful beach and sheltered waters of Anse Volbert, while shops, restaurants and a watersports centre are all close.
In the heart of Anse Volbert village,
Les Lauriers Petit Hotel
is also a block back from the beach, in lush palm- and hibiscus filled gardens. This cheerful and good-value guesthouse has six en-suite rooms, each with a terrace or balcony. It's a short wander down to local eateries and the beach, so car hire is not essential.
Minutes from the stunning sands of Anse Volbert, the family-run
Le Duc de Praslin
reopened in November 2008 following major redevelopment, and the acquisition of the fabulous Café des Arts. It now offers the best value in its class on Praslin.
Set in beautifully lush gardens at the western end of Anse Volbert beach,
Paradise Sun
is a large but smart and family-friendly resort. The 80 rooms, some designed for those travelling with children, are in attractive, mainly two-storey Creole style chalets, with every one facing towards the sea across palm-dotted lawns.
The only hotel within the marine national park,
La Réserve
surrounds Anse Petit Cour, a sheltered bay, northwest of Côte d'Or. One of Praslin's oldest and best hotels, this is a professionally run place, with colourful, colonial architecture, extensive gardens and a distinctly Seychellois feel. Guided excursions, some complimentary, range from snorkelling trips to St Pierre and Curieuse to walking in the Vallée de Mai.
Things to do on Praslin Island
In the heart of Praslin lies one of the world's smallest natural UNESCO World Heritage Sites:
Vallée de Mai
. This remarkable palm forest, with its unique community of plants and animals, is a remnant of the prehistoric forests of Gondwanaland, the 200-million-year-old southern super-continent. The super-sized vegetation in this lush valley now lends Vallée de Mai a real Indiana Jones air. It's a magical place, with towering trees, endemic fauna (including black parrots), streams and waterfalls, and a wonderfully cool, calm atmosphere no matter what the weather. This primeval forest is home, too, to the magnificent coco de mer palm, which lays claim to the largest seed in the plant kingdom. Neatly swept paths around the forest are clear and well signposted, allowing for easy navigation alone or with a guide; the small ticket office provides useful maps, and plaques along the routes highlight points of interest. It is a thoroughly engaging setting and a real must-see attraction on Praslin!
Excursions to Praslin's neighbouring islands and marine wonders are also easily arranged during your stay. Some of the more popular places to visit include:
La Digue
: Only 30 minutes on the ferry and yet a step back in time to a far slower pace of island life!
Curieuse Marine National Park
: The diversity of this marine park, which boasts coco de mer palms on the hillside as well as diving at Pointe Rouge and snorkelling around St Pierre, make for a great day out in close proximity.
Coco Marine National Park
: Another easy boat trip, Coco offers gentle, fish-filled snorkelling around a trio of small islets fringed by a coral reef.
Cousin Island
: Only 2km from Praslin, this small granitic island is significant for sea birds, endemic land birds and breeding hawksbill turtles. Managed by Nature Seychelles, weekday visits are now possible.
Aride National Park
: Uninhabited bar a few conservation workers, Aride combines a colourful coral reef with native woodland, two scenic beaches and over 1.25-million breeding sea birds.
Getting around Praslin Island
Driving around the island is straightforward and island maps are easily available, free of charge, from car hire companies (Air Seychelles usually provide a handy, compact map to arriving international passengers too).