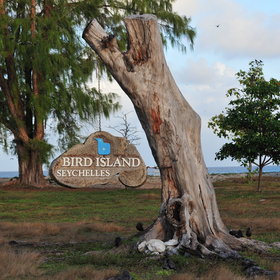 Bird Island is the northernmost island in the Seychelles, about 60 miles from Mahe...
Latest Bird Island holiday reviews
Bird Island Lodge review
12-Oct to 31-Oct 19
Average

Bird Island
24-Oct to 9-Nov 18
Good

Again the best Island for holiday and birds
6-Oct to 21-Oct 18
Excellent

One of the very special places in the world
24-Sep to 5-Oct 16
Excellent

Wonderful birds
30-Jan to 16-Feb 16
Excellent

Bird Island
The northernmost island in the Seychelles archipelago, Bird Island is a 170 acre coralline paradise. Just 60 miles from Mahé Island, its striking sandy beaches and surrounding turquoise seas are idyllic, yet these is not the primary reason to stay here. Instead, wildlife viewing is its trump card.
Originally called 'Ile aux Vaches' after the once numerous dugongs (sea cows) that lived nearby, it was renamed in the mid-1960s for its phenomenal birdlife. Because it's towards the northern edge of the continental shelf, the waters around here are particularly rich in fish. This, in turn, attracts the incredible numbers of seabirds which make Bird Island an ornithologist's delight. The lack of fear that they display towards humans makes close observation thrilling for even casual observers.
The skies over parts of the island are filled with circling fishing parties, the trees littered with nests and precariously placed chicks, and the ground is home to nesting birds and their young. Bird Island provides a spectacle unlike almost any other wildlife spectacle that we know.
The birds of Bird Island
Throughout the year there are more than twenty species of birds here at any one time, with many nesting year-round on the island. Migratory birds from Alaska and Siberia appear from end-August to end-May, displaying their often spectacular breeding plumage in their final month ashore. At the northern end of the island, a vast colony of Sooty Terns chatter and roost from March-November.
Birds which breed regularly on Bird Island include: sooty terns, common and lesser noddies, beautiful fairy terns, white-tailed tropicbirds, wedge-tailed shearwaters, Madagascar & Seychelles turtle doves, barred ground doves, common mynahs and Madagascar fodies. In addition, turnstones, grey plovers, whimbrels and frigatebirds are frequently sighted.
Since the mid-Sixties, the current owners have worked with the resident staff to create and enforce a number of conservation initiatives specifically to protect the birdlife and turtle nesting sites. Their hard work is paying off, in spite of external pressures affecting the birdlife. The successful eradication of feral rats and rabbits having a significant impact on the ground-nesting birds such as the wedge-tailed shearwaters and white-tailed tropicbirds, whilst in the last 40 years the sooty tern breeding colony has increased from c.18,000 pairs to c.750,000 pairs today, largely from better habitat management and a reduction in interference with the birds whilst nesting.
Visiting on Bird Island
Getting to Bird island is easy, as there's a daily charter service operated by Air Seychelles. This departs from the Domestic Terminal of the International Airport, and takes about 35 minutes to fly to Bird Island. At time of writing, the timings were:
Check-in Mahé: 09:45 / Depart Mahé: 10:30 / Arrive Bird island: 11:000
Check-in Bird Island: 10:45 / Depart Bird Island: 11:20 / Arrive Mahé: 11:40
(
However, please use timings indicated on our confirmation invoices; do not rely on these timings.
)
Where to stay on Bird Island
There's only one place to stay on the island – and that's at Bird Island Lodge. This stands in the middle of the island and has a lounge, bar, restaurant, reception and 24 simple but spacious chalets (
Read more about Bird Island Lodge…
)