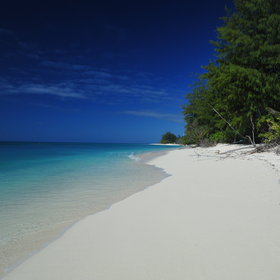 Justifiably, Seychelles is famous for its spectacular beaches.
Lesbian, Gay, Bisexual and Transgender (LGBT) travel to Seychelles
We are occasionally asked "Is Seychelles a gay-friendly holiday destination?" Here we'll share with you the experience we have of gay travel to Seychelles.
We've been organising trips to sub-Saharan Africa for our travellers for more than 20 years, and in that time we've booked many holidays for LGBT travellers. To date, we have never heard of any issues experienced by our travellers due to their sexuality.
As a tourist visitor to Seychelles, your gender identity and your sexual preferences are your business. If you don't identify as a gender-binary, heterosexual person, that should not be of any interest to anybody. It is only if your behaviour is deemed unacceptable that you might face reproaches, which could also apply to heterosexual couples behaving inappropriately.
The legal background for LGBT travellers in Seychelles
In June 2016 same-sex sexual activity became legal in Seychelles, being signed into law swiftly with no apparent resistance. However, same-sex marriage and same-sex civil unions are not currently legally recognised by the Seychelles authorities.
That said, along with just a smattering of other African nations, Seychelles is also one of the few to have passed laws that actively protect lesbian, gay and bisexual employees from discrimination in the workplace on the basis of their sexual orientation.
Seychellois attitudes towards LGBT travellers
In the tourism industry, staff have been dealing with a wide variety of guests, all with different backgrounds, for years. It's notable that rooms are almost universally configured with double or single beds, as requested, without any fuss. It is almost unheard of to learn of a staff member who isn't tolerant and relaxed in their outlook, even if some may have personal views that are relatively conservative.
That said, local attitudes will of course vary and some Seychellois certainly hold less liberal attitudes than others. So as responsible, considerate visitors to a foreign country we advise all our travellers – gay or straight – to avoid overt public displays of affection and sexual behaviour, which should avoid causing offence.
Further sources of advice
A few of the most obvious sources of advice for LGBT Travellers to Seychelles are:
The UK Foreign & Commonwealth Office (FCO), which provides LGBT advice for all countries. Check out:

The Seychelles: local laws and customs page, which is useful reading for all travellers to Seychelles;
And their more general page of advice, not specific to Africa, for LGB&T tourists travelling abroad.

The International Lesbian, Gay, Bisexual, Trans and Intersex Association (ILGA) provides information on the laws of countries worldwide, focused around a series of summary maps;
The Wikipedia entry on LGBT rights in Africa is extensive, with a good country-by-country summary table.