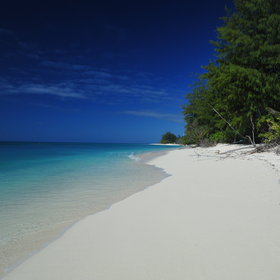 Justifiably, Seychelles is famous for its spectacular beaches.
Art in the Seychelles
The Seychelles are quiet small in size, but the stunning natural beauty and relaxed flair of those tropical islands has drawn in many artists during the years. Mahé and Praslin, especially, have a vibrant art scene, and are home to a number of well-known painters and sculptors.
Most of them have their own art gallery, where they welcome guests to view their often island-inspired, colourful art works – watch out for the signposts indicating an artist's home! A few of the more famous include:
Michael Adams
Michael is one of the Seychelles' best known artists, and was given an MBE by Queen Elisabeth in 2001 for this services to art in the Seychelles. He specialises in colourfast watercolours and silkscreen prints of people, land and seascapes – often with subliminal signals referring to the Garden of Eden. Some of his works are on permanent exhibition at Fregate Island Villas, and his gallery at Anse aux Poules Bleues is open for visitors and has postcards, calendars and line blocks for sale. His two children, Alyssa Adams and Tristan Adams, also exhibit at Michael's gallery.
Michael Adams studio & gallery, Anse aux Poules Bleues, Southern Mahé. Opening hours: weekdays 10am – 4pm, Saturdays 10am – 12pm; Tel: +248 361006 or +248 361513; fax: +246 361200; email Michael: adams@seychelles.net; email Alyssa: adamsalyssa@hotmail.com; email Tristan: tmzungu77@gmail.com; website:
www.michaeladamsart.com
Tom Bowers
Tom specialises in bronze sculpture, from small pieces to large, spectacular ones – with a particularly good variety of female torsos, figures depicting local life and turtles. Many of his art works are on display in private collections worldwide. He welcomes visitors to his studio, which is signposted around Anse a la Mouche.
Santa Maria, Les Cannelles Rd, Anse a la Mouche, Southern Mahé. Opening hours: Mon – Sat 9am – 6pm; Tel: + 248 371518; fax: +248 371075; email: artworks@seychelles.net
Nigel Henri
Nigel's unique, highly colourful and often heavily textured style is very much characteristic of the islands' art scene, but distinctive. He paints typical Seychelles and underwater scenes in heavily bold and textured colours. His acryl paintings are shown at his studio in Beau Vallon, as well as in the arrival hall at Seychelles International Airport.
Nigel Henry art gallery and studio, Beau Vallon, Northern Mahé. Opening hours: Mon – Sat 10am – 5pm, Sun by appointment; Tel: +248 715353; fax: +248 247536; e-mail: nigdesigncon@seychelles.sc
Barbara Jenson
On the main route to Anse Source d'Argent is the small, friendly and lively gallery where Barbara Jenson shows the work she produces at her beachside studio. Her works in watercolour and acrylic on canvas and paper, unique varnish and mixed media on aluminium plate pieces, as well as drawings in pencil and charcoal, derive from the African heritage of many Seychellois.
Barbara Jenson Studio, Anse Reunion, La Digue. Opening hours: Mon – Sat 10am – 6pm; Tel: ++248 536897; fax: +248 234422; email: jenson@seychelles.net; website
www.barbarajensonstudio.com
Andrew Gee
Andrew left England in 1993, and came to the Seychelles as a fashion and textile instructor. He is now one of the islands' leading watercolour artists, painting realistic and personal views of the Seychelles' changing appearance, including beaches, palm trees and old houses, as well as fish, flowers and jungle scenes on silk. Other craft work and textiles are available from his gallery.
Maison Soleil, Anse Soleil Road, Baie Lazare, Mahé. Opening hours: Tue – Sat 10am – 5pm; Tel: +248 712677; email: seygee@gmail.com; website
www.andrewgee.weebly.com
Egbert Marday
Egbert is a well known painter and sculptor, and works with a variety of media, including acrylic, charcoal, collage, oil, wood, metal, cement, sand, resin etc. His art works are both figurative and abstract, with preoccupations in the everyday life and soul of people – their toils, joys, pains and hopes are what inspire him.
Egbert Marday - Kreasyon Beau-Et-Mien, La Misere, Mahe. Tel: +248 378456 or +248 512792; fax: +248 378456; email: emarday@seychelles.net
Sheila Markham
Sheila's art gallery is housed in a traditional building by the seashore in Baie Sainte Anne, on the main road to Cote d'Or. It displays her original acrylic paintings and prints, as well as sculptures made from newspaper and cardboard boxes, cards, drawings and collages. Sheila wants to express a sense of humour and calm by painting typical Seychellois images. There is a small coffee-shop in the gallery.
Cap Samy Art Gallery, Baie Sainte Anne, Praslin. Opening hours: Tue – Sat 10am – 5pm; Tel: +248 236308, +248 510238 or +248 232048; e-mail: markham@seychelles.sc; website:
www.sheilamarkham.com
George Camille
George is a Seychellois artist whose work covers an immense range of subject and media. His paintings, etchings, embossed copper work, canvas collages and 'objet trouves', have great power and presence. His paintings capture the colour and spirit of Creole life. Camille has four dedicated galleries as well as a permanent exhibition in Fregate Island Gallery. He is also the Air Seychelles, and "Seychelles in your Pocket" (a popular guidebook) cover artist.
Opening hours Kaz Zanana: Mon – Sat 10am – 5pm, opening hours Four Seasons Resort: daily 9.30am – 9pm; Tel: +248 344334 or +248 710688; e-mail: sunstroke@seychelles.sc; website:
www.georgecamille.com