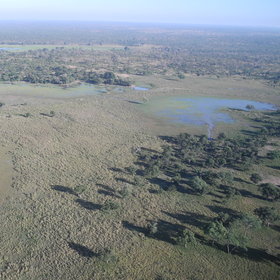 Gonarezhou NP is vast, encompassing around 5,000 Square Kilometres of varied habitat...
Latest Gonarezhou National Park safari reviews
Beautiful Chilo Gorge and charging elephants
8-Sep to 22-Sep 19
Excellent

Chilo Gorge Safari Lodge review
10-Jul to 25-Jul 19
Good

Chilo Gorge Safari Lodge review
8-Nov to 24-Nov 14
Excellent

Pamushana Lodge review
7-Jun to 21-Jun 14
Excellent

Gonarezhou National Park
Ajoining Mozambique and South Africa, in the far southeast of Zimbabwe lies Gonarezhou National Park, 5,000km² of remote undeveloped wilderness varying from open pans of tall grass to dense bush.
Gonarezhou is one of the least visited of Zimbabwe's national parks. It borders onto South Africa's Kruger National Park and Mozambique's vast Limpopo National Park. Together these three huge parks go to make up a truly vast wild area, and what is now known as the
The Great Limpopo Transfrontier Park
. In total, this covers around 35,000km², an area similar to the size of the Netherlands!
Gonarezhou is also Zimbabwe's second largest national park after Hwange. It protects beautiful spreads of mahoganies, ironwoods and tall acacia albida trees, amongst which the
birdlife
is prolific, particularly after the rains. The game-viewing is good, but it is the ambience of
unspoilt wilderness
that really attracts – and most visitors will journey to see the impressive red sandstone Chilojo Cliffs.
Highlights of the Gonarezhou experience include watching herds of elephant – although the elephants here have a reputation for being quite aggressive, and so care should always be taken. As well as its many other antelope species, Gonarezhou National Park is known for good populations of the beautiful, but often secretive, nyala. 4WD game drives and walking safaris are among the activities which are available here.
Gonarezhou is just starting to open up. It's a park for the safari enthusiast; and there are a few lodges here on its edges. These include:
Chilo Gorge Safari Lodge
(
Read more about Chilo Gorge Safari Lodge…
)
Pamushana
(
Read more about Pamushana…
)