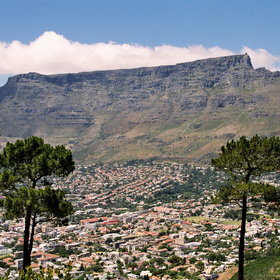 Cape Town is dominated by Table Mountain...
Latest Cape Town trip reviews
Vineyard Hotel review
29-Feb to 11-Mar 20
Excellent

The Constantia Review
26-Jan to 15-Feb 20
Good

Short stay in Cape Town at the Cape Grace
4-Jan to 19-Jan 20
Excellent

The best hotel
31-Dec to 10-Jan 20
Excellent

Exceptional
27-Oct to 20-Nov 19
Excellent

Cape Town
Out on a limb, at the tip of Africa, Cape Town is one of the world's most beautiful cities. With Table Mountain as a backdrop, and the Cape of Good Hope along the peninsula, few fail to fall in love. Relaxed and picturesque, much of its splendour comes from that backdrop: the 1,000m Table Mountain. Above, its flat top is often covered by a 'tablecloth' of cloud, which pours over the edge like dry ice from a stage. The ocean is always blue, the sky always crystal clear. Or at least that's how it seems – for Cape Town is naturally enchanting!
Hotels and guest houses in Cape Town
There are many places to stay in Cape Town, from small guest houses to large hotels. From this wide variety of accommodation, we've carefully selected a few hotels and guesthouses in key areas, including:
Bay Hotel
The Bay Hotel stands in a very chic location opposite the palm-fringed beach at Camps Bay, surrounded by plenty of restaurants, bars and nightlife. It's a smart and modern place, with beautiful rooms and four outdoor swimming pools! (
Read more about Bay Hotel…
)
Camps Bay Retreat
Camps Bay Retreat sits in a quiet and peaceful location. Tucked away in a tiny, forested private reserve, with Camps Bay on one side and Twelve Apostles Mountain Range on the other, it's perfect for a tranquil stay at Camps Bay. (
Read more about Camps Bay Retreat…
)
Cape Grace
Set on its own quay in the heart of Cape Town's Victoria & Alfred Waterfront, the Cape Grace has 121 spacious guest rooms and suites, all with great views over the harbour or Table Mountain. It's a pleasant place to stay, with many local attractions nearby. (
Read more about Cape Grace…
)
Cellars-Hohenort
In an undulating area with plenty of greenery, close to Kirstenbosch Botanical Gardens, the Cellars-Hohenort is a very high-quality choice, with 53 luxurious room, two swimming pools, a spa, stunning gardens, and two excellent restaurants. (
Read more about Cellars-Hohenort…
)
Constantia Uitsig
In the heart of the Constantia Valley, you'll find the 16 tastefully decorated cottages of Constantia Uitsig on a working vineyard. It's a relaxed and surprisingly rural area, only a 20 minutes' drive from Cape Town's city centre and the V&A Waterfront. (
Read more about Constantia Uitsig…
Long Beach
The Long Beach is set apart on one of the Cape Peninsula's best Atlantic beaches, in the picturesque village of Kommetjie. Its six luxurious rooms are decorated in soft neutral colours, and the private patios face the sandy white beach and deep blue ocean. (
Read more about Long Beach…
)
Mount Nelson Hotel
No selection of Cape Town hotels would ever be complete without a mention of the grand old Mount Nelson Hotel! It's a real institution, Cape Town's oldest and most famous hotel, and the best address in town – set in the middle of the cultural centre. (
Read more about Mount Nelson Hotel…
)
Radisson Blu Hotel Waterfront
The reasonably priced Radisson Blu Waterfront stands in one of Cape Town's most amazing seaside locations. Its 177 rooms have contemporary nautical designs, and breakfast on the terrace overlooking the Atlantic Ocean is a real pleasure! (
Read more about Radisson Blu Hotel Waterfront…
)
Road Lodge Cape Town International Airport
The Road Lodge is situated in Cape Town's airport precinct, ideal for those arriving late in the evening, departing again early in the morning. Its 177 rooms make a convenient, well-priced base for an overnight stop. (
Read more about Road Lodge…
)
The Constantia
This five-star country-style boutique hotel stands in Cape Town's vineyard, the lush Constantia Valley. It promises luxurious rooms away from the city-bustle, but close to many fine South African restaurants and five world-class wine estates. (
Read more about the Constantia…
)
Victoria & Alfred Hotel
For a relaxing city break, the Victoria & Alfred Hotel seems to be perfect. Set in the heart of the Waterfront, it's only minutes from shops, restaurants and bars; on the other hand, some of the Cape's most amazing beaches are just a short drive away. (
Read more about Victoria & Alfred Hotel…
)
Vineyard Hotel
The Vineyard Hotel is a large, long-established old favourite, with a strong reputation for personal service. With Table Mountain as a backdrop, it looks onto extensive gardens. The Vineyard's 207 rooms are well-equipped, comfortable, and frequently refurbished. (
Read more about Vineyard Hotel…
)
What to do in Cape Town
As befits one of the crossroads of Africa, this is a very cosmopolitan city. It's African and yet European. Arts and the theatre will not disappoint, whilst its restaurants are some of the best anywhere. Whether on a small wine estate or in a restaurant by the harbour, this is a city where you can dine in style.
There are white sandy beaches, winding coastal drives, the famous prison on Robben Island, the Cape of Good Hope Nature Reserve, the Waterfront, and much more. From Cape Town's wide-ranging variety of accommodation, we've carefully selected a few hotels and guesthouses in our favourite areas of the city.
Please note that if you're planning on visiting Cape Town during their winter months,
Table Mountain Cableway
shuts for annual maintenance of the cable cars during this period. Due to additional work as set out by the Swiss Governing Body for Cableways (BAV) they are required to shut down for a 6-week period. In 2019 the Cableway's annual maintenance dates are Monday 8 July to Sunday 18 August 2019. The Table Mountain Cableway will re-open, weather permitting, on 19 August 2019.