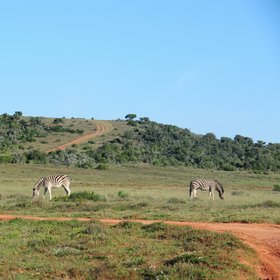 Shamwari is a private game reserve located in South Africa's Eastern Cape.
Video of Shamwari Game Reserve


Close encounters of an Expert Africa team member with elephant in Shamwari Reserve.


Get an idea of activities, wildlife and accommodation options in South Africa's Shamwari!
Latest Shamwari Game Reserve safari reviews
Superb !
13-Aug to 1-Sep 19
Excellent

very much enjoyed the game drives
15-Feb to 7-Mar 15
Excellent

Bayethe Tented Lodge review
5-Feb to 26-Feb 14
Excellent

Shamwari Game Reserve
Shamwari is a private game reserve covering a modest 250km² in South Africa's Eastern Cape. Although only 45 minutes' drive from Port Elizabeth, you will find it set in lush countryside along the Bushmans River. Shamwari Game Reserve isn't as big an area, nor as wild an experience, as you'll find further north in Africa. That said, it can provide a good introductory safari for a few days, especially for families with young children who want to catch some big game sightings in an area with a very low risk of catching malaria.
Flora and fauna in Shamwari Game Reserve
The owners of Shamwari have tried hard to return the land, after many years of farming, to its original flora and fauna.
Whilst the reserve is large by European standards, its size is in fact relatively modest compared with many other African game reserves. Hence Shamwari Reserve's rangers can often locate key species of game without too much difficulty and the sightings' record is usually satisfying. The private game reserve is home to the 'big five': white rhino, elephant and lion are very commonly seen here, and there's also a good chance of seeing the more elusive black rhino, cheetah and leopard.
Travellers more used to safaris elsewhere might be surprised to see so many fences here, which do detract from any feeling of wilderness. The truth is that Shamwari Reserve has many fences, which are used to divide it into different sections. These sections allow the Shamwari's team to 'manage' the game – which they do actively. For example, the big cats are kept in one section of the reserve with some antelope, whilst they can afford to maintain a higher density of antelope in a different section.
Two sanctuaries, one in the north and one in the south of Shamwari Game Reserve, look after 'rescue' animals that have been found in poor condition and brought to the reserve. If possible, these are returned to the wild when they have recovered.
Shamwari Game Reserve is also home to a variety of
birdlife
. It hosts raptors like black harrier, pale chanting goshawk, black-shouldered kite, fish eagle, booted eagle and secretary bird as well as good numbers of water birds such as three-banded lapwing, African darter, malachite kingfisher, African shelduck, the occasional spoonbill and hamerkop. In addition you might spot bokmakierie, hoopoes in the grasslands, chats looking for ants around the termite mounds, red-billed oxpeckers on animals and the colourful glossy starling.
Activities in Shamwari Game Reserve
Visitors usually come to Shamwari for
wildlife
safaris in open-topped 4WDs, which are carried out in groups of six to ten travellers, as well as game walks. For an alternative insight into wildlife, consider a visit to one of the educative centres in the reserve: the Born Free Big Cat Sanctuary, the Rhino Awareness Centre and Shamwari's Wildlife Rehabilitation Centre, which provides veterinary care to young, abandoned, orphaned or injured animals. On a visit here, a member of the team will show you around and explain the centre's work to you. Provided there are "patients" in care during your visit, you can see them in the "animal hospital" or the custom-built bomas, where especially larger animals stay while recovering. The animal rehabilitation centre operates on donations only; therefore no entrance fee is requested, but a donation will be much appreciated.
Where to stay
There are six lodges dotted around Shamwari Game Reserve, which vary in their level of luxury and cost.
Half of them can be found in the south of the reserve, relatively close to each other, about ten to 15 minutes' drive. They are suitable for a family safari with children:
All nine rooms at Riverdene come with a private balcony. This lodge attracts mainly families.
The contemporarily designed Sarili Lodge overlooking the Bushman's River comprises just five luxury rooms with massive en-suite bathrooms.
Long Lee Manor is a family lodge built in the 19th century, which houses more conventional rooms including some family suites. There are two swimming pools and a garden to wander around.
We think the lodges in the north of Shamwari Game Reserve don't really work for family holidays. They are a bit more spread out; so it takes about 20 to 30 minutes to get from one to the other by car:
Bushmans River Lodge offers impressive views of the Bushmans River Valley and is decorated in a traditional African style. Its four en-suite rooms are air-conditioned and provide substantial comfort and luxury.
Lobengula has five luxury en-suite rooms housed in ethnic thatched surroundings.
Bayethe Tented Lodge provides a more traditional, tented safari experience. Nevertheless, guests here won't have to do without amenities like en-suite bathrooms, air-conditioning and heating.
The luxurious Eagles Crag overlooks rocky crags that are regularly frequented by eagles. It has nine thatched glass-and-stone rooms, all decorated in contemporary colours.
At Long Lee Manor, Eagles Crag Lodge, Bayethe Lodge and Lobengula Lodge you can make use of
wellbeing
facilities such as steam and treatment rooms, saunas and a gym. For guests staying at Riverdene Lodge and Sarilli Lodge treatments can be arranged, too.