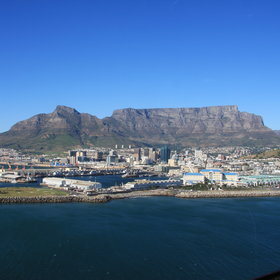 Table Mountain is Cape Town's scenic back drop.
City and Table Mountain Tour
Give yourself half a day to explore Cape Town, taking in its oceanfront setting from on high before discovering the sights, the sounds, the very history of the city itself.
Begin your day with a bird's eye view of Cape Town and Table Bay Harbour, either from the iconic Table Mountain or – if the cable car isn't operating – a drive to Signal Hill. Of course, both are weather dependent – which is why the cable car fee is not included in the cost of your excursion. If the skies are clear, though, the panorama is breathtaking, and you should be able to spot Robben Island, whose infamous prison housed Nelson Mandela for 18 of his 27 years in jail.
Back down in the city, stop at Company Gardens and enjoy a walk through this centrally located garden. Created in the 1650s by the region's first European settlers, the gardens produced fresh fruit and vegetables for ships rounding the Cape. Visit the South Africa Museum then move on to the Castle of Good Hope. Built as a maritime replenishment station between 1666 and 1679 by the Dutch East India Company (VOC), the castle is the oldest surviving colonial building in South Africa.
Continue your journey through the city centre, past the Houses of Parliament, the Grand Parade and City Hall, from where Nelson Mandela first addressed the nation after his release from prison in February 1990.
At the end of the tour you have the choice of being dropped off at the city's Waterfront to experience this vibrant location with its many shops, restaurants and pubs at your own pace, or back at your hotel.
Start location and time:
The tour guide will meet you at any hotel located within Cape Town. The morning tour begins between 8.15 and 8.45am; the afternoon tour between 1.00 and 1.30pm.
Duration:
This half-day tour lasts approximately four- and-a-half hours.
Group size:
The City and Table Mountain Tour can be booked on a scheduled basis, whereby you join other travellers for the excursion, or as a private tour.
Please note
:
Expert Africa
only books excursions as a part of a full,
Expert Africa
itinerary.
Please note
: The Table Mountain cableway is closed from Tuesday 7 July to Sunday 26 July 2020 for annual maintenance.