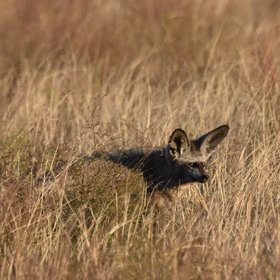 Video of Central Kalahari Game Reserve


Overview of Wilderness Safaris' Botswana lodges, including Kalahari Plains Camp.
Latest Central Kalahari Game Reserve safari reviews
Tau Pan Camp review
14-Jan to 25-Jan 20
Excellent

Nice Visit at Tau Pan Camp
3-Jan to 13-Jan 20
Good

Beautiful start in the desert
26-Nov to 5-Dec 19
Excellent

The Kalahari unfolded.
26-Oct to 20-Nov 19
Excellent

brown with a touch of green
1-Nov to 17-Nov 19
Excellent

Central Kalahari Game Reserve
The Central Kalahari Game Reserve, or CKGR as it's also commonly known, is the ultimate in "remote" safari destinations. It covers over 50,000km², most of which is still inaccessible, particularly to the south. Although there have always been small groups of Bushmen living in the reserve, it is only quite recently that it has become more accessible – in the north – to the public. Even now, this region is seen by only a handful of visitors every year.
The best-known account of the area was the haunting book,
Cry of the Kalahari
, written by American biologists Mark and Delia Owens about their research in Deception Valley.
Safaris to the Central Kalahari Game Reserve
There are only two private, permanent camps inside the Central Kalahari Game Reserve, though mobile safaris are also a fantastic way to explore the reserve. Typically a 3-night stay at either of the permanent camps is perfect. Longer stays are definitely recommended when on a mobile safari as this will give you time to explore the vast area further afield.
Central Kalahari Game Reserve safari camps and lodges
Both Kalahari Plains Camp and Tau Pan have been operating in the Central Kalahari for a number of years. Game viewing at both can be fantastic at the right time of year. There are also three neighbouring camps outside of the reserve boundary that offer the Kalahari experience. Deception Valley Lodge, Dinaka and Haina Kalahari Lodge are becoming increasingly popular, as space at the camps inside the reserve is limited.
Activities on a Central Kalahari Game Reserve safari
When staying inside the Reserve you are restricted by national park rules, so both camps – and the mobile safaris – base their activities around game drives during the daytime. In the private reserves on the northern part of the Central Kalahari, activities are more flexible and they're allowed to offer night drives and walking safaris.
Wildlife of Central Kalahari
The ecosystems, wildlife and landscapes in the Central Kalahari Game Reserve differs very much from what you would experience further north in the Okavango regions. With these come a variety of species that are more prolific here than elsewhere in Botswana, such as brown hyena, aardwolf, oryx, bat-eared fox and ostrich.
Animals of Central Kalahari Game Reserve
The game viewing in the Central Kalahari can can seem sparse when compared to the densities of game that can often be seen in the Okavango-Linyanti-Chobe region. Springbok are the most numerous of the large herbivores. Oryx numbers in the Central Kalahari are also very strong, often seen on the short grass plains during the rains in herds exceeding 100. Red hartebeest, eland, wildebeest, kudu and giraffe can also be found in good numbers.
The main predators here are lion, cheetah and leopard, though leopard are much less frequently seen. The lion prides range over large territories and are connected by loose associations. Many of the lions are solitary or live in pairs, and will often hunt smaller prey such as porcupines. The Central Kalahari's low density of predators makes it an ideal place for cheetah, making this one of sub-saharan Africa's better places to see them.
Birds of Central Kalahari Game Reserve
The birdlife in the Central Kalahari is varied. The largest of the birds, the ostrich and kori bustard, are doing extremely well and are commonly spotted. Doves are well represented with Cape turtle doves, laughing doves and Namaqua doves all seen in high numbers.
All the sub-Saharan species of sandgrouse can also be found in the reserve. During the day these can be difficult to spot with their excellent camouflage, but during the mornings large numbers can be seen flying to the waterholes. Large flocks of red-billed quelea are also common, often seen as they swarm down from trees to drink or in search of food.
The Central Kalahari's most common raptor is the pale-chanting goshawk; there are also a good number of black-shouldered kites, rock kestrels, bateleurs, black-breasted and brown snake eagles, martial and tawny eagles and lanner falcons.