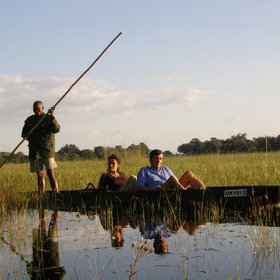 Gliding around in a mokoro – this must be Botswana.
Video of Central Kalahari Game Reserve


Overview of Wilderness Safaris' Botswana lodges, including Kalahari Plains Camp.
Latest Central Kalahari Game Reserve safari reviews
Kalahari. Dry
5-Jan to 23-Jan 18
Excellent

Tau Pan Camp review
16-Dec to 22-Dec 17
Excellent

OK stop-over en-route to Okavango Panhandle
24-Nov to 13-Dec 17
Average

Sleeping Out Under Stars
28-Oct to 12-Nov 17
Excellent

Edo's Camp review
28-Aug to 29-Sep 17
Excellent

Central Kalahari Game Reserve
The Central Kalahari Game Reserve is the ultimate in 'remote' safari destinations. It covers over 50,000km², most of which is inaccessible. It was, until very recently, closed to the public, although there have always been small groups of Bushmen living in the reserve. Even now, this region is seen by only a handful of visitors every year.
The best-known account of the area was the haunting book,
Cry of the Kalahari
, written by American biologists Mark and Delia Owens about their research in Deception Valley.
Safaris to the Central Kalahari Game Reserve
There are two relatively new private camps inside the Central Kalahari Game Reserve. These are the only two permanent accommodation options inside the park:
Kalahari Plains Camp
- click here for more details...
and
Tau Pan Camp
- click here for more details...
.
Alternatively, the best way to visit this area is with your own mobile safari; see
private guided safaris to Botswana
on our
Wild about Africa
website for more ideas of private guided mobile safaris.
If you're interested in comfortable or luxury camping safaris, travelling in a small group of like-minded adventurers, to the Central Kalahari Game Reserve in Botswana, then see
Wild about Africa's
suggestions for
Safaris to Central Kalahari Game Reserve
.
It's also possible to organise short 2-3 day trips into the Central Kalahari as part of a tailor-made holiday from:
Meno a Kwena Tented Camp
The Meno a Kwena Tented Camp is actually near to the
Kalahari's Salt Pans
; it is a great old-style safari camp. (
Read more about Meno a Kwena Tented Camp ...
)
Just outside the northern boundary of the Central Kalahari Reserve, lies a small lodge which is easily reached on a fly-in safari:
Deception Valley Lodge
The Deception Valley Lodge is a beautifully constructed retreat with eight stylish, thatched bungalows. It is an excellent lodge to visit at any time of year. (
Read more about Deception Valley Lodge ...
)
Safaris elsewhere in the Kalahari Desert
There are several lodges dotted around Botswana's Kalahari Desert, far from the Central Kalahari Game Reserve itself, including:
Edo's Camp
Edo's is situated on a 1,200km² game conservancy in the northwest Kalahari. The camp's main attraction is its permanent floodlit waterhole. (
Read more about Edo's Camp ...
)
When to visit the Kalahari
The Central Kalahari is probably at its most enticing when travel there is most difficult: in the first few months of the year. At this time, the beautiful inter-dune valleys become lush with vegetation, attracting thousands of springbok and gemsbok. You'll also find good numbers of ostrich and giraffe, herds of wildebeest, excellent cheetah and the Kalahari's famous black-maned lions. Leopard and brown hyena are common residents too, though very rarely seen.