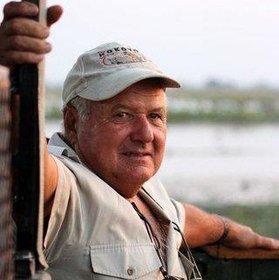 Lloyd Wilmot
Botswana safari guides
When you are on a safari - a safari in Botswana or elsewhere - a really top safari guide will make a huge difference to your experience. A top guide will lead you through different areas, interpreting what is happening around, and sharing knowledge from their vast experience.
No matter if it is your first time on safari, or you are an experienced Africa traveller, the better your safari guide, the better your chances for an outstanding and unforgettable safari holiday.
Below are some of Botswana's top safari guides. A trip with these guides will cost a little more – but it's worth it! Call us to arrange the right safari guide for your Botswana safari.
Lloyd Wilmot
Lloyd Wilmot was born in
Francistown
, Botswana (then known as the
Bechuanaland Protectorate
), in 1947 and grew up on a farm. At the age of six, because of a big drought, he and his family left the farm, and started to sell trade goods to remote, rural Africans for two years. These years, characterized by ox-wagon trekking, camping under the stars and walking for many miles through the veld and bush were very formative for Lloyd. They gave him strong legs and inculcated a lifelong love of nature and the outdoors. It also gave him a first-hand insight into the various Botswana cultures as well as teaching him to speak
Setswana
fluently.
Back in
Francistown
, in 1955, Lloyd started school and later spent his high school years at boarding school in
Kimberley
and
Mafeking
, South Africa. Lloyd's first visit to
Botswana's Okavango Delta
had been in December 1955 and in 1957 he went on a week-long hunting safari into the delta proper. Thereafter, he took every opportunity to spend his school holidays on trips with his father, or to stay in
Maun
or
Shakawe
. He finally matriculated at
Mafeking High School
in December 1965. By now, aged 18, he wanted to be a crocodile hunter like his father.
In 1966, Lloyd began to assist his father with crocodile-hunting operations. The following year his father decided to develop photographic safaris in the newly proclaimed (1964)
Moremi Game Reserve
by establishing
Xakanaxa Camp
. Lloyd qualified as a safari guide and began accompanying him on early safaris. By this stage
Crocodile Camp
, as the old hunting base camp was called, had been developed into a lodge. The old hunting campsites were now used as overnight camping spots for early boat safaris into the delta and they used the old crocodile-hunting equipment, like their boats, to do boating safaris. This is how Lloyd gained his first boating, walking and driving experience as a safari guide in the
Moremi Game Reserve
.
After his father died from a snake bite in 1968, Lloyd continued guiding hunting trips in this concession until the end of 1970. A number of factors made him decide to quit: hunting was no longer profitable in Botswana, and all the staff and equipment were now being used more efficiently for photographic safaris. Lloyd also become interested in the study of spiritualism, Buddhism and Hinduism, all of which taught him to value the sanctity of life.
In 1972 he established
Xaxaba Camp
, which later became
Orient Express's Fisheagle Lodge
. In 1976 he took an office job, but soon realized that his vocation was the bush. In 1980 he established < Lloyd's Camp at
Savute
; he ran this and often guided there for 19 years before selling to
Desert & Delta Safaris
. After this he began to guide
mobile safaris in Botswana
, which he still operates.
Lloyd also occasionally works as a relief safari guide and manager and is still involved with crocodiles – for example in a recent film-shoot in
Okavango
.
Lloyd is based in
Maun
during the safari season and whenever time and money allows, he develops his property near
Shakawe
. He has been divorced since 1999, but his future plans include the establishment of
Samochima Lodge
, which he wants to turn over to his beloved children, who share his passion for nature and wildlife.
Being a professional Guide for over 43 years, Lloyd says about himself
'I have come to treasure my freedom and hope my energy and enthusiasm will last to see my dreams reach fruition.'
He describes his outstanding guide career as a safari guide like this:
'Like any farmer who works closely with his livestock, I got to observe, know and understand wildlife over this time and can truly say the bush holds no terrors for me. Another aspect that has helped my career is that I am a people person - I enjoy meeting and dealing with new people. The bush is far removed from what they are used to, so it takes patience and empathy to give them the best we can. It is a joy to me to see how much some travellers enjoy their adventure. It is even more rewarding when the experience touches their souls. I have always felt a safari is more than a whirl of what one saw and did, that it should include an insight into the great Web of Life that we ourselves are part of. Perhaps Clive Walker's quotation sums it best for me.…

"To adventure is to live, is to break the shackles of habit and custom; to shake free from the ordinary and the mundane; is to make life a never-ending journey of discovery and reward"
- Clive Walker (renowned South Africa conservationist and artist)'
Grant Truthe
Grant Truthe has been guiding and managing lodge and mobile safari operations in and around Northern Botswana for over 20 years. Born in
Maun
1971, he grew up learning about the bush under the watchful eyes of his grandfather, the legendary crocodile-hunter, Bobby Wilmot, and uncle,
Lloyd Wilmot
. After he left
Treverton High school
, Grant trained as an aircraft engineer and then pilot. Grant then setup his own mobile safari company back in the mid-90's. Through this he gained an enormous wealth of experience in all aspects of Botswana safaris. Having guided throughout the
Okavango Delta
and
Chobe National Park
there are very few safari guides who know the
Okavango Delta
as well as Grant.
Although still running privately guided safaris through the Delta and beyond, Grant today spends much of his time at
Motswiri Camp
which he and his wife part own and manage. Situated in the vast and remote
Selinda Reserve
, the focus at
Motswiri
is on riding and walking safaris and with a guide as talented and experienced as Grant leading many of the activities, this is one of Botswana's most exciting up-and-coming lodges. Whether exploring the
Selinda Spillway
by canoe and motorboat or tracking big-game on foot or on horseback, Grant has the knowledge, skill and personality to make this an unforgettable safari experience. He likes to share his passion for Botswana with the tourists and this is what he plans to continue in the future.
Brent Reed
Having grown up exploring the wilderness areas of South Africa's
Magaliesberg Mountains
, where he was born in 1972, Brent Reed gained an appreciation and knowledge of the local wildlife and flora at an early age. He still tells of how, on walks with his father and brother, the trio would stop to dig up old anthills in order to collect snakes which would hide out in these disused termitaria!
After leaving high school in 1990, Brent made the rather large move from the African bush to a career in IT - working in London for 3 years. It wasn't long though before his love of that African bush called him back to join his brother Grant in Botswana, it was during this time that Brent gained his
Botswana Professional Guides' License
. Both brothers worked for a well-known mobile outfit, guiding in the
Okavango
for a number of years, before forming
Letaka Safaris
in 2001.
After a near fatal run in with a black mamba in 2004, Brent's primary interest these days is focused more on the avian side of things. Although working mainly in the
Okavango Delta
he has also lead birding trips to
Namibia
,
South Africa
, Swaziland,
Zimbabwe
,
Zambia
,
Malawi
,
Mozambique
and Madagascar over the last 16 years. Today, Brent holds a
FGASA Level III Trails Guide
(the highest level attainable for a safari guide) and he is a BOTA (
Botswana Training Authority
) qualified as a trainer and assessor of safari guides.
Brent and Grant are considered two of the top safari guides in Botswana, known for their detailed knowledge on a wide-variety of interests associated with not just the flora and fauna but also the human history related to the African sub-continent.
Together, the Reed brothers founded the first private guiding school in Botswana in 2003 together with their father. The
Okavango Guiding School (OGS)
, of which Brent is a director and trainer/assessor, aims to teach the next generation of Botswana safari guides.
Brent lives with his family, his wife Ashleigh and his two young sons, Jarryd and Troy, in
Maun
at the
Letaka's
operations base on the banks of the
Thamalakane River
. He spends most of his time in his office in
Maun
, operating the organizational side of the business but he still has his passion for the bush and wildlife and loves to lead safaris throughout Botswana whenever he can.
Grant Reed
Grant Reed was born in South Africa's
Magaliesberg Mountains
in 1974. Growing up exploring the local countryside, surrounded by nature and wildlife, he developed a particular interest in birds and snakes from an early age. Heavily influenced and mentored by his father and grandfather, even a bite from a Puff adder on his 18th birthday (resulting in him spending six months in-and-out of hospital) couldn't diminish Grant's interest in the natural world.
After finishing High school Grant went on to gain an honors degree and two subsequent post-graduate degrees in
Nature Conservation
at
Pretoria Technikon
. He started guiding safaris in a variety of South African National Parks (including the
Pilanesberg
and
Kruger National Parks
) before finally moving to Botswana in 1996. After gaining extensive experience of the mobile safari industry working for a well-known and particularly old school operator based in
Maun
, Grant founded
Letaka Safaris
with his brother in 2001.
Grant holds a Level III FGASA (
Field Guide Association of Southern Africa
) safari guiding qualification (the highest level available) with specialist qualifications in birds, wild flowers and Dangerous Game, as well as holding a Level III BOTA (
Botswana Professional Guide
) Certificate.
Passionate about the importance of good safari guides and good guiding Grant, Brent and their father Mike set up the
Okavango Guiding School (OGS)
in 2003. This is the only privately run school for safari guides in Botswana. Through the school they aim to train the next generation of Botswana's safari guides, not just in the
Okavango Delta
but nationwide and beyond.
Today Grant still lives just outside of
Maun
, Botswana, on the banks of the
Thamalakane River
with his wife Trudi and their sons Merrick and Ross. He splits his time between directorial duties at
Letaka Safaris
with travelling to all parts of the country on guide training courses, while still leading mobile safaris throughout northern Botswana and birding expeditions all over
Southern Africa
on a regular basis.