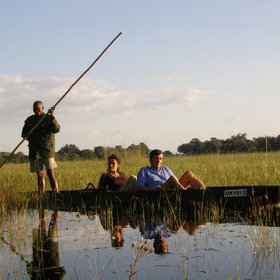 Gliding around in a mokoro – this must be Botswana.
Lesbian, Gay, Bisexual and Transgender (LGBT) travel to Botswana
We are occasionally asked "What's Botswana like for LGBT travellers?" or "Is Botswana gay-friendly?" – so here we'll cover what we know.
We have been organising trips to Botswana for our travellers since about 1996 and in that time we've booked many trips for LGBT travellers. The vast majority of Botswana's people are very friendly to visitors, and we have never heard of any issues experienced by our travellers, or other travellers in Botswana, due to their sexuality.
To put this in context, Botswana has long been recognised as one of Africa's most stable countries, with a generally positive human rights record and the longest continuous multi-party democracy in Africa. Botswana's constitution implies freedom of individuals and expression, and in general Botswana has a relatively open society. Although there remain some laws against homosexuality, these are rarely enforced for Botswana citizens and we aren't aware of them ever having been applied to tourists on holiday.
That said, it's important to be aware of both the law and the current climate of opinion. So read on and do please check your government's latest travel advice before you go.
The legal framework for LGBT travellers in Botswana
Until 2019, there were a number of contradictions in Botswana's legal approach to homosexuality.
Until very recently, there were still laws in force – dating from the colonial era (1885) – against same-sex sexual activity (male and female) which carried a maximum prison sentence of seven years. Equally, same-sex relationships currently have no recognition in Botswana law.
Botswana has since 2000 been party to the ICCPR (International Covenant on Civil and Political Rights), which prohibits discrimination on the grounds of sexual orientation. In 2012, an amendment to the Employment Act prohibited termination of an employment contract on the grounds of sexual orientation (or HIV status).
In 2014, Botswana's first gay rights group (LEGABIBO) finally won legal recognition. Since then, Botswana's High Court has consistently ruled in favour of LGBT rights in the country. Most recently, in 2019, it struck down colonial-era laws banning homosexuality, making it one of the few African countries to have such protections for LGBT people.
LGBT travellers in Botswana
All over the world, people in traditional, rural communities tend to have more conservative attitudes than the residents of more cosmopolitan cities, and the people of Botswana are no exception. Thus, as in many other African countries, non-straight sexual identities (lesbian, gay, bisexual and transgender) are considered a taboo subject by many Botswana citizens.
Although it's acceptable for same-sex friends throughout Botswana to wander around hand in hand without a second thought, such behaviour has no sexual or relationship connotations. In conservative areas, however, public displays of affection or overtly sexual behaviour between any two people, whether heterosexual or LGBT, are strongly frowned upon. Any clear indications of an LGBT relationship would be regarded as taboo in these areas, where traditional views prevail. So we advise all our travellers, gay or straight, to avoid overt displays of affection or sexual behaviour, as these could cause offence.
Although Botswana is very forward moving when it comes to LGBT rights, such traditional views are particularly prevalent in rural parts, which are still inhabited by a large number of the population. You'll still find strands of this conservative thinking in the larger towns and cities, too, but there are also many people here with more liberal views – and in cities such as Gaborone some individuals are openly gay.
In the tourism industry, and especially in Botswana's more remote camps, lodges and hotels, staff have been dealing for decades with a wide variety of guests with different backgrounds. It's notable that rooms are almost universally configured with double or single beds, as requested, without fuss.
Even if some members of staff have personal views that are relatively conservative, it is almost unheard of to learn of someone who isn't tolerant and relaxed in their professional capacity.
Further sources of advice
Whatever your background, we hope that this advice is helpful, but do feel free to call us if you need further advice or reassurance. Alternatively, one of the following may be able to help: