Overview: Helicopter Flight - Botswana
Transfers
Make the best use of inter-camp travel time and turn it into an aerial safari. Starting from any camp, lodge or airfield, including both Maun and Kasane and fly to your next camp, lodge or airfield. Pause along the way for an ideal aerial pic and arrive at your destination in style.


Scenic Flights
Duration options: 30, 45 and 60mins
Doors off (seatbelts on!) for unrestricted views and the best photo opportunities imaginable. Fly deep into the Delta to experience inaccessible areas and wildlife that is concealed from ground-level observers.

Wildlife and birding enthusiasts will value the aerial view laid out below. See the tapestry of hidden channels, islets dotted with termite mounds and the flooded glory of the Okavango Delta that you only truly appreciate from above. Travel at your own pace and add a champagne break (see next, below).

Departures can be arranged from any Okavango Delta camp or lodge and anytime between dawn and dusk – your choice.


Champagne Experience
Take wildlife viewing to a new high: Fly to a tiny island and touch down for a glass of champagne. This option can be incorporated into an inter-camp transfer, taken as a stand-alone flight or added to a Scenic Flight.


Floodplains to Panhandle
It's difficult to get your head around the Okavango Delta: it's so big, and the local water levels don't seem to correlate with the local rains. That's because they don't. It's all about the river flow that comes from Angola. Understanding how the water works is best achieved from the air. Fly upstream and see how the rivers that flow through the panhandle feed the delta and kick-start the whole Okavango story.

This 90 min flight is tailored to your specific interests (birding, reptiles, big game, cats and so forth) and includes a touchdown on a tiny, remote islet for a unique picnic.


Tsodilo Hills
In Britain, we're impressed because Stonehenge was built about 3,000 BC. Impressive, yes, but Tsodilo dwarfs this date: some of the rock art here (and there are about 4,500 pieces) dates back as far as 24,000 BC – give or take a millennia or two. And there's evidence of human activity dating back 100,000 years. This half-day trip flies you to the foot of the hills, where you rendezvous with a San guide, whose ancestors might just have been the original artists. This is also one of the highest peaks in Botswana (1,375m asl), giving your eye a refreshing break from the Delta's billiards-table flatness.
Start location

Variable; usually from your camp in Botswana

End location

Variable; can be a camp, lodge, Maun or Kasane

Meals included

Not usually

Duration

Various: from 30 minutes to half a day.
Photo gallery
What to look forward to.
---








Ideas for holidays which can include Helicopter Flight - Botswana
Add this experience to these trip ideas or contact us to start planning your own tailor-made safari to Botswana.
---

Other excursions in Botswana
Inspiration and great ideas for other experiences in Botswana to include in your safari.
---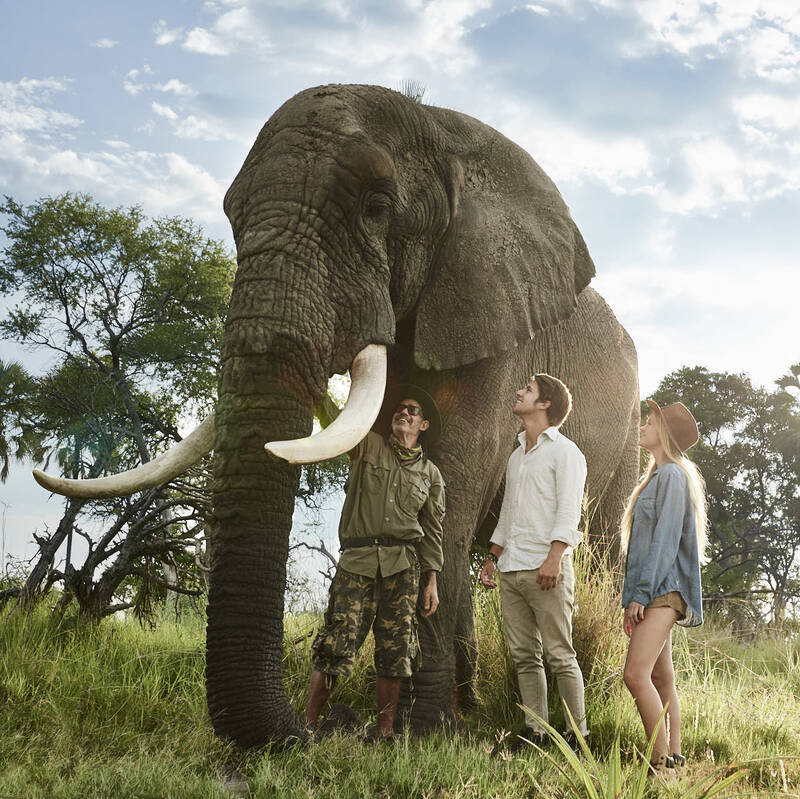 Elephant Activity
Half day - mornings only
Any stay to Baines' Camp and Stanley's Camp is synonymous with the acclaimed elephant activity! Join experts Doug and Sandi Groves in a gentle, interactive experience walking with the two elephants Jabulani and Marula. This experience is a must for all lovers of elephants and wildlife!
More about Elephant Activity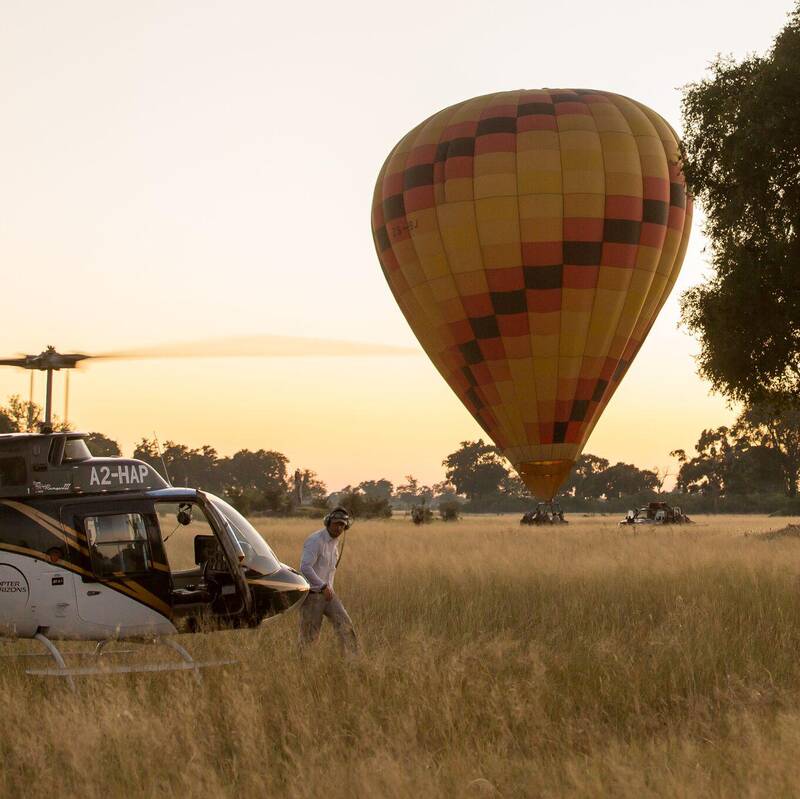 Ballooning in the Okavango Delta
Half day - mornings only
Airborne over the Okavango Delta is always magical - not only for its beauty, but also for insights it gives you into the patterns of channels, lagoons and floodplains. Floating silently at dawn, watching the early sun light up the misty palms islands and spotting the animals as they wake up is particularly enchanting.
More about Okavango Ballooning
Botswana fact file
Useful information to help you prepare for your trip in Botswana
---