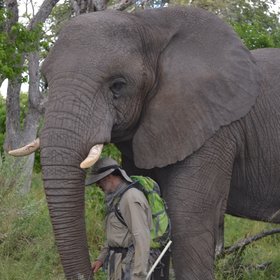 Elephant Activity
Spend a magical morning with the two elephants Jabulani (known affectionately as Jabu) and his companion Marula as you walk with them through their environment. Learn about their unique and individual histories and how they finally made their way to Botswana in the loving care of Doug and Sandi Groves. Both of the elephants are gentle and absolutely love human interaction. The experience gives both of them the opportunity to be happy and sociable creatures, which is innately part of being an elephant!
During the activity, it is not uncommon for one of them to nestle the tip of their trunks on your head or shoulder as they become comfortable with your presence. Doug, who the elephants clearly regard as their patriarch, carefully sets the pace for the walk by taking short breaks to elaborate on elephant behavior while they forage about for food along the way. Guests are encouraged to come close and touch the elephants (under Doug and Sandi's supervision of course), and they are welcoming to such interaction and do not regard it as invasive at all.
An elegant lunch is served under the trees while Doug lectures and the elephants demonstrate how they trumpet, eat, and use their tusks to obtain food. Once lunch is over, guests are returned to camp by vehicle and have time to relax before the afternoon activity.
This activity is only possible from Baines' Camp or Stanley's Camp in the Okavango Delta.
Please note
:
Expert Africa
only books excursions as a part of a full,
Expert Africa
itinerary.