Spotted-necked Otter Safari: Summary
Spotted-necked Otter in a nutshell
This Botswana safari concentrates on two areas, one in the heart of the legendary Okavango Delta and another on the sporadic Savute Channel, two dynamic ecosystems home to an incredible diversity of wildlife.
Both camps are classic luxury canvas set ups. Intimate in size, deep in the wilderness and highly rated by our travellers. Inside private reserves, you'll have the freedom to explore on both day and night game drives and learn about the bush on expertly guided walking safaris in complete isolation, making for a wonderfully varied experience and a great introduction to the country.
Your safari starts the moment you take off from Maun aboard a light aircraft, with amazing aerial perspective of the Okavango Delta's patchwork of channels, islands and lagoons. Your home for the next three nights is Tubu Tree Camp, sat on a large island in the pristine Jao Reserve with wonderful views out over the surrounding floodplains from the luxury tents, pool and bar. During the floods, usually from May to September, the island hosts a great density of animals while the camp becomes a great base for water-based activities such as fishing, boat trips and mokoro canoe excursions. Wildlife viewing is still strong when the water recedes with elephants a common fellow guest at camp.
Another short takes you to the edge of the Delta, to the Linyanti Concession and Savuti Camp. On the edge of the Savute Channel, a long dry watercourse that has begun flowing once more in recent years unlocking a wealth of life. Lion prides follow the increasing number of herbivores, being joined by leopard, cheetah and hyena along the channel and in the surrounding woodland. The camp's hide is a particularly good spot to get some up-close photographs.
With three nights at each camp, you'll have the option to sleep out in the wilderness on a simple elevated platform overlooking a waterhole with nothing but a mosquito net between you and the stars – an unforgettable experience.
At a glance
Starts:
Maun Airport
3 nights
Savuti Camp

-

Kwando-Linyanti area,

Botswana

Full Board & Activities
3 nights
Tubu Tree Camp

-

Okavango Delta Safari Reserves,

Botswana

Full Board & Activities
Ends:
Maun Airport
Savuti Camp
Days 1-4
Savuti Camp is about 30km due west of the Savuti Marsh, and the famous Savuti area of Chobe National Park. It stands in the private Linyanti Reserve, which covers 1,250km² and has within it three private camps. In the north, beside the Linyanti River, the environment is like the Chobe riverfront: open floodplains beside the water, an adjacent band of riverine forest, and then dense (mostly mopane) forests stretching away south.
View full itinerary
Tubu Tree Camp
Days 4-7
Set on a large dry island on the west of Botswana's renowned Okavango Delta, the small, traditional Tubu Tree Camp lies within the private Jao Reserve. This 600km² reserve is dominated by permanent wetlands with deep-water channels, seasonal floodplains, and islands. Thus when the floods arrive, game drives from Tubu Tree offer the best game sightings in the area, though conversely, water activities may not be possible year-round.
View full itinerary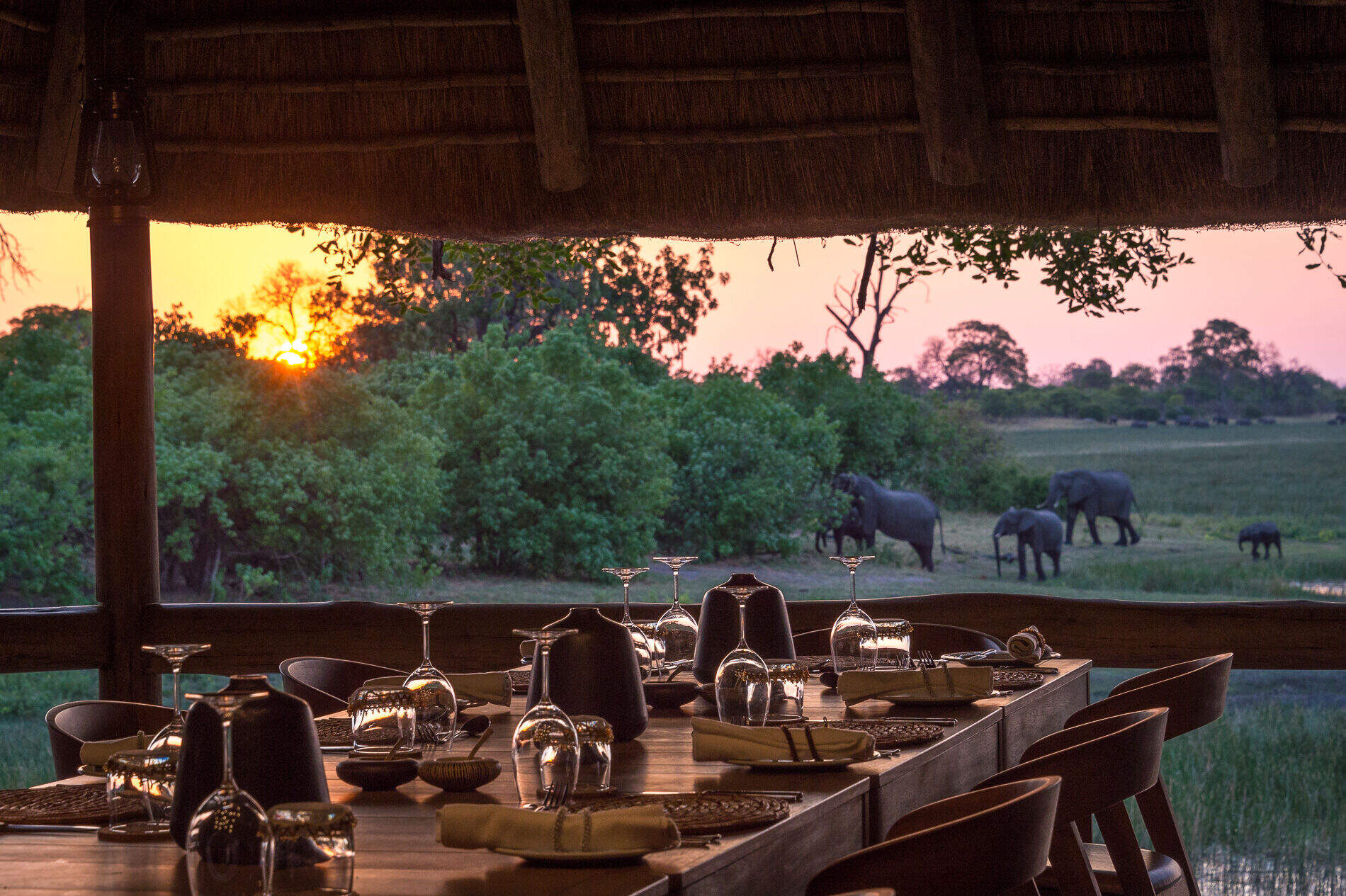 Savuti Camp
Kwando-Linyanti area, Botswana

Tubu Tree Camp
Okavango Delta Safari Reserves, Botswana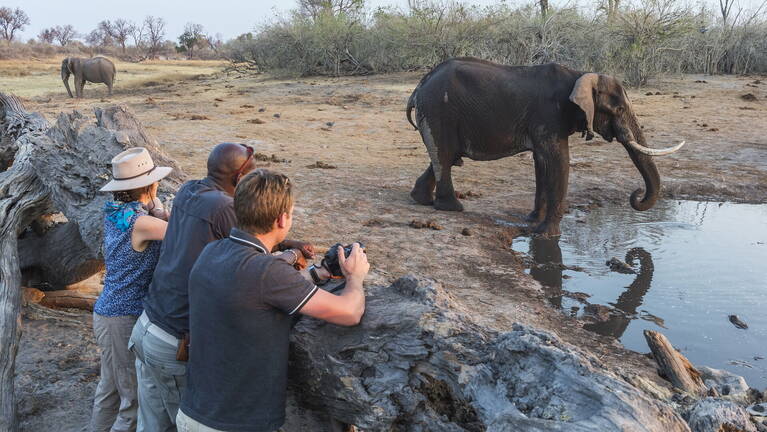 Highlights
Our thoughts on five of the top experiences of this Spotted-necked Otter Safari.
Staying at remote camps in pristine wilderness
World-class wildlife viewing in private reserves
A great mix of activities on land & water
The chance to spend a night out under the stars
Getting up close with elephants in Savuti Camp's hide
Activities
Some activities which can be included in the Spotted-necked Otter Safari: talk to us about those which interest you.
4WD Safari

Birdwatching

Boat trip

Fishing

Guided walking safari

Helicopter

Mokoro

Night drive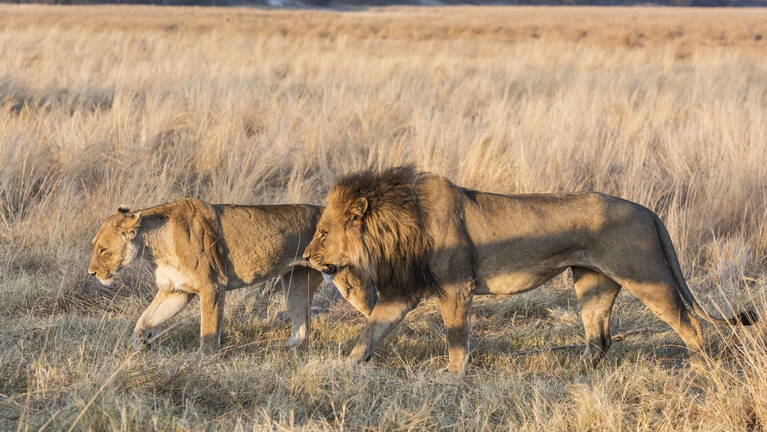 Key species to see on the Spotted-necked Otter Safari
Based on our travellers' observations, we've estimated the likelihood of seeing these species during the Spotted-necked Otter Safari. Click on the animals and our wildlife surveys page for more info.
---


















Let us help you customise your trip
Like all of our holidays on this site, this is just an idea. All of our trips are tailor-made, so we'll always adapt them to suit you.
---

Talk to an Expert
Browse this Expert Africa website, then call us. We'll match you with the Specialist in our team who is best suited to help you.

Set up your itinerary
Based on our experience and your ideas, your specialist will create a detailed, costed itinerary. We'll refine it together, until we have a trip that you're perfectly happy with.

Prepare for your trip
The same Specialist will make the seamless arrangements for your trip, send you detailed travel documents, and be available to answer any questions before you depart.

Travel with peace of mind
After you set off, you'll be cared for by our partners in Africa, most of whom have worked with Expert Africa for decades. And if you ever need us urgently, we're available 24/7.

When you return
We love to learn about your trip, and so will always be grateful if you've the time to give feedback to your Specialist when you return.

Other ideas for Botswana safaris
Look at these ideas in Botswana: then talk to us. Will will design a trip that's perfect for you.
---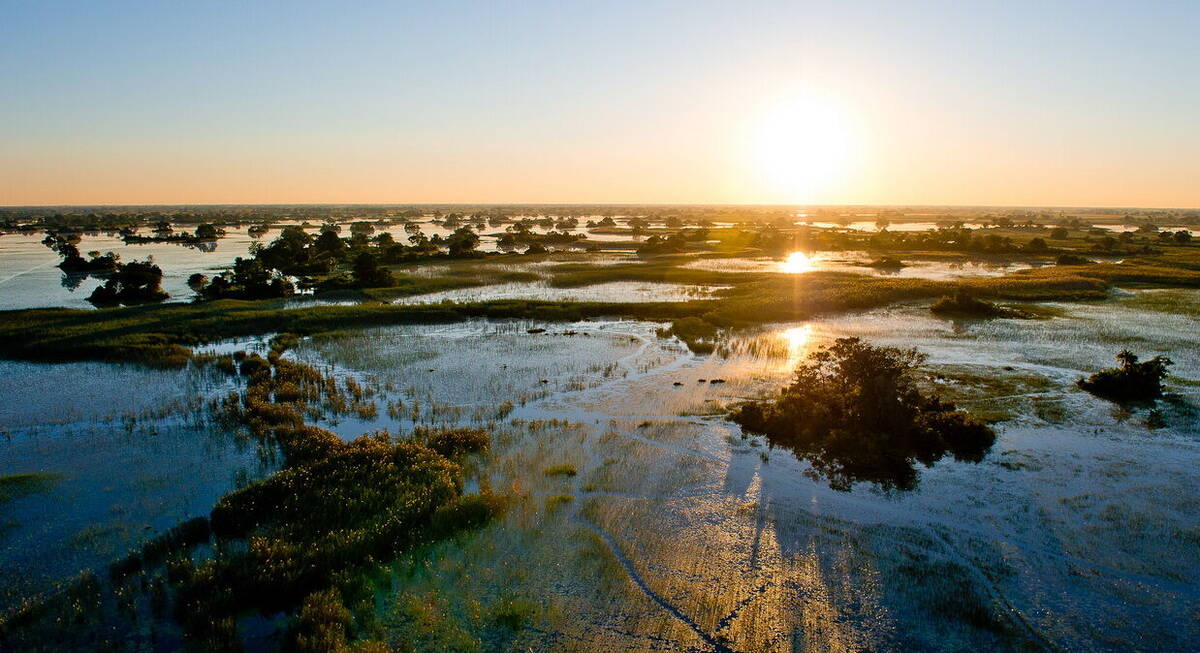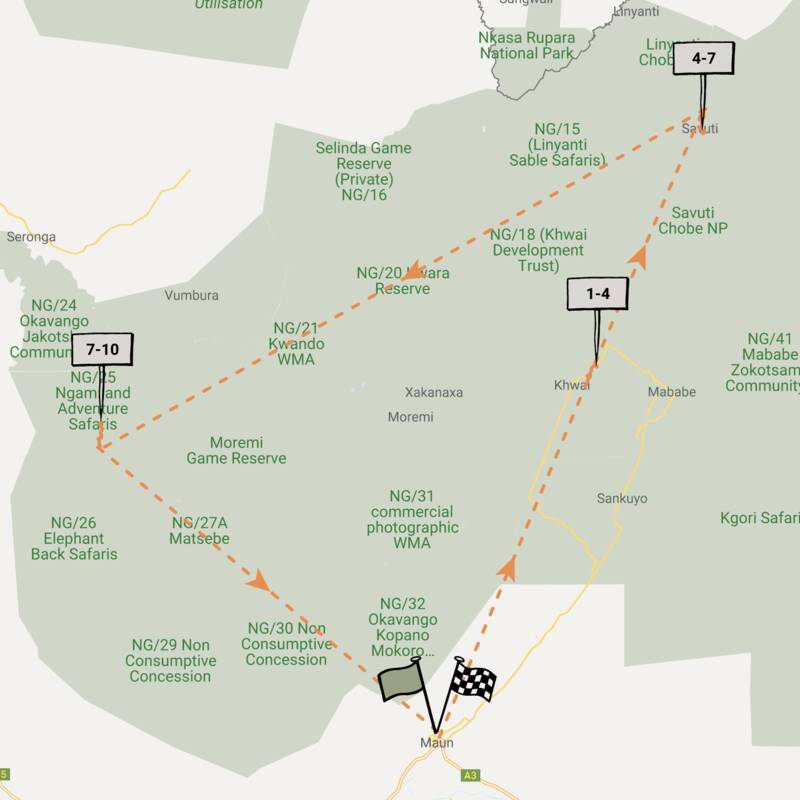 Steenbok Safari
9 days • 3 locations • 1 country
MAUN AIRPORT TO MAUN AIRPORT
A classic Botswana safari exploring the Moremi, Chobe National Park and Okavango Delta. Excellent wildlife viewing and a variety of activities from three of our favourite traditional tented camps.
Visiting Chobe, Okavango Delta and 1 other area
US$6,680 - US$10,400 per person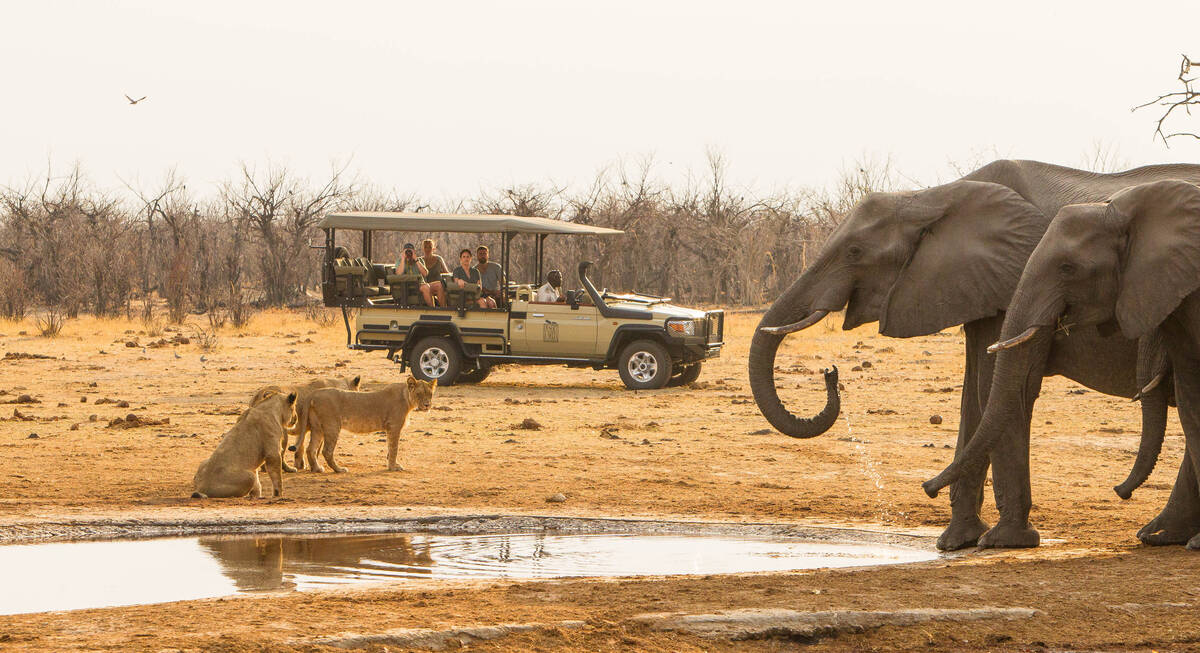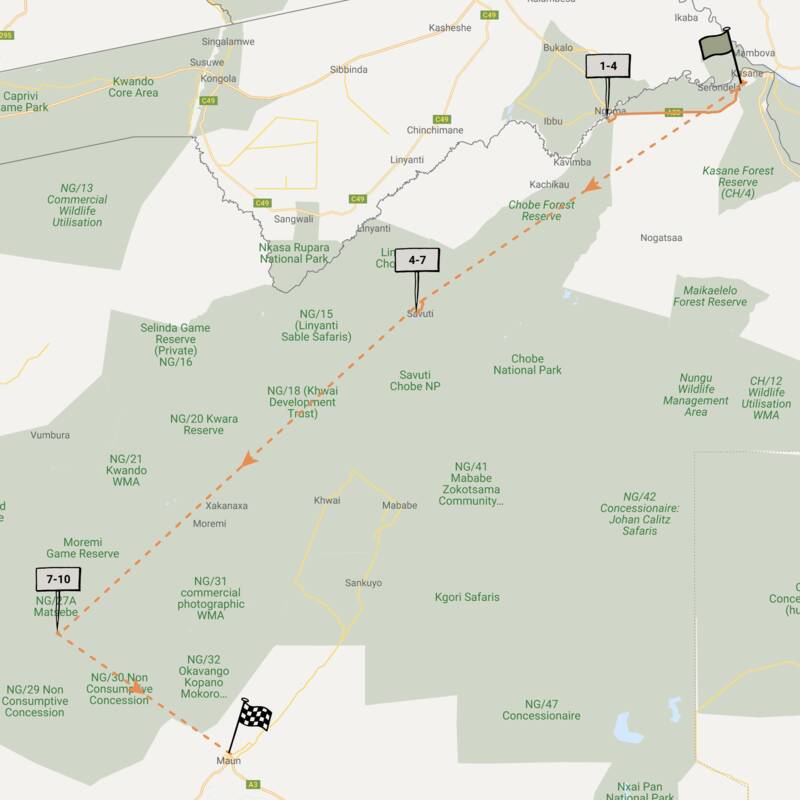 Spring Hare Safari
9 days • 3 locations • 1 country
KASANE AIRPORT TO MAUN AIRPORT
An authentic and diverse safari to Botswana combining the Chobe Forest Reserve, Savuti Marshes and the Okavango Delta. Strong wildlife viewing, a variety of activities and excellent value camps.
Visiting Chobe, Okavango Delta
US$6,580 - US$10,920 per person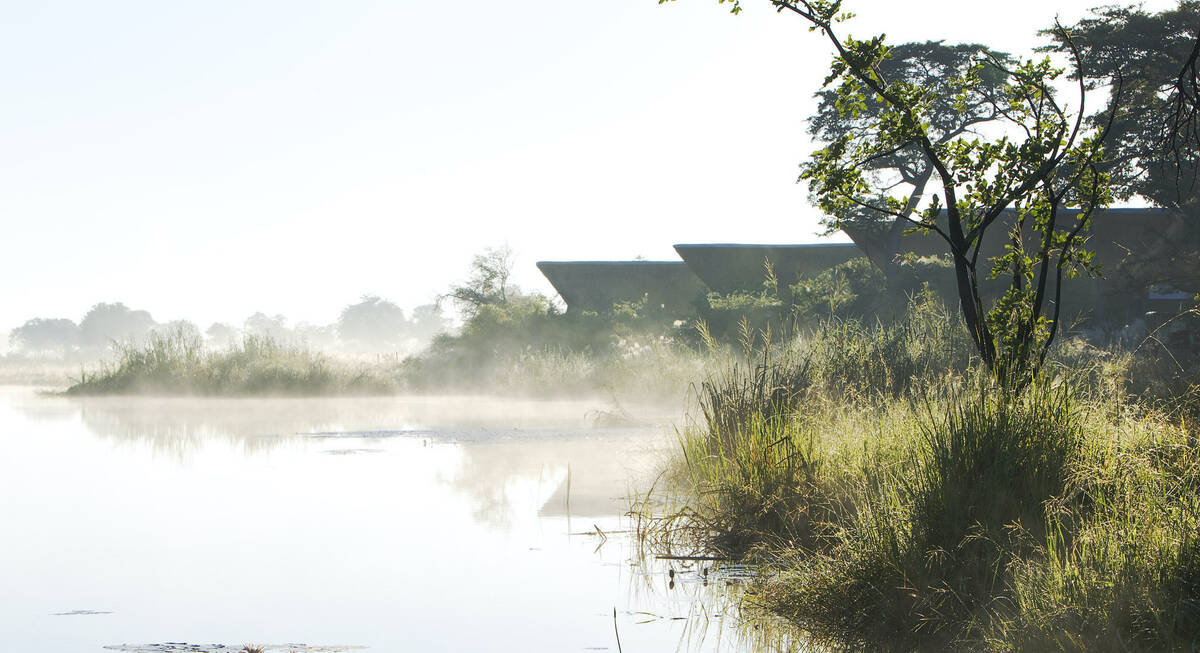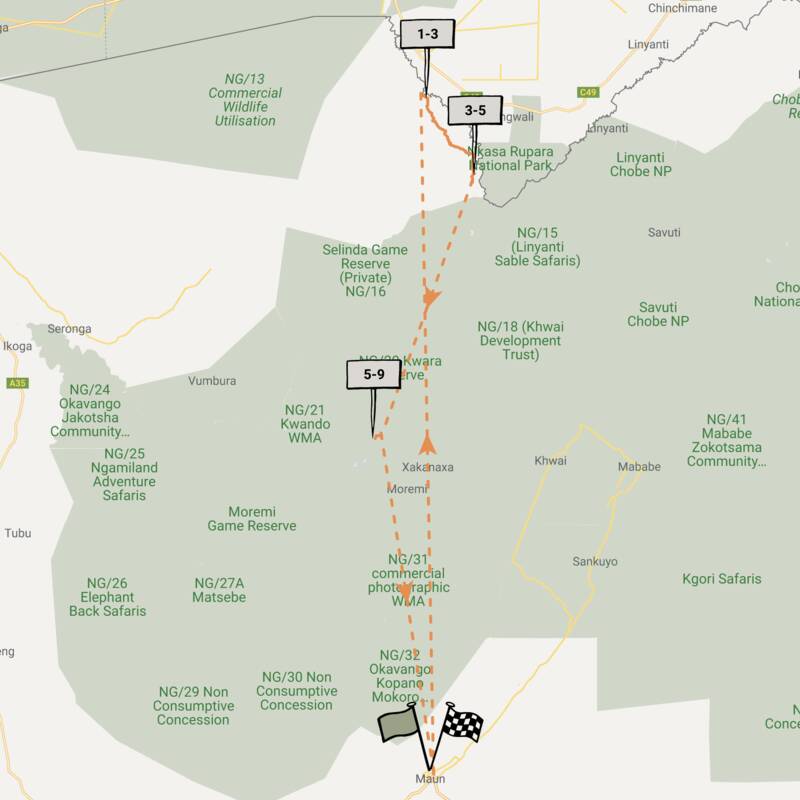 Pangolin Safari
8 days • 3 locations • 1 country
MAUN AIRPORT TO MAUN AIRPORT
Three relaxed, local feeling camps in pristine settings – the Kwando Reserve and Okavango Delta. Guided by a driver and tracker at each, this a great trip for spotting Botswana's top predators.
Visiting Okavango Delta, Kwando-Linyanti
US$7,380 - US$13,710 per person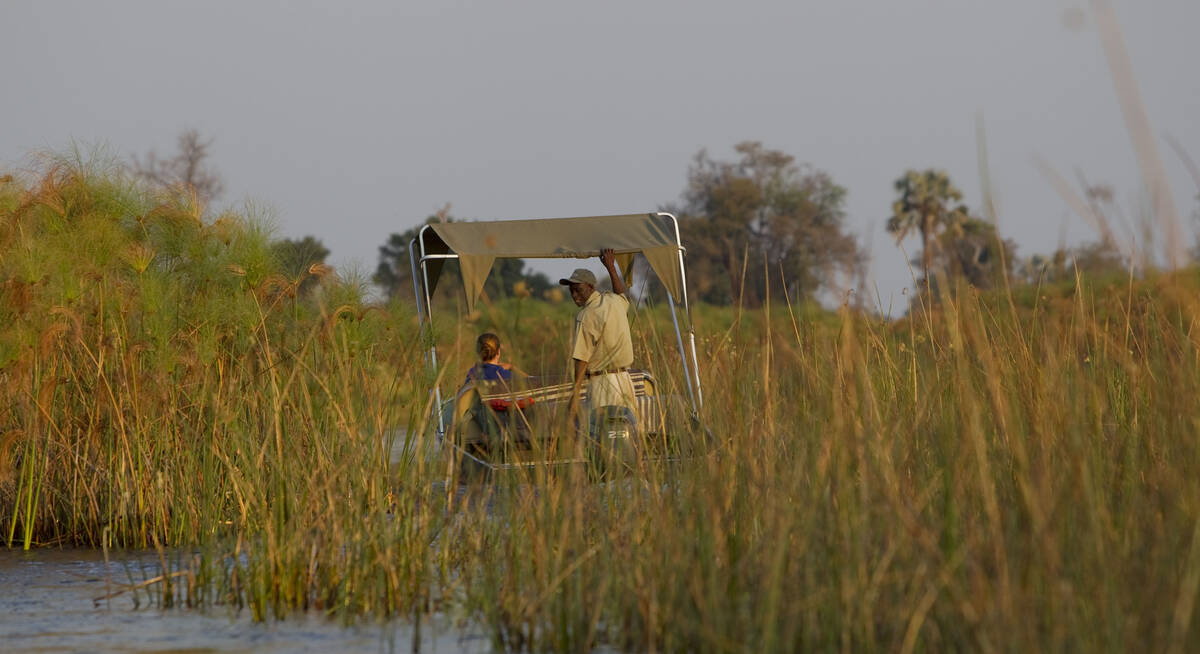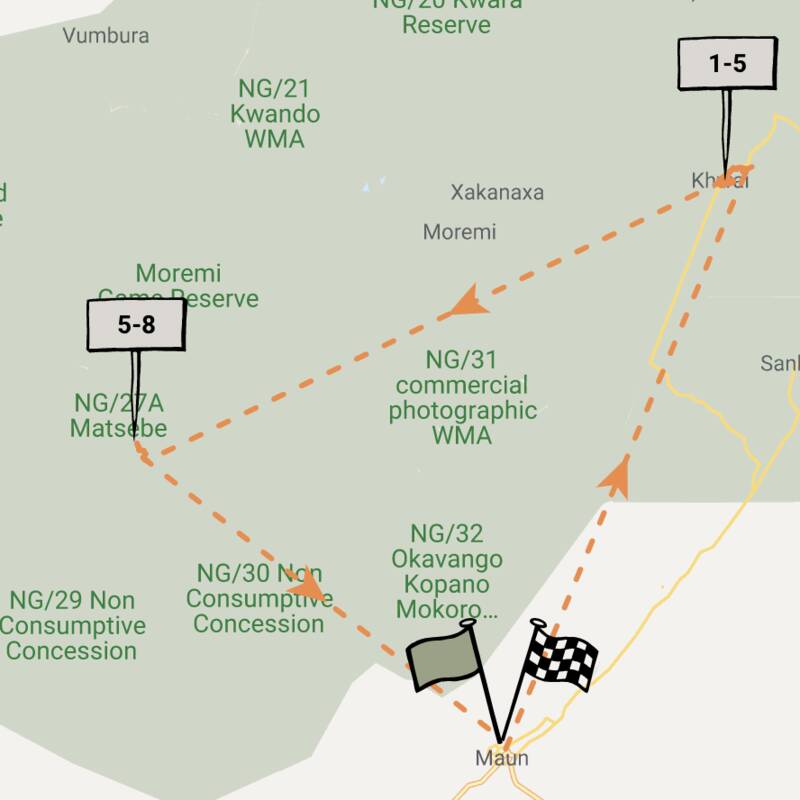 Ground Squirrel Safari
7 days • 2 locations • 1 country
MAUN AIRPORT TO MAUN AIRPORT
Experiencing the wilderness with an engaging guide whilst staying in a private mobile camp is often the highlight of a safari. Combine that with a charming camp overlooking the Okavango Delta and you're onto a winner!
Visiting Moremi, Okavango Delta
US$6,430 - US$9,450 per person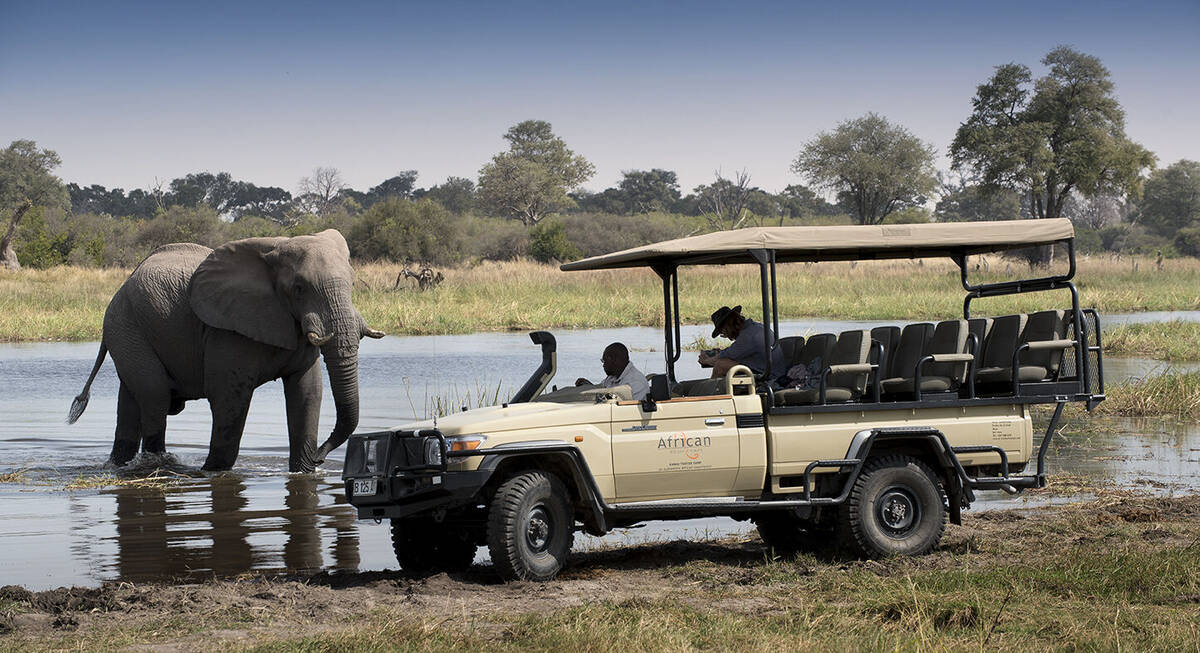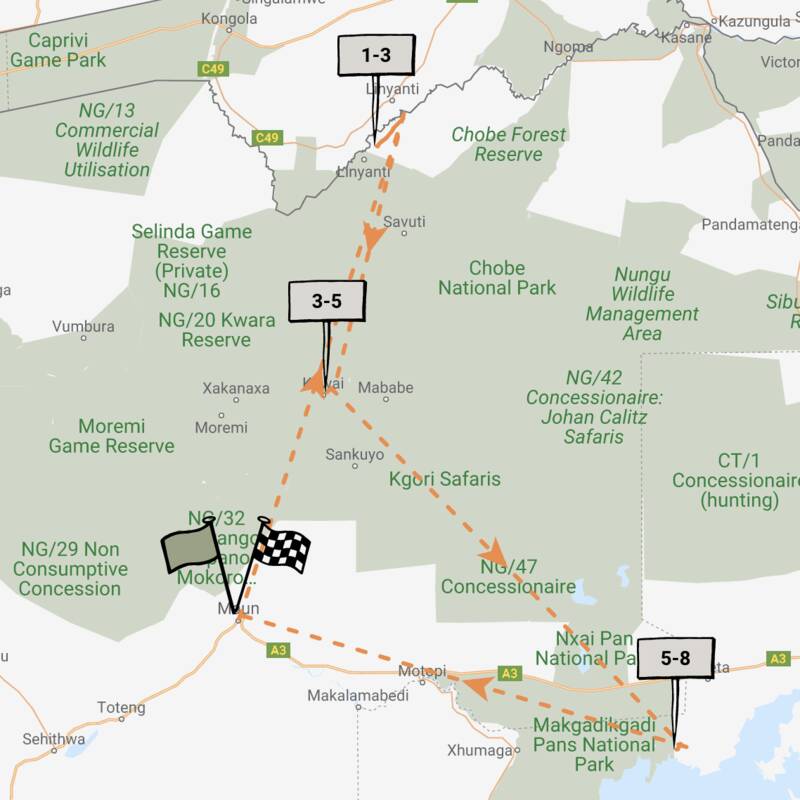 African Jacana Safari
7 days • 3 locations • 1 country
MAUN AIRPORT TO MAUN AIRPORT
An adventurous introduction to Botswana blending prolific wildlife, incredible landscapes and varied activities staying at relaxed camps in the Chobe Enclave, a community-owned reserve bordering the Moremi, and Makgadikgadi Pans.
Visiting Kalahari Salt Pans, Moremi and 1 other area
US$7,540 - US$11,910 per person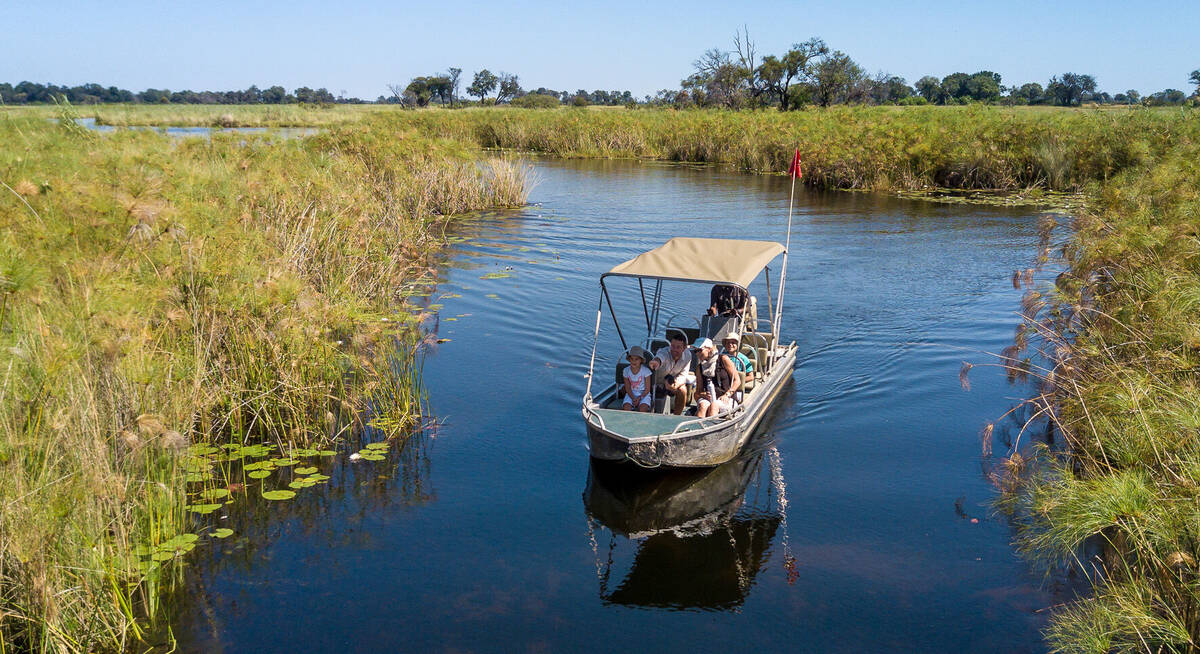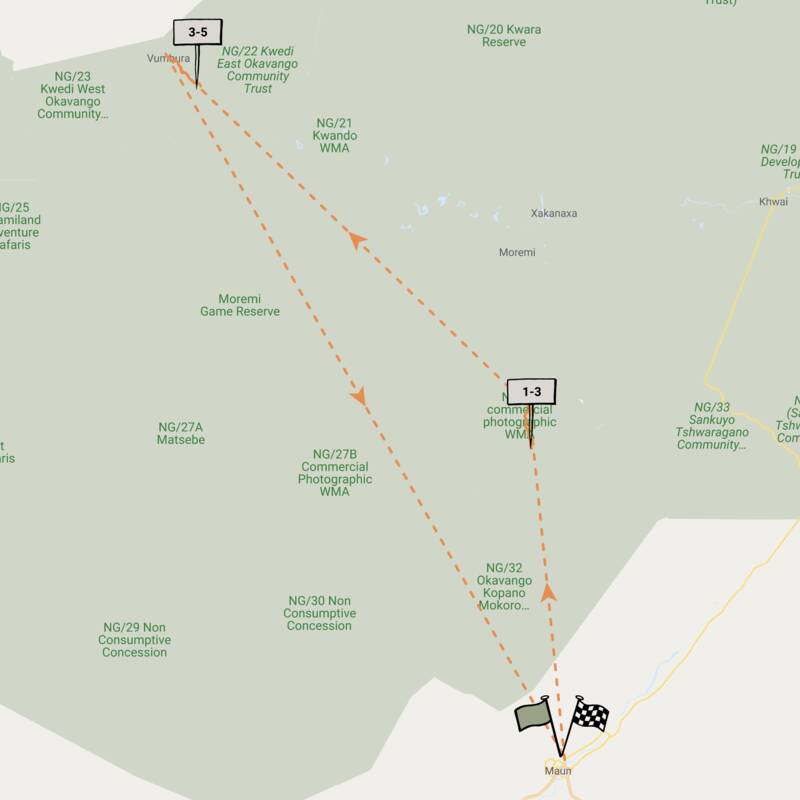 Slaty Egret Safari
4 days • 2 locations • 1 country
MAUN AIRPORT TO MAUN AIRPORT
Two luxurious, intimate camps provide a highly personalised exploration of the Chitabe concession and private Vumbura reserve within the Okavango Delta. A range of water and land activities allows for stunning sightings.
Visiting Okavango Delta
US$6,210 - US$12,320 per person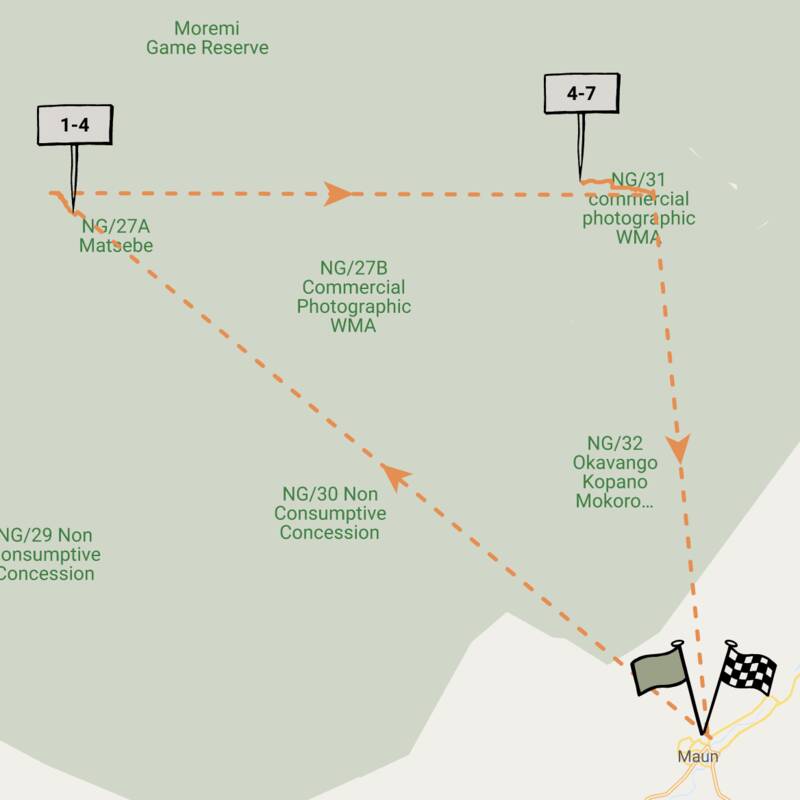 Kudu Safari
7 days • 2 locations • 1 country
MAUN AIRPORT TO MAUN AIRPORT
A luxury Botswana safari exploring the Okavango Delta staying at Nxebega Camp and the stunning Sandibe Lodge, with excellent guiding and some of the most prolific wildlife viewing anywhere in Africa.
Visiting Okavango Delta
US$7,840 - US$18,400 per person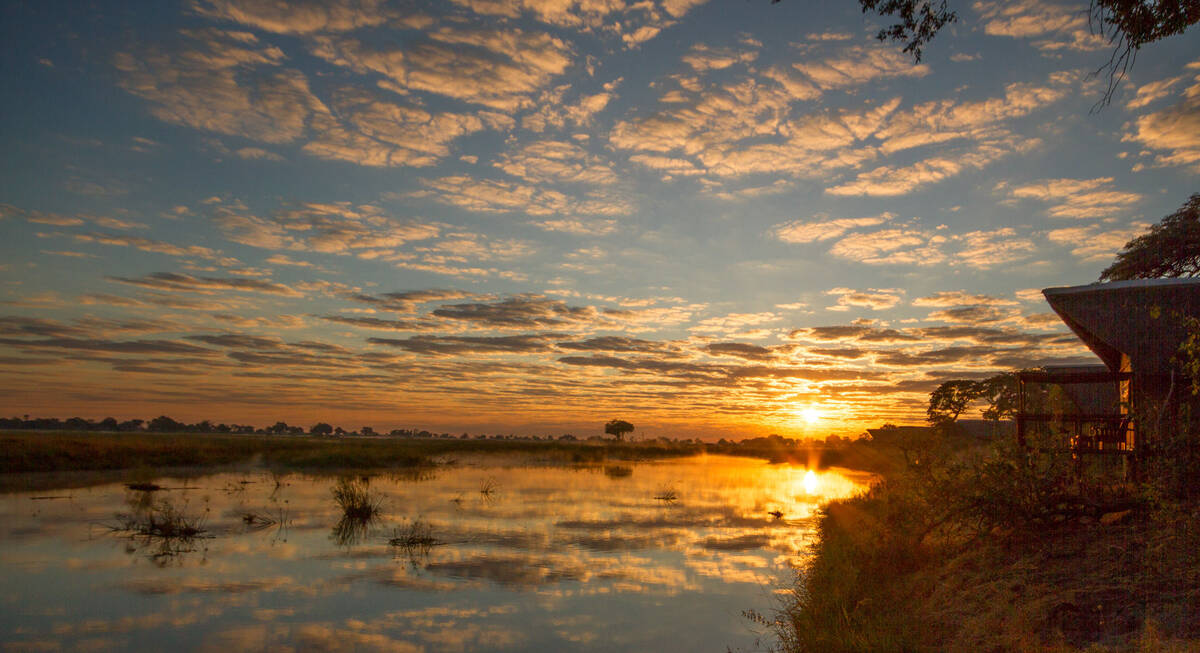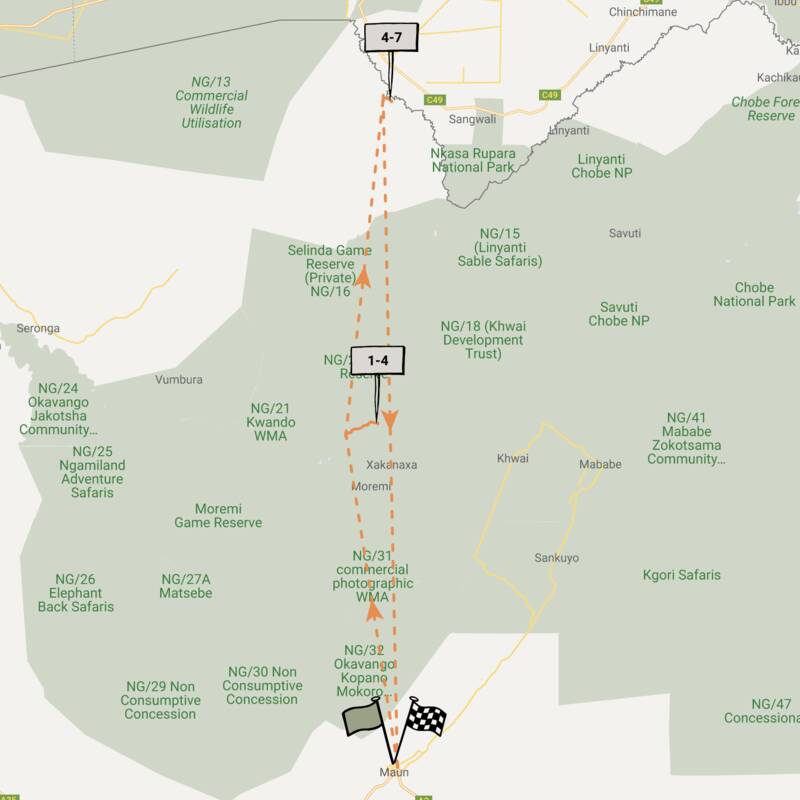 Mopane Squirrel Safari
6 days • 2 locations • 1 country
MAUN AIRPORT TO MAUN AIRPORT
Visit two wildlife-rich private reserves in an exploration of the Okavango and Kwando regions. Sister camps Splash and Lagoon camp provide a range of immersive activities, and their long-stay discounts make for an excellent-value safari.
Visiting Kwando-Linyanti, Okavango Delta
US$5,600 - US$10,190 per person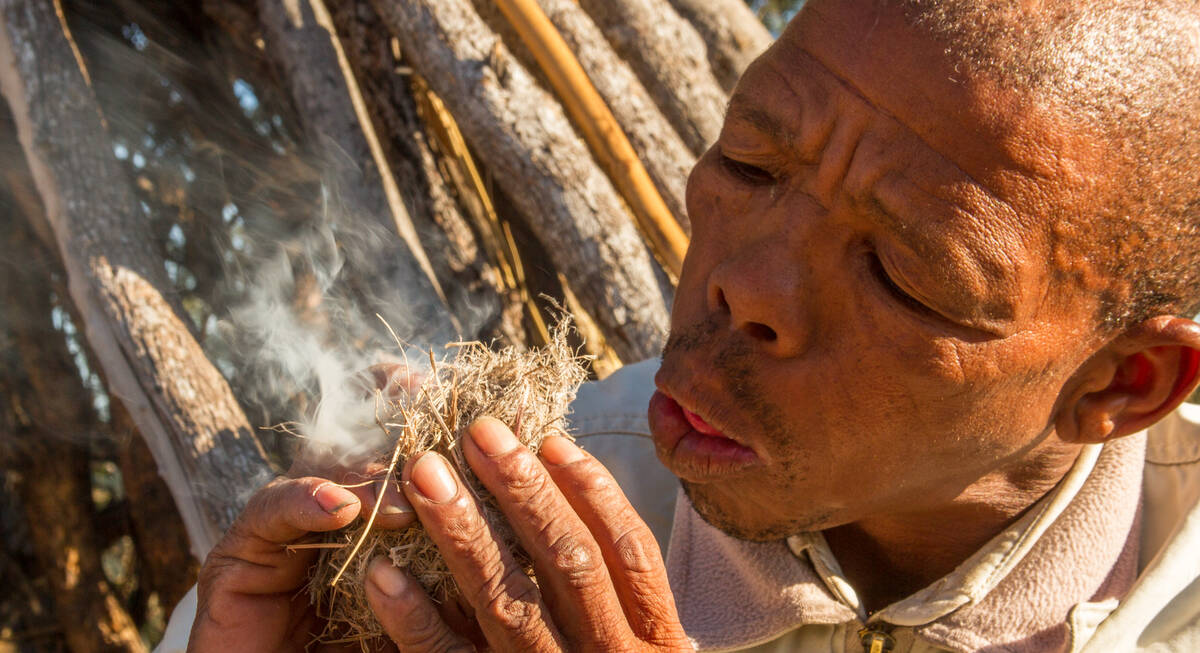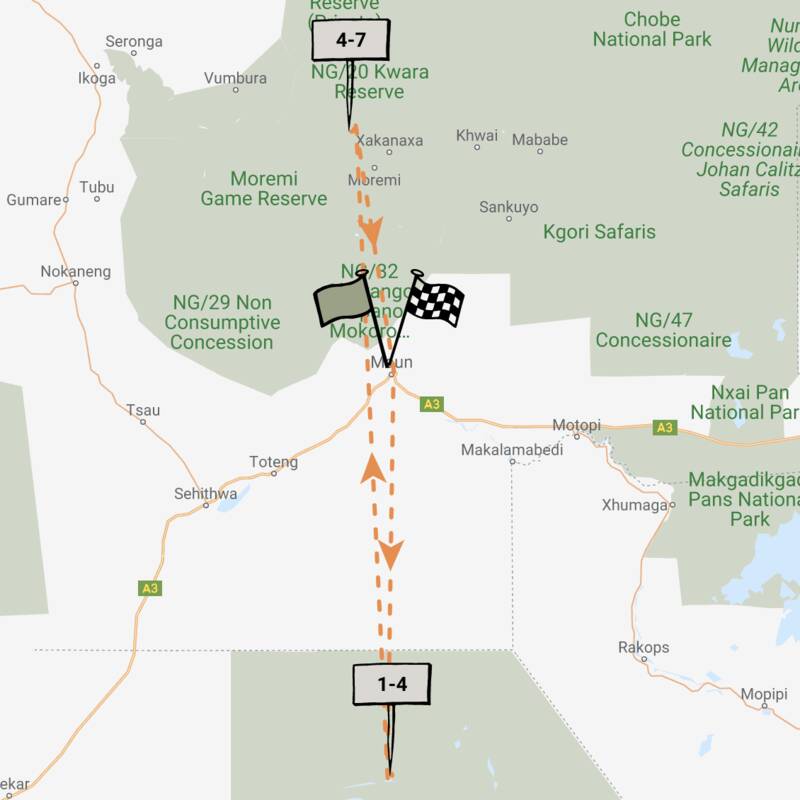 Honey Badger Safari
6 days • 2 locations • 1 country
MAUN AIRPORT TO MAUN AIRPORT
Two smart sister camps offer access to the Central Kalahari Game Reserve and the heart of the Okavango Delta. Experience a spectacular range of habitats and wildlife through diversely exciting safari activities.
Visiting Okavango Delta, Central Kalahari
US$5,560 - US$8,300 per person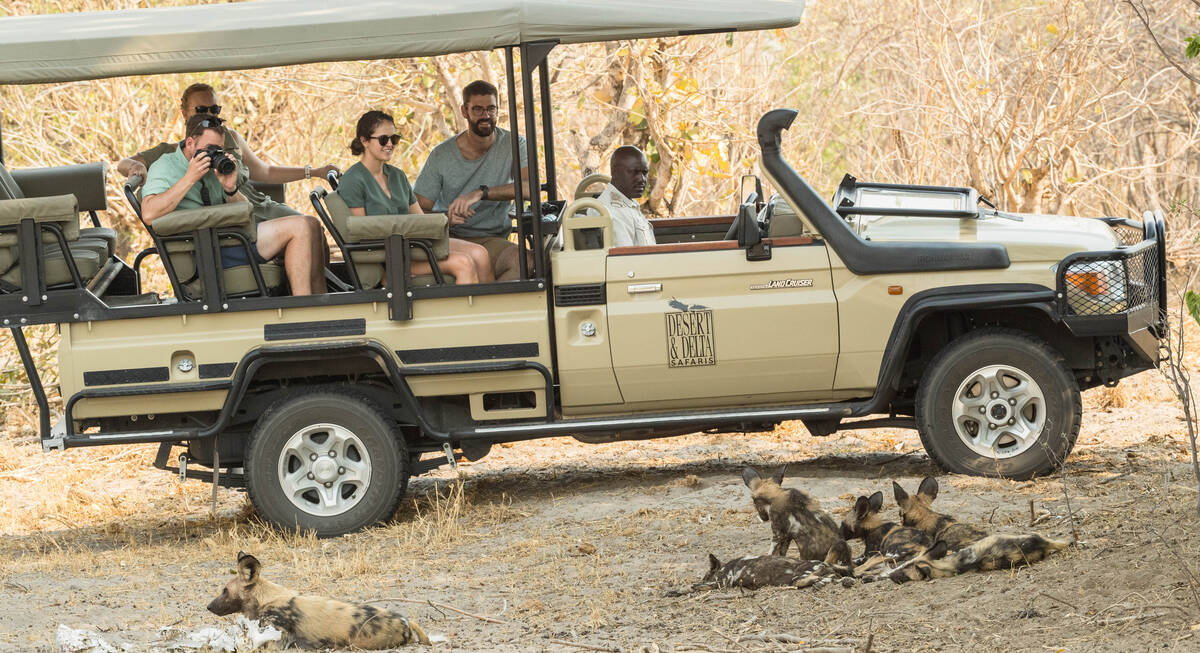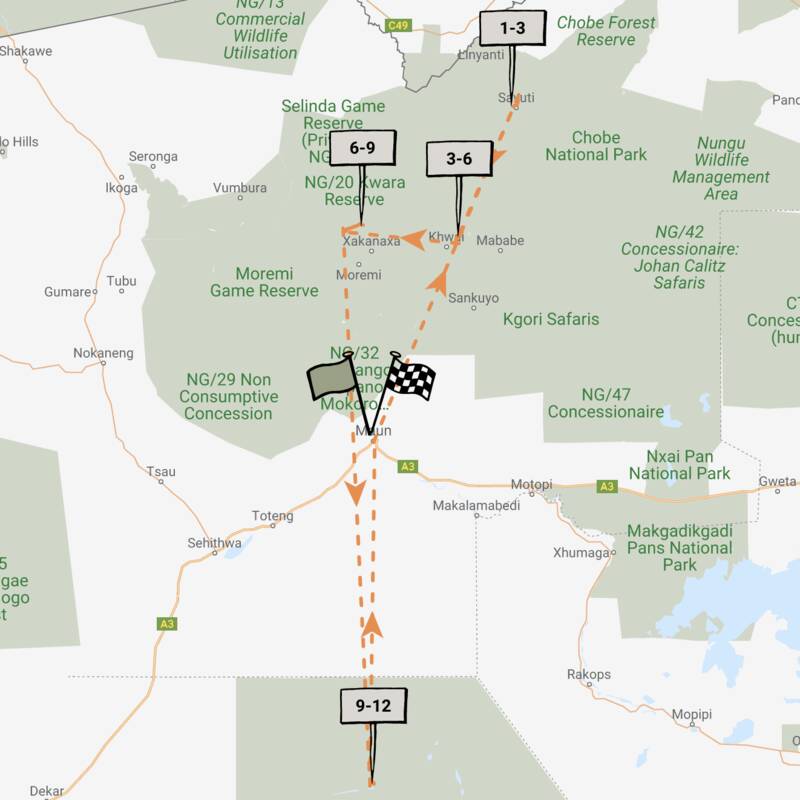 Porcupine Safari
11 days • 4 locations • 1 country
MAUN AIRPORT TO MAUN AIRPORT
Visit dramatically contrasting landscapes boasting a variety of species during this exploration of Botswana's top-safari destinations. A combination of national parks and private reserves allows for a range of activities.
Visiting Chobe, Central Kalahari and 2 other areas
US$8,450 - US$14,040 per person
Other safari ideas across Africa
Talk to us: help us to understand what you like and we can create a safari that will really suit you.
---