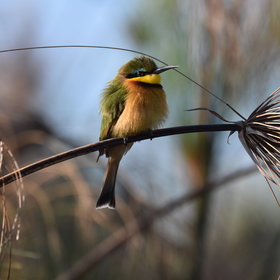 The Okavango Panhandle offers first class bird watching.
Video of North West Kalahari & Panhandle


Satellite pictures of the Okavango Delta flood.
Latest North West Kalahari & Panhandle safari reviews
We loved it
9-Sep to 29-Sep 17
Excellent

Fishing in the panhandle
8-Sep to 25-Sep 17
Good

Nxamaseri Lodge review
7-Sep to 21-Sep 17
Excellent

Fabulous setting
14-Jun to 1-Jul 17
Excellent

Monkey business
10-May to 26-May 17
Excellent

North West Kalahari & Panhandle
Stretching across three countries and 930,000km
2
the sand-covered plain of the Kalahari Desert is enormous. To the west, its reddish sands merge with those of the Namib in an uninterrupted sand sea, halted only by the Atlantic Ocean; to the south the sands give way to the mountain ranges of the Cape as the climate changes; and to the north and east the hills and rivers of Angola, Zambia and Zimbabwe give rise to a more verdant landscape. Given its vast size and variety, it is impossible to address the Kalahari in its entirety in just one section of our website. So, as you will see, we break it down into more manageable chunks, including the
The Central Kalahari Game Reserve
,
Kalahari's Salt Pans
and the
Okavango Delta
.
Compared to some of the more well-known areas of the Kalahari, the north western region may seem remote, inaccessible and empty. However, there are some truly special places, which can be incredibly rewarding for those willing to make the effort to reach them.
The Okavango Panhandle
Perhaps the best-known, most accessible part of the region is
the Panhandle
, on the northwestern side of the Delta. There are some well established camps here, the best of which are
Nxamaseri Lodge
and the much newer
Shakawe River Lodge
. These are often categorised as fishing camps, as the deep water channels of the Okavango River make the tiger-fishing here some of the best around; there are also plenty of other species to keep anglers interested. However, the birdwatching in this area is also first class, with rarities such as skimmers and Pel's fishing owls as well as a host of egrets, storks, kingfishers and warblers. These camps offer a good value Okavango experience, especially if you are driving on the west side of the Delta, perhaps as an extension of a trip down Namibia's
Caprivi Strip
.
Tsodilo Hills
The
Tsodilo Hills
are a magnificent and magical sight that truly need to be experienced to be understood. Listed as Botswana's first UNESCO World Heritage Site in 2001, the hills are home to over 4,500 rock paintings in an area of just 10km
2
, earning the region its nickname 'the Louvre of the desert'. Archaeologists have found evidence of human activity here dating back at least 100,000 years and to this day it serves as a place of significant cultural importance for the San people who call this region home. Perhaps it is this rapidly disappearing living link to our ancestors that makes the whole area so enchanting, we shall leave our travellers to experience it and decide. This area is best visited on a superb day trip from
Nxamaseri Lodge
or as a part of a private mobile safari; contact us for details.
Gcwihaba Caves and Aha Hills
The
Gcwihaba Caves
, also know as
Drotsky's Caves
, are not especially well known and even less visited, due mainly to their remote location. This network of caves and pits, complete with superb examples of stalactites and stalagmites, was first visited by Europeans in 1937 when Martinus Drotsky was invited to the area by !Kung San. Gcwihaba, which translates into hyena's hole, is distinct in being the only known major cave network in the country. A system of passageways and chambers link together to form a walkable route approximately 1km long between two entrances, with many dead ends besides. Given the size and remoteness of the caves we suggest only exploring them with a local San guide, from Xai Xai, which should prevent you getting lost.
Straddling the Namibia-Botswana border, the
Aha Hills
are the smaller, more rugged cousins of those at Tsodilo. Their isolation and existence draw in the intrepid, though there is not much else to detain visitors here That being said, there are a couple of impressive sinkholes, if you can find them, and it is one of a few areas from which travellers can arrange to see a San Bushman trance dance. Given the remoteness of these areas it is really only possible to visit as a part of a private guided trip, or whilst based at the superb and intriguing
Feline Fields
.