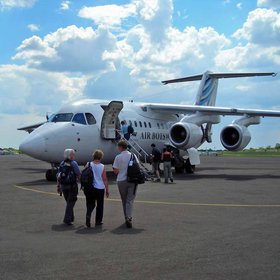 Arriving on a flight with Air Botswana
Latest Maun trip reviews
Thamalakane River lodge the beginning
1-Nov to 16-Nov 19
Good

Thamalakane River Lodge review
12-Oct to 28-Oct 19
Good

Thamalakane River Lodge review
27-Aug to 12-Sep 19
Excellent

A good place to rest
11-Aug to 30-Aug 19
Good

Thamalakane River Lodge review
14-Aug to 29-Aug 19
Excellent

Maun
Maun has been the starting point of expeditions into Botswana's wildlife areas since the turn of the century, and it is now the safari capital of the country and the gateway to the Okavango Delta.
It's a little town, dotted with modern shops and offices, while its suburbs are mainly traditionally built, thatched rondavels. Look carefully amongst these and you'll find quite a lot which incorporate old tin cans from drinks into their mud walls.
Maun is well connected with Johannesburg by scheduled
Air Botswana
flights and a larger runway is currently being built…watch this space for further developments.
Hotels and lodges in Maun
Thamalakane River Lodge
19kms from Maun Airport, Thamalakane River Lodge has an attractive setting on the banks of a river by the same name. It's a good value lodge with comfortable stone and thatch cottages and a well-designed, open-sided bar and restaurant area. (
Read more about Thamalakane River Lodge ...
)
Crocodile Camp
About 15 minutes' drive west of Maun airport, Crocodile Camp is a relaxed lodge and campsite which occupies a lovely position by the Thamalakane River. (
Read more about Crocodile Camp ...
)
Marina's
Marina's provides simple, clean and affordable accommodation situated just 8 minutes drive from Maun Airport. (
Read more about Marina's...
)
Royal Tree Lodge
Motsentsela Tree Lodge is a small smart safari lodge, situated on a private game farm about 15 minutes' drive from the center of Maun. (
Read more about Royal Tree Lodge ...
)
Riley's Hotel
Riley's Hotel is located in the centre of Maun, near the Maun Wildlife Sanctuary and is about 3 km from the airport. (
Read more about Riley's Hotel ...
)
Small group safaris including Maun with Wild about Africa
Many travellers stop in Maun for a few hours, or even for a night or two, when on a Botswana safari.
Wild about Africa
has a variety of small group, guided camping and lodge safaris to Botswana which visit or overnight in Maun. Click here to see
Botswana Safaris visiting Maun
.