Meerkats in Botswana
Small, desert-adapted mammals, meerkats are found throughout the Kalahari, which covers much of Botswana. The Makgadikgadi Salt Pans are one of the top locations for seeing meerkats in Africa.
---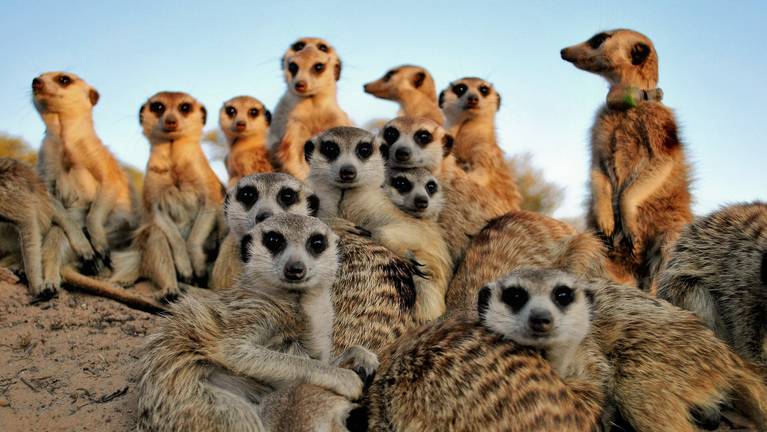 Quick facts about Meerkat
| | | | |
| --- | --- | --- | --- |
| Scientific name: | Suricata suricatta | Habitat: | Semi-arid desert |
| IUCN Status: | Least Concern | Weight: | 650g |
There are three subspecies of meerkats, and Botswana is home to just one, the southern African, or slender-tailed meerkat, Suricata suricatta suricatta. Meerkats are fairly widespread across much of central and southern Botswana, around the Kalahari Desert. The rolling, vegetated sand dunes provide an ideal habitat for them, with hot, dry conditions and plenty of food.

Arguably the best place to see meerkats in Botswana, indeed anywhere in Africa, is around the Makgadikgadi Pans in the Kalahari Desert. This vast complex of salt pans covers around 10,000km2 and is home to numerous meerkat families – known as clans or mobs. Alternatively, spend time around the Kgalagadi Transfrontier Park spanning the border with Namibia and South Africa.
10-14 days
PUPS EMERGE FROM BURROW
20+
identifiable VOCALISATIONS
Botswana's top camps for seeing meerkats
Based on 32 reports since June 2018, the camps below have the best chance of seeing meerkats. Simply follow the key below.
---
Where to see meerkats in Botswana
While meerkats are found in good numbers in Botswana, they are elusive and rarely seen in the wild. To maximise chances of seeing them consider visiting a habituated mob.
---
Top tips for viewing meerkats in Botswana
Seeing wild meerkats requires a lot of time and patience; they are naturally wary of humans and are easily spooked. Spend time around the central Kalahari and Kgalagadi Transfrontier Park and you may be able to spot a clan foraging for food while sentinels stand guard. Look for them at burrows or running across the road.

The Makgadikgadi Pans is one of the best locations for spotting meerkats in Botswana, with many camps, such as Jack's Camp and Camp Kalahari, offering a meerkat experience with habituated families. Visit a known burrow for photographic opportunities at close quarters, often at first light. Watch them emerge and follow them as they forage. These meerkats are not shy, and it's not uncommon for them to jump on you as you sit still, seeking a high location from which to guard.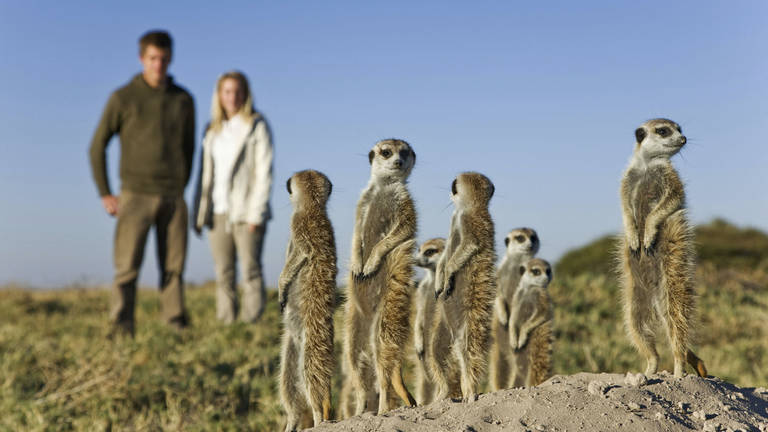 Holiday ideas to see meerkats in Botswana
These trip ideas include places that will give you a good chance of seeing meerkats in South Africa
---
Our top destinations for meerkats
Read tips for spotting meerkats in these countries and the best camps and lodges for sightings
---