Meerkats in Namibia
Living in large family groups or clans, meerkats are highly social, desert-dwelling animals found throughout the Kalahari Desert. There are a few hotspots in Namibia where meerkats may possibly be seen.
---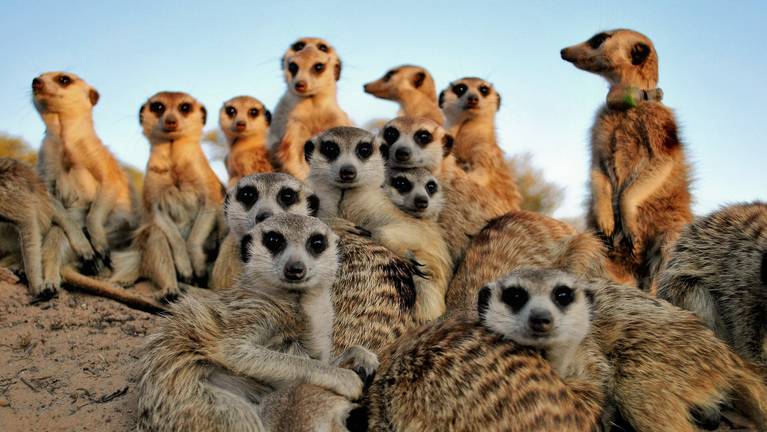 Quick facts about Meerkat
| | | | |
| --- | --- | --- | --- |
| Scientific name: | Suricata suricatta | Habitat: | Semi-arid desert |
| IUCN Status: | Least Concern | Weight: | 650g |
There are two sub-species of meerkat found in Namibia. The southern African meerkat, Suricata suricatta suricatta, with its slim frame and slender tail, is found in the eastern Namibia around the Kalahari Desert. In western Namibia, in Damaraland and the Namib Desert you find Suricata suricatta majoriae, which is generally paler in colour and has a sturdier build.

Despite Namibia having two meerkat subspecies, sightings of this charming mammal remain rare in the country. For your best chance of seeing meerkats in Namibia head to the Kgalagadi Transfrontier Park, which borders South Africa and Botswana. Or if seeing meerkats in the wild is a top priority consider skipping Namibia and heading to Botswana's Makgadikgadi Pans.
5
AVERAGE NUMBER OF BURROWS
300m
DISTANCE AT WHICH AN EAGLE CAN BE SPOTTED
30g
PUP WEIGHT AT EMERGENCE
Namibia's top camps for seeing meerkats
Based on 33 reports since June 2018, the camps below have the best chance of seeing meerkats. Simply follow the key below.
---
Where to see meerkats in Namibia
While meerkats are found in several regions of Namibia, sightings tend to be few and far between. To improve your chances visit a lodge with a habituated family group.
---
Top tips for viewing meerkats in Namibia
Naturally wary of humans, wild meerkats will often run and hide, however you may spot them in the Kalahari region, particularly in the Kgalagadi Transfrontier Park. Look out for groups darting across the road or sentinels perched on high bushes.

The best way to see meerkats in Namibia is often to stay at a lodge with a clan of habituated meerkats nearby. Lodges include Bagatelle Lodge in the Kalahari, where meerkats are often seen foraging around the lodge among the red dunes. Alternatively, Omaanda Lodge near Windhoek is working to habituate a local meerkat clan and they offer a 'Meerkat Manor' experience where you can photograph them at the burrow. Another option is Rostock Ritz in the Namib Desert. Here they have an enclosure where they are rehabilitating unwanted pet meerkats with the aim of returning them to the wild.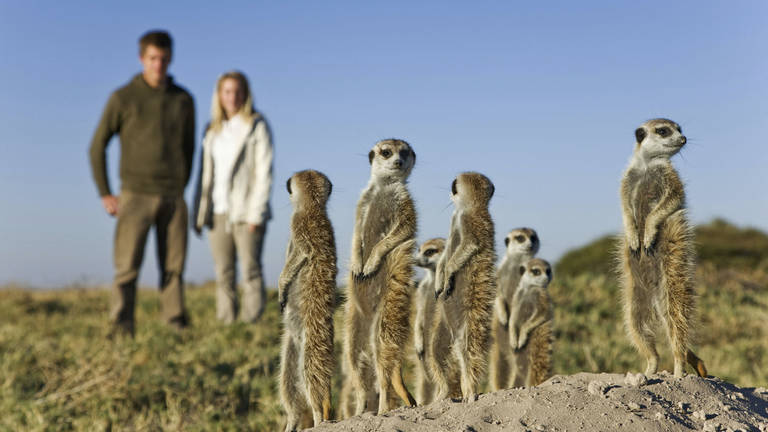 Holiday ideas to see meerkats in Namibia
These trip ideas include places that will give you a good chance of seeing meerkats in Namibia
---
Our top destinations for meerkats
Read tips for spotting meerkats in these countries and the best camps and lodges for sightings
---